Nici Wickes: Pumpkin & parmesan scones
Author

Publish Date

Sat, 4 Apr 2020, 10:51am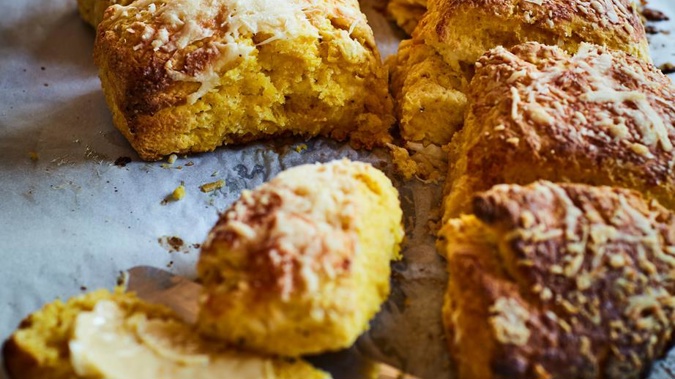 Nici Wickes: Pumpkin & parmesan scones
Author

Publish Date

Sat, 4 Apr 2020, 10:51am
Pumpkin & parmesan scones

I hadn't realised that pumpkin scones are entrenched in Aussie culture, much the same as our love for custard slice. Making these I can see why!
Makes 10 large scones
 1 cup pumpkin pulp (see note)
½ cup milk
¼ cup cream
3 cups self-raising flour
1 tsp baking powder
60g butter, chilled
½ tsp sea salt
75g parmesan, grated
Preheat oven to 200 C. Line a tray with baking paper.

Whisk pumpkin pulp with milk and cream until incorporated.

In a large bowl combine flour and baking powder and grate in chilled butter. Pour in pumpkin mixture, season and stir to combine with a butter knife.

Turn out onto a lightly floured surface and knead briefly and gently until it comes together in a smooth dough. Press out to form a 3cm-thick rectangle. Cut into 10 pieces and transfer each to the tray. Sprinkle over parmesan bake for 15-20 minutes or until golden brown.

Serve warm slathered with butter.

 
Nici's note:
For 1 cup pulp, halve a small butternut pumpkin lengthwise, scoop out seeds and discard. Roast halves, cut side up, until soft. Scoop cooked flesh from skin and puree with a stick blender or mash well with a fork.