The Resident Builder
6AM-9AM Sun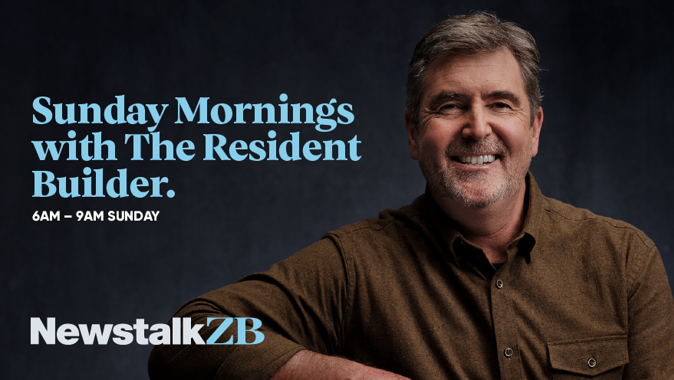 At the age of one, Peter picked up his tools for the first time and has never looked back.
A fair few years on and Peter Wolfkamp LBP, NZTC, continues to share his impressive skills, knowledge and life-long passion for carpentry and building.
His portfolio of work and influence includes historic Devonport villas, ultra-modern townhouses, rustic country estates, restoration of an historic 1890 church and a sabbatical which involved Peter working on a 16th century farmhouse in the south of France.
Peter's professional development has continued with the completion of the NZGBC Homestar Home Coach and Practitioner training, and is a Licensed Building Practitioner qualified by the DBH.
Alongside his hands-on and, at times, finger-bruising vocation, Peter works on Newstalk ZB as a talkback host and appearing on numerous programmes in his capacity as Newstalk ZB's 'Resident Builder'.
Known as "The Resident Builder", Peter hosts his own building and DIY show with Newstalk ZB, "Sunday Mornings with the Resident Builder" 6-9am, which was launched May 2014.  Peter is New Zealand's top DIY radio personality.  The programme includes taking questions from callers and offering advice on DIY projects, gardening with Ruud Kleinpaste plus 'Ask the Expert' segments.
Peter's TV career is building apace, with the launch of his very own TV programme, Creative Living on TV3 in September 2016. This series focused on the challenges and choices facing any homeowner as they transform their existing home into a warm, comfortable and efficient home for the future. Peter's experience, knowledge and expertise helped assist the owners, and he even got his hands dirty as they work to create a great renovation.
As the site foreman for The Block NZ since 2012, 'The Wolf' as he's referred to on The Block, brings a unique combination of construction and technical knowledge, along with hands-on chippy experience. Peter has also developed editorial and narrative skills that have proved useful to the production team.
Peter's TV presentations have also included work with Top Shelf Productions where he evaluated and commented on the performance of tradesmen, and in early 2011 he worked on-screen with the new Breakfast team on TV1.
Peter has a wealth of knowledge to draw on, extensive experience on site, a passion for architecture and a sound technical knowledge of building and DIY, and combines that with presentation and editorial skills honed over many years.  He strikes a chord with all levels of audiences, crossing age, gender, demographics, and more importantly, all levels of the industry, from humble home-based DIY-lovers to top end professionals. His extensive skills and knowledge are tempered and made accessible by his friendly, open approach and 'the bloke next door' no nonsense personality.  Everyone loves 'The Wolf'!