Sunday at Six
6PM-7:30PM Sun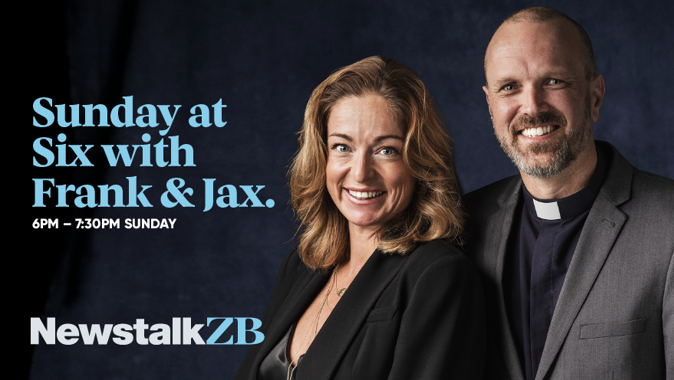 Sunday nights are a chance to sit back, relax, and enjoy great conversation. Kick the evening off at 6pm with Frank & Jax. These two dynamic personalities are adept at moving between light, friendly banter, and heftier topics – wherever the mood takes the night.
With Frank & Jax a solid serve of interesting conversation, large doses of empathy, a good helping of laughter, and a side of enjoyment are the dinner order at 6pm.
Rev. Frank Ritchie
Frank is one of New Zealand's most recognisable church ministers, but he's not what many expect.
Frank's the sort of guy who'll be laughing at something inappropriate and cracking jokes one minute, but the next he's adept at shifting to something deep and meaningful if the conversation warrants it. From riffing on about the merits of Marmite vs Vegemite through to discussing some of our nation's grittiest stories that he has been connected with in his work as a media chaplain - he can do it all.
As an occasionally irreverant minister, Frank's presence on-air makes Sunday at Six a unique part of the New Zealand radio landscape. Frank lives in Hamilton, being Waikato born and bred.
Jax Donaldson
Jax is right at home being the life of the party, but life experience has given her the capacity to identify with the life hardships many face.
With a cheeky, impulsive, and infectious sense of humour she brings an easy warm vibe, and a whole lot of fun to the show. A Kiwi through and through she is thoroughly relatable and loves a good yarn.
Having grown up in a rural setting she doesn't take crap from anyone. She's at home in the farming world, but also comes with a love for health and wellbeing with a particular interest in foraging.
Frank & Jax bring to air a solid friendship, different personalities that sometimes disagree, and a love for Hamilton and Whangarei – the places they respectively call home.