Michael Van de Elzen: Parsnip rosti with shallot jam & crumbled feta
Author

Publish Date

Sun, 26 Jul 2020, 11:28AM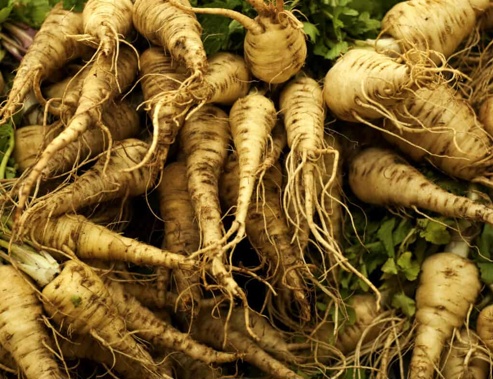 Michael Van de Elzen: Parsnip rosti with shallot jam & crumbled feta
Author

Publish Date

Sun, 26 Jul 2020, 11:28AM
This week we are talking parsnips! They are cheap as chips at the moment and have a really beautiful sweet nutty flavour!
You can pretty much swap out most potato dishes with parsnip, however I do still use a potato in this recipe as parsnips lack starch with is required to keep the rostis together.
These parsnip rösti have a softer textured, with a crisp exterior and slightly sweet flavour that works particularly well with the saltiness of feta. They taste best when you cook them reasonably slowly and let the outside catch ever so slightly – like the crispy bits in the corner of a tray of roast veg. 
Parsnip rosti w shallot jam & crumbled feta
250 gm parsnips
1 medium potato
1 egg
2 tbsp plain flour
seasalt
Cracked pepper
2 tbsp grapeseed oil
8 shallots, finely sliced lenghtways
1/2 cup balsamic vinegar
3 tbsp brown sugar
pinch salt
150gm cows feta
For garnish
Rocket leaves
Squezze of lemon
Avocado oil
For the shallot jam. Place the shallots, balsamic, brown sugar and salt into a heavy-based saucepan. Cook on a medium heat for about 12 minutes or until thick and syrupy. Stirring every couple of minutes.
Coarsely grate the parnips and the potato into a bowl. Lightly beat the egg and add it into a bowl with the flour and season with a pinch of seasalt and cracked pepper.
Mix well and press the parnsips into 6 medium sized patties. Heat the grapeseed oil in a frypan, add the patties and fry until crisp and golden. Remove and drain onto quickly on some greaseproof paper.
Place the rosti onto a platter and spoon over the shallot jams followed by some crumbled feta and finally the rocket leaves and a drizzle of avocado oil.
Mike's website - www.vandeelzen.com
Take your Radio, Podcasts and Music with you