Nici Wickes: Apple Shortcake Pies
Author

Publish Date

Sat, 25 Jul 2020, 10:51am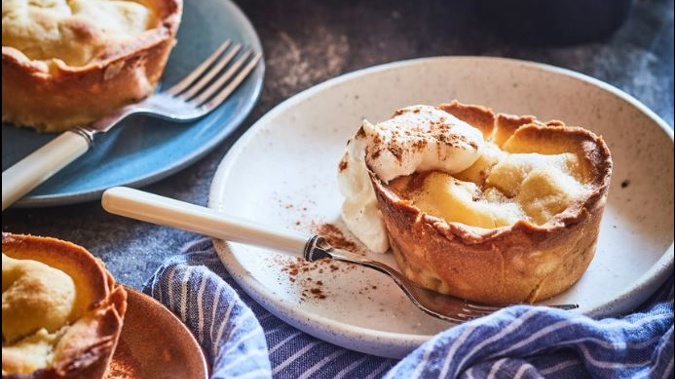 Nici Wickes: Apple Shortcake Pies
Author

Publish Date

Sat, 25 Jul 2020, 10:51am
My nana made these and now mum makes them and they are seriously good! An apple pie, plain and simple, with no sugar added, these are a real favourite with our family served with cinnamon and cream.
Makes 8 individual pies
1 ½ kg apples, granny smith or other
1 cup water
2 x 400g blocks sweet short pastry
1. Set the oven at 200 C fan bake with an oven tray already in the oven to heat up. Grease large-sized (Texan) muffin tin.
2. Prepare the apples by peeling, coring and slicing and placing with 1 cup of water into a saucepan with the lid on and gently cook for about 15 minutes . They should retain their shape without turning into pulp. Drain in a colander, reserving the juice. Cool the apples completely before you start filling the pies. Please note apples do not need added sugar as they are sweet enough.
3. Now roll your pastry out and cut into circles about the size of a small saucer. Gently line the muffin tin holes with pastry. Patch up any tears or holes. Fill 3/4 with cooled apples and cover with another smaller round of pastry and pinch top to bottom to seal. Use a sharp knife to make a small cross on the top (this lets the steam out).
4. Place on hot tray and bake for approx 20-25 minutes near the bottom of the oven, as this makes sure the bottoms cooks. The pastry should be a lovely golden colour. Keep checking to making sure the edges of the pies aren't burning. Cool in tins then gently remove from their tins.
5. Serve with clouds of whipped cream and a sprinkle of cinnamon with a small jug of the reserved apple syrup.