Nici Wickes: Famous Homemade Pad Thai
Author

Publish Date

Sat, 11 Jul 2020, 11:21AM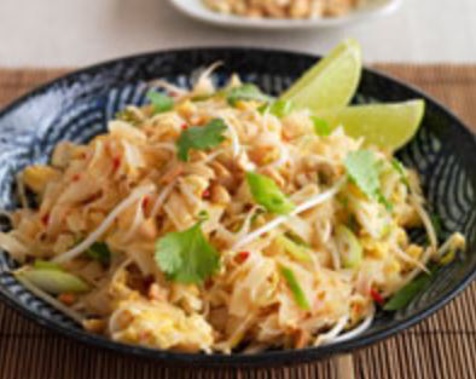 Nici Wickes: Famous Homemade Pad Thai
Author

Publish Date

Sat, 11 Jul 2020, 11:21AM
Nici's Famous Homemade Pad Thai 
Ingredients 
100g flat rice stick noodles 
2 tbsps tamarind puree 
3 tbsps fish sauce 
1 tsp sesame oil 
2 tbsps brown sugar 
3 tbsps cooking oil 
2 spring onions, sliced diagonally and thinly, use the green bits too 
2 cloves garlic, peeled and roughly chopped 
1 – 2 fresh red chillies, de-seeded and chopped fine 
1 thumb-sized piece ginger, grated 
3 tbsps lemon juice 
1/3 cup roasted peanuts, coarsely chopped 
3 eggs, whisked with a fork 
3 handfuls fresh bean sprouts 
Small handful of fresh coriander, chopped 

2 tbsps sesame seeds 
Lime or lemon wedges to serve 
1. In a bowl, soften your noodles by covering with boiling water and leaving to soak for 10 minutes, then rinse, drain and set aside. They should be firm to the bite at this stage and will soften more once they are added to the wok/pan later.
2. Stir together tamarind puree, fish sauce, sesame oil and brown sugar to make a sauce.

3. Heat a large thin bottomed pan or wok over a med-high heat, then add the oil. Add the spring onions, garlic and chillies and stir-fry for one minute. Pour in the sauce and bring to a simmer. Add the ginger, lemon juice, half the peanuts and drained rice noodles. Keep the noodles moving around to avoid sticking and to get them coated in the sauce and cooked through.

4. When the noodles are softened and coated in tasty sauce, push them aside in the pan and pour in eggs into the space. Cook until just cooked then stir them back through the noodles.

5. Serve topped with bean sprouts, coriander, remaining peanuts, sesame seeds and a decent squeeze of lime or lemon juice. 



Take your Radio, Podcasts and Music with you