Nici Wickes: Classic French Onion Soup
Author

Publish Date

Sat, 23 May 2020, 10:07am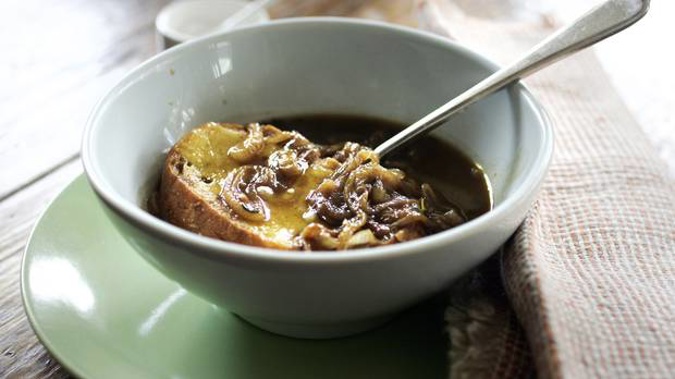 Nici Wickes: Classic French Onion Soup
Author

Publish Date

Sat, 23 May 2020, 10:07am
Classic French Onion Soup 
This soup so hearty and rich and irresistibly topped with generous, bubbling cheese croutons gratinéed until golden.  
Serves 2  

2 cups sliced onions  
4 tbsp olive oil 
1 tbps butter 
Pinch of sugar  
½ tsp salt  
1 bay leaf 
½ tsp finely chopped fresh sage leaves   
1 heaped tbsp flour  
¼ cup white wine  
2 cups beef stock (can use vege)  
Extra water  
Salt and black pepper to season  
6 x 4cm thick cut rounds of baguette 
2 tbsp olive oil  
1-2 handfuls of grated guyere cheese 
Heat a medium sized heavy-based saucepan over medium-low heat. Add the olive oil and butter and when melted add the sliced onions and stir to coat them in the oil and butter. Cover the pot and cook for around 20 minutes, checking to make sure they aren't burning, until the onions are softened and translucent. 

 
Increase the heat to medium and add the sugar and salt. Continue cooking, stirring occasionally, until onions are thoroughly browned. Add the bay leaf and sage and stir in flour. Cook for 2-3 minutes until flour forms a thick paste. Add the white wine and stir for 1 minute before adding in the stock. Bring to a simmer and cook for 45-60 minutes, adding additional water to reach the desired consistency of a thick and chunky soup. Taste and adjust seasoning with salt and pepper. Set aside until needed.

 

To serve bring the soup to a boil and divide between two warmed ovenproof soup bowls. Brush each piece of bread with olive oil. Cover the soup with the bread rounds, forming a single layer of bread. Sprinkle generously with cheese, forming a thick layer on top of the bread. Bake at 180 C near the top of the oven until the cheese is melted and golden and f

inish for a minute or two under the grill to brown the top lightly. Serve immediately and warn your dining companion(s) that the soup and bowls are scorching!