Nici Wickes: Bacon and egg pie recipe
Author

Publish Date

Sat, 6 Oct 2018, 11:49am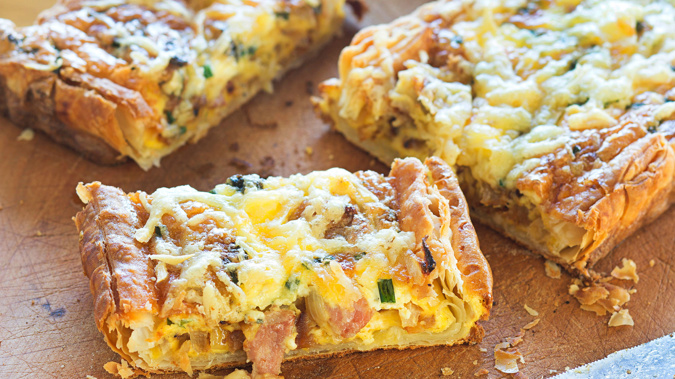 Nici Wickes: Bacon and egg pie recipe
Author

Publish Date

Sat, 6 Oct 2018, 11:49am
Pies are quintessentially kiwi and none more so than a bacon and egg pie. I can still vividly recall the picnics we'd go on as a family when I was young where this bacon and egg pie would be unwrapped, still warm from the tea towel-blanketed journey, to be cut into generous tiles and hungrily devoured, perhaps with a dab of nana's plum sauce.
Serves 4-6
1 medium onion
Oil for sautéing
400g puff pastry
250g quality, streaky bacon
7 eggs
Small handful parsley, chopped roughly
½ tsp sea salt
¼ tsp cracked black pepper
1. Preheat oven to 180 C and place a tray in to heat.
2. Grease and lightly flour a 20x30cm baking tin/dish. Line base and sides with pastry and cut out a lid. Chill for 15 minutes.
3. Saute onions until partially softened. Cool.
4. Sprinkle onions over pastry base. Lay bacon rashers in an even layer over onion. Break eggs over bacon, evenly distributed. I prefer to break yokes too but you may choose not to. Sprinkle over parsley, season with salt and pepper. Use a small pastry brush and dip into eggs and brush pastry edges. Add another layer of bacon then cover with pastry lid, pressing edges to seal.
5. Brush top with egg wash, make a few slits to allow air to escape during cooking.
6. Place on pre-heated tray and cook for 30-40 minutes until golden brown on top and base is cooked.
7. Slice and eat!