Nici Wickes: ANZAC Biscuits
Author

Publish Date

Sat, 25 Apr 2020, 10:29am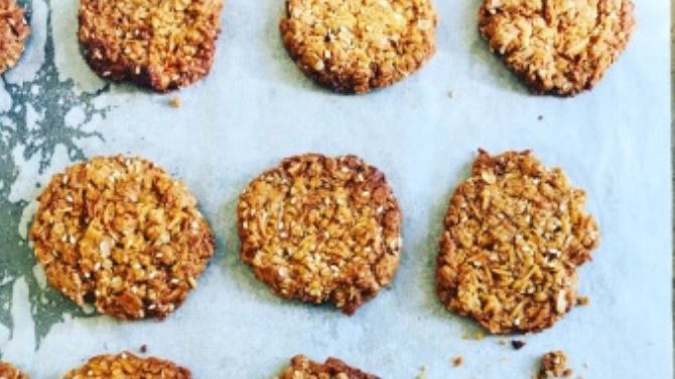 Nici Wickes: ANZAC Biscuits
Author

Publish Date

Sat, 25 Apr 2020, 10:29am
70g butter 
3-4 tbsps golden syrup 
1/2 cup plain flour 
1 cup desiccated coconut 
3/4 cup rolled oats
1/3 cup sugar 
3 tbsps sesame seeds 
1/2 tsp baking soda 
2 tbsps boiling water 

Heat oven to 170 C fanlike. Line 2 trays with baking paper. 
Melt butter & golden syrup in a small pot. 

Combine dry ingredients in a bowl.

Dissolve baking soda in hot water and add this to butter/golden syrup mixture once melted. Pour this into dry ingredients and mix well until combined.

Roll into large walnut-sized balls and space out on a tray. Flatten with palm. 
Bake for 15 minutes or until dark golden brown. At midday point (7-8 minute mark) I re-flatten before continuing to bake. 

Cool & EAT!