Michael Van de Elzen: Citrus Cheesecake
Author

Publish Date

Sun, 6 Aug 2017, 11:30am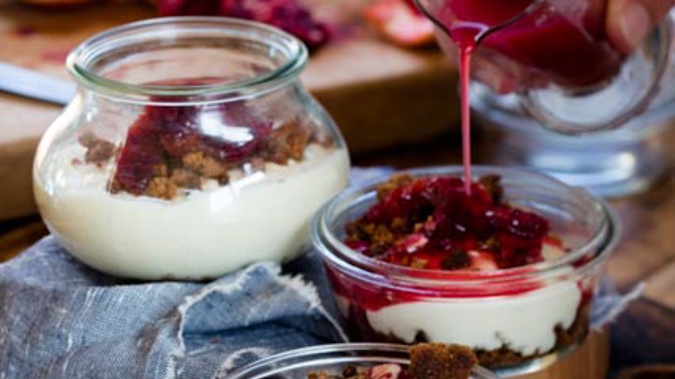 Michael Van de Elzen: Citrus Cheesecake
Author

Publish Date

Sun, 6 Aug 2017, 11:30am
This week we are taking one of my favourite fruits that are available now for a very short period of time. Blood oranges have to be a chefs' favourite. 
The rich red colour comes from colour pigments mainly found in flowers, but uncommon in fruits.
They also have a distinctive flavour - sweetness from the orange with sour tones from the pomelo and the tangerine. 
Now is the time for Blood oranges as the stand out maroon colour will only develop when temperatures are low at night. 
A popular Sicilian winter salad is made with sliced blood oranges, sliced fennel bulbs and olive oil.
But this week I want to share one of my favourite desserts - Blood Orange Cheesecake! 
Total time: 45 mins
Cheesecake "filling"
250g cream cheese, softened

200ml almond milk (unsweetened)

3 tbsp cold water

1 tsp gelatine powder

zest of 1 lemon

1 tsp vanilla paste

4 tbsp caster sugar
Place cream cheese, almond milk and water in a saucepan. Sprinkle over gelatine and stir well to combine. Add lemon zest, sugar and vanilla paste. Cook over a low heat, stirring constantly until mixture begins to boil. Remove from heat and stir gently. Pour into a small, deep dish and refrigerate until set (about 20 minutes).
Cheesecake "base"
1 ½  cups flour

1 cup wholemeal flour

½ cup wheatgerm

½ tsp salt

1 tsp baking soda

1 tsp five spice powder

150g butter, softened

½ cup brown sugar

2 tbsp honey

½ cup chopped dates

 
Preheat oven to 180*C. Whisk together flours, wheatgerm, salt, baking soda and five spice. Set aside. Place butter, sugar and honey into a mixer bowl. Mix on high speed until fluffy, then reduce to low speed. Gently add dates and dry ingredients, and continue mixing until combined. Mixture should still be a little crumbly. Pour mix out onto a lined oven tray and put in oven for 15 minutes, stirring halfway though cooking to retain crumbly texture.
Over the top
1 orange

1 blood orange

1 grapefruit

juice of 2 limes

zest twists of ½ lime

½ tsp vanilla paste

3 tbsp honey

½ cup roasted, crushed almonds
Prepare the citrus fruit by carefully peeling with a sharp knife, removing all pith with the skin. Cut into segments along pith lines.
Now make the lime syrup by combining lime juice, lime zest, vanilla and honey in a saucepan. Bring to the boil, remove from heat and cool.
To serve, lay cheesecake base in serving bowls, add large dollops of cheesecake filling, then top with citrus segments and syrup.