Morgan doubles down on 'lipstick on a pig' tweet with new billboard
Author

Publish Date

Tue, 22 Aug 2017, 1:03PM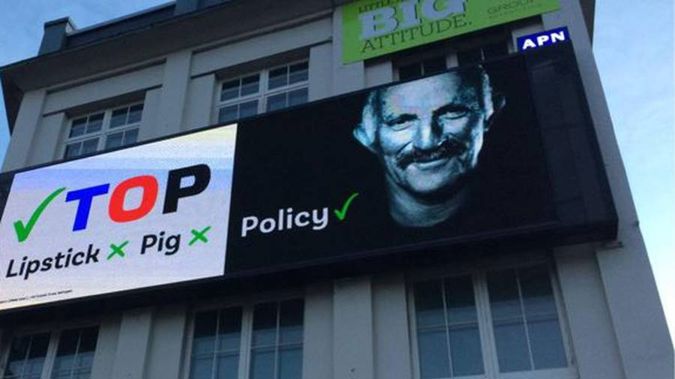 Morgan doubles down on 'lipstick on a pig' tweet with new billboard
Author

Publish Date

Tue, 22 Aug 2017, 1:03PM
Gareth Morgan continues to court controversy altering an enormous billboard in Auckland with words linked to a tweet that created a storm yesterday.
The large electronic billboard on the third storey of a building overlooking Auckland's busy Stanley St has been altered after Morgan tweeted Labour leader Jacinda Ardern needed to show she was more than lipstick on a pig.
Sure but it's pathetic isn't it?All that matters is policy.Jacinda should be required to show she's more than lipstick on a pig.Will she be?

— Gareth Morgan (@garethmorgannz) August 20, 2017
The tweet drew flak from many quarters - including his own supporters - who branded it inappropriate and misogynistic.
Today posters on twitter say key words on the political billboard have been changed from "charms" and "looks" to "lipstick" and "pig" since yesterday.
The latest move by the Opportunities Party leader to capitalise on the outcry is leaving many gobsmacked and wondering what he is thinking.
wtf pic.twitter.com/qtfTZadGAt

— Jono Cooper (@consindo) August 21, 2017
Those on social media who have noticed the prominent central Auckland billboard have been left stunned by the latest alterations.
For real?

— JacarandaB (@PhillipLaings) August 21, 2017
Those who have seen it have described it as unbelievable and bizarre.
I saw this last night. It's like that time when weird Uncle Bob said something really offensive, doubled down and tried to make it a joke. https://t.co/I9PBr2zlmE

— Lizzie Marvelly (@LizzieMarvelly) August 21, 2017
Holy shit, it was "Charms X Looks X policy ✓" yesterday, I thought the person who told me it had changed to that was taking the piss

— Lauren Hemara (@LaurenHemara) August 21, 2017
The Opportunities Party spokesman Sean Plunket confirmed a number of electronic billboards had changed since yesterday and would continue to be altered as the election campaign evolved.
"The party is pleased that the majority of people on social media and in other forums share its desire for an election based around policy debate rather than the attempts of a few to limit the democratic process to faux outrage over the politics of identity," he said.
The party had signed up a number of new members yesterday, had two new women candidates to announce this week and attracted 1000 new Facebook likes in the past 24 hours.
Yesterday's furore had many accusing Morgan of gutter politics, personally attacking the newly elected Labour Party leader that went far beyond appropriate.
Morgan remained unrepentant saying it wasn't a direct attack on Ardern but a euphemism. Until there was evidence of real change from the Labour Party TOP considered the euphemism appropriate.
He took to Facebook to explain the pig was both Labour and National and a change of leadership was not enough to address issues facing New Zealanders.
Ardern dismissed the comment saying while it was firmly aimed at her she chose not to take offence.