Mum's agony over triple-fatal crash
Author

Section

Publish Date

Monday, 12 November 2018, 12:38PM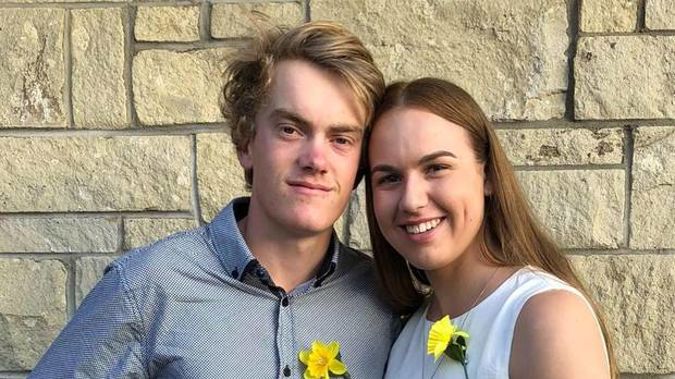 The mother of a 16-year-old who died in a horror Hamilton crash along with her boyfriend's parents says she cannot understand how the vehicles collided.
Auckland teenager Grace Hill was killed in the crash early on Sunday morning.
Grace's mother, Hayley Ellwood, said she named her daughter after the hymn because she was simply that: amazing.
"Amazing grace, that's how she got her name. That's my favourite and that's how she got her name and she lived up to that."
And Ellwood is learning how many others thought her daughter was amazing, too, after she was killed in a horror crash in Hamilton which also claimed the lives of her boyfriend's parents.
Grace, 16, was a passenger in the vehicle being driven by her boyfriend, Mitchell Kay, as it headed north on Mangaharakeke Dr/State Highway 1 just after midnight on Sunday.
It remains unclear exactly what happened, but somehow their vehicle and a Toyota Prado - seen being driven at speed just prior to the smash - collided.
Both Mitchell and the driver of that vehicle survived and are currently recovering well in a ward in Waikato Hospital.
Mitchell's parents, Jeremy and Tania, did not survive.
While still struggling to comprehend her loss this morning, Ellwood described her daughter as someone who was determined and strong-willed yet incredibly funny with a big group of friends.
"She was hilarious. She was determined but the Kay family are absolutely amazing for her so she was just so well looked after and loved.
"She was hilarious, quite a laugh and had a huge group of friends from all walks of life ... and I can see that from all of the messages coming through it's just completely overwhelming."
The continual outpouring of messages was making her nightmare - which began from a knock on the door from police at 4.30am yesterday - a reality.
"It's really starting to [sink in] now the more messages that come through. She's got two older sisters and they're finding it really hard as well."
The family was in Hamilton yesterday, visiting Mitchell in Waikato Hospital and talking to police.
As for her thoughts on the driver of the other vehicle, she wasn't sure what to say.
"What can you say. The guy is pretty lucky. He gets to walk away and I don't understand how it happened, we drove past there yesterday a couple of times and I just don't understand how it could have happened.
"But what he's done to our family and the Kay family... [Mitchell] and his sister are orphans. You just can't get your head around any of that."
She said Mitchell's mother, Tania, treated Grace like one of her own, while his father, Jeremy, a drummer in local band, Tenfoot Leap, was "the classic dad".
"His mum, she just loved her kids and she would do anything for them. She treated Grace like one of her own. She had a big heart, so it's a huge loss."
Mitchell, who attended Hamilton Boys' High School, and Grace, a student at Westlake Girls' College, had been together nearly three years after meeting through their love of rowing.
"She would catch the bus down to Hamilton or he would bus up. It's just a cute love story for two young kids."
However, after being a couple for so long, Grace was determined to move to Hamilton to be closer to him. She had just started a new job last week at Chartwell stationary store Smiggles.
"She was really excited about starting that, she'd only done a couple of days. She'd been a bit lost as to what to do but she'd just got her licence and life was going great for her."
Grace, who was turning 17 at the end of the month, was one of three siblings. She was also survived by twin sisters Ashlee and Madison, 21, who were understandably struggling with the news.
She last spoke to her daughter on Friday. She was due to go on a helicopter ride but it had been cancelled.
She was unsure where the group were heading the night of the crash and although she had spoken with Mitchell in hospital, she didn't want to bother him too much.
"He'll be okay physically."
Although she was unsure how the crash happened, police had told her it wasn't Mitchell's fault.
Police are still seeking sightings of a blue and grey Toyota Prado just minutes before the smash.
When asked about her thoughts on what happened, she said he was just lucky that he can go home to his family.
"You hear about these accidents at the time they happen and some people assume it's kids out their drinking and they've had a car crash ... Mitchell wasn't drinking, [he was] doing the right things."
One of Hill's closest friends, Pearl Tottenham, 17, met her when they started at Westlake Girls High School.
"She was so funny and so hyper all the time. The amount of weird stuff that she did. I had videos of her running round and jumping in puddles in the pouring rain and taking her school uniform off.
"She was the bubbliest and funniest person that I have ever met for sure. I don't think I ever saw her down, ever."