'Disney's Aladdin takes you to a whole new world'
Author

Section

Publish Date

Saturday, 12 January 2019, 9:32a.m.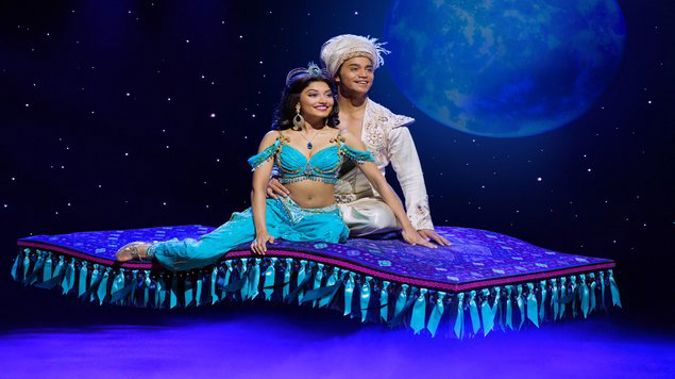 I'm always a little bit skeptical when a beloved film or TV show makes its inevitable move to the stage. Is it a cash grab? Or is there actually something new to be added to the story. Disney in particular has a long history of remaking and reinterpreting its famous tales. Take their current trend of live action remaking classic films such as The Jungle Book and The Lion King. And so, we come to Aladdin – it's a Broadway adaptation of the acclaimed 1992 film that famously featured Robin Williams in one of the most iconic voice roles of all time, as the Genie.
Luckily, fans here can be relieved - because this production is truly a whole new world.
Featuring the same show-stopping numbers from the original film, plus a host of tunes written specially for the stage, Aladdin tells the famous story of how the titular street urchin tries to win the hand of Princess Jasmine. After discovering a magical Genie, Aladdin is granted three wishes. But, of course, with great power… comes great responsibility.
It's a story we all know, and I'm so pleased it hasn't lost any of its entertainment value by transitioning to the stage. In fact, I don't remember the movie being quite as clever and funny as the stage-show?
Being a Broadway show, of course it has to be good to look at – and Aladdin doesn't disappoint. I can't overstate just how spectacular the show is visually. With 300+ costumes, featuring 1,225 different fabrics and over 500,000 Swarovski crystals, everything glints, shines and sparkles. Not to mention there's pyrotechnics, illusions and a real, incredible, flying carpet (which I still can't quite figure out). The sequence in the Cave of Wonders has to be one of the most incredible things I've seen on a stage before. Plus, the Civic Theatre really does feel like the perfect venue for a show like this.
The cast all shine – and not just from those dazzling crystals adorning practically every costume. Gareth Jacobs' Genie is every bit the part and a worthy successor to Robin Williams. Practically every moment he spent on stage was a scene-stealer. Our very own Graeme Isaako impresses in the titular role. On opening night, you could tell the impression a packed Civic Theatre, and performing in front of his family, had on him during a teary-eyed curtain call. Adam Murphy's villainous Jafar (with an evil laugh to boot) and Shubshri Kandiah's strong-willed Jasmine round out the core cast.
And then, of course, there's the music. I've never been to a show that's had a standing ovation midway through the first Act. But then, I've never been to Aladdin before. And the almost 8-minute-long number "Friend Like Me" absolutely brought the house down. Honestly, it's worth the price of admission for those 8 minutes alone.
Which brings me to my only gripe – and it's certainly not one that's the fault of this production. If you're going to place the biggest number with the most extravagant, over the top production near the end of the first Act, you have to match it before the curtain call. And sadly, Aladdin's second half never quite reaches the heights of the first.
That being said, opening number "Arabian Nights" (with extra Genie) and the second act's "Prince Ali" were other highlights, along with ballads like, of course, "A Whole New World" and "Proud of your Boy."
If you were ever on the fence about buying a ticket to see Aladdin, don't be – this production's from further afield than just Agrabah; it's out of this world.
Aladdin is playing now at the Civic Theatre, Auckland and runs until March 2nd. Tickets available from  https://www.ticketmaster.co.nz/