70 fire crews tackle industrial blaze in South Auckland
Author

Section

Publish Date

Sunday, 21 April 2019, 3:23PM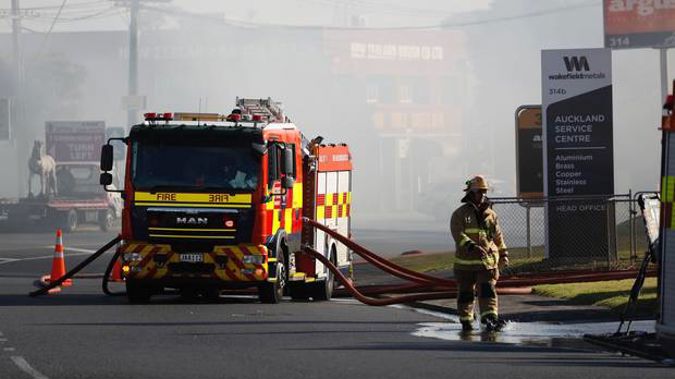 Around 70 fire crews battled a "large and severe fire" at an industrial building in the Auckland suburb of Onehunga.
The Herald understands the building on fire is the Argus Fire Protection office.
Fire incident controller Murray Binning said the cause of the fire is unknown at this stage.
The blaze reached a fourth alarm, which means between 15 to 20 appliances arrived at the scene with approximately 60 to 70 crew members.
Fire crew talk to members of the public at the scene of the industrial fire. Photo / Dean Purcell
"It's a relatively large and severe fire, the initial crews did an excellent job in cutting the fire off," Binning said.
"We've deployed a couple of aerial appliances and we've also got crews inside on interior attack with hose lines," he said.
Dave Pene, who witnessed the fire take off, said after spotting the blaze he ran inside to get his wife to call the fire brigade.
"By the time I had came back out the glass [window] had blown out and away she went, she just roared", he said.
"Even before the appliances arrived she was hell out ... when the window blew out [the fire] just rushed out and this whole block started to blow out.
"Once she got a bit of air she was gone, like within 15 minutes [the Argus Protection building] roof started collapsing."
Fire 🔥 Neilson St, Onehunga road closed pic.twitter.com/wkrap6IfRV

— Dr Marewa Glover (@MarewaGlover) April 21, 2019
Pene's appliance was across the road and said fire crews arrived on the scene within minutes, "it was fantastic".
Not only did fire crews do an amazing job preventing the fire from spreading to the metal warehouse, but a fertilizer company is also located on the other side and Pene said if the fire had reached there the whole block would have gone up.
Unfortunately, the Mr Gordon's Laundry Service worker said the smoke from the fire damaged his place of work.
"It's a shame because all the work we just did this morning at the laundry, it's all smoke damaged now," Pene said.
"It's back to square one, all our clients are going to be affected ... it's not good."
He believed one woman was located at the back of the Argus building when the fire first ignited.
Binning said it is believed no one has been hurt by the fire at this stage, however.
The road closed off and fire teams have asked people to avoid the area.
Fire in Onehunga @nzherald pic.twitter.com/vTcqgnAvjA

— Scott_ (@STMLHM) April 21, 2019