Yellow digger stuck on Auckland beach retrieved
Yellow digger stuck on Auckland beach retrieved
Mission Accomplished. A digger stuck on an Auckland beach has successfully been recovered.
Workers had been attempting to salvage a digger that got stuck at Shoal Bay during its own rescue mission that went wrong.
Last month a 4x4 Landrover became cemented in wet sand on Little Shoal Bay in Northcote, near the Harbour Bridge.
According to the local tradies, a medium-sized yellow digger went to retrieve the vehicle before it started sinking in the sand.
The operator tried to dig down to find solid ground but only succeeded in making the hole bigger.
Recovery teams from Ace towing and Porter hire began digging a trench and laying large boards down to provide the necessary traction to tow the digger out at 3:30pm.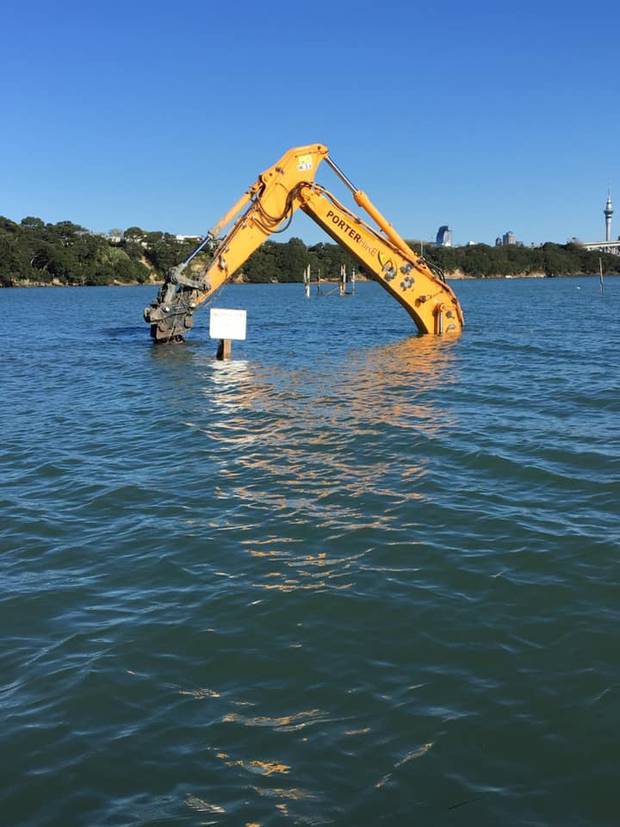 Other pictures showed the machinery mostly submerged underwater as the tide changed. Photo / Facebook
The vehicle finally emerged accompanied by rapturous cheers from dozens of locals a short time after 8pm.
Photos showed the yellow digger lodged firmly in the wet sand, with only the top of the cab and crane showing.
Other pictures showed the machine mostly submerged underwater as the tide changed.
Police said local authorities were not advised about the stuck vehicles, but there were no reports of injuries.