Toyota Land Cruiser Prado turbo diesel
Author

Publish Date

Sat, 3 Sep 2016, 10:10am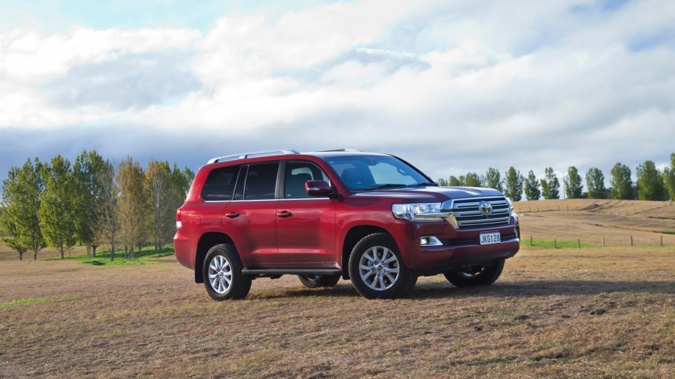 Toyota Land Cruiser Prado turbo diesel
Author

Publish Date

Sat, 3 Sep 2016, 10:10am
Toyota's Land Cruiser Prado reigns supreme in our medium to large SUV market and it's hard to see that changing anytime soon, given the reverence it's held in by 4WD aficionados the length and breadth of this country.
The Prado's enjoys much the same iconic status as the Hi lux and has built a similarly strong and loyal band of followers, since debuting here in the mid 1990's. The current third generation Prado has been around for over five years but still looks sharp with its square chiseled lines. Seven-seat versatility, legendary reliability and genuine off road abilities are all key contributors to the long-running success of the Prado. It's multi talented as well, proving equally at home cruising down some up market suburban street, or up a muddy bank.
The recently updated Prado range leads off with the turbo diesel only $78,490 GX and at this price, appears to offer the best value for money. From there its a $10K step up to the mid-range VX turbo diesel and another $1k if you option the lusty, but thirsty 4.0 litre six-cylinder petrol. The diesel only range topping VX Limited hovers agonizingly close too the six figure mark with its $99,990 asking price. The VX in turbo diesel form is expected to account the bulk of sales, so not surprisingly it was the model supplied for this road test.
Up until now, one of the less endearing features of the current model was its rather dreary 3.0litre turbo diesel, a hand me down from the previous model. It was lacking both punch and purpose in this larger and heavier iteration of the Prado. This is has been largely remedied with a new heart transplant in the form of clean sheet design 130kw 2.8-litre turbo-diesel offering brisker performance, better fuel economy and markedly quieter than the engine it replaces.
Despite slightly less engine capacity than its predecessor this motor delivers nearly 10 percent more torque, and improved, fuel economy due to increased combustion efficiency and reduced friction. This motor is a case where less is actually more. Fuel filtration, an important point in common rail diesels, is enhanced with the addition of a secondary high-pressure fuel filter to protect expensive and precise fuel system components. These changes have enabled the engine to meet the tough Euro 5 emissions standards, with six percent lower CO2 exhaust emissions over the out going motor.
Above everything else, what really made the biggest impression with me is the substantial reduction in engine noise. Significant work was done to tune the sound of the engine down, plus I suspect far greater use of sound proofing material. On and off road, this new diesel provides the energy and vitality that's been lacking in the Prado's performance. It delivers crisper acceleration right across the rev spectrum making for a far more relaxing and engaging drive.
A lot of the credit for the greatly enhanced performance can be put down to a modern six-speed automatic, that's also used in higher spec version of the recently release Hi Lux Ute. Having six ratios at its disposal allows the transmission to respond more quickly and decisively to the demands of the road and driver.
With its standard third row of seats, the Prado is an attractive go anywhere life style seven-seater. However, the third row of seats are really only suitable for children. There's plenty of in cabin storage with a good assortment of sensibly positioned pockets and bins.
A big plus for the price leading GX is the addition of satellite navigation as standard fitment with a 7-inch display screen, SUNA traffic notification system, Bluetooth telephone and audio player. Both the petrol and diesel VX have a 14-speaker premium audio system, which had previously been an optional extra. All models have rear parking sensors and VX and VX Limited comes with front mounted sensors. An automatic headlight leveling system is standard on the VX and VX Limited and manually adjustable on the GX.
Things are now a whole lot more comfy for the driver with an eight-way power seat adjustment with active headrests and front passenger four way power adjustment.
With ventilated disc anti-lock brakes, brake assist, electronic brake-force distribution, vehicle stability control and trailer sway control on all models, the Prado has an ANCAP five star safety rating. The comprehensive safety specification upgrades see blind spot monitor and rear cross traffic alert as standard on the VX. This system is taken to the next level in the range topping VX Limited that comes with a Pre-Crash System, which includes Pre-Crash Brake Assist, Pre-Crash Seat Belts and Pre-Crash Brake.
Build quality on the Japanese assembled Prado is a five star job from the flush fitting body panels and door shut lines to the flawless paint job.
Toyota's Kinetic Dynamic Suspension System is fitted to all VX models and adjusts the front and rear stabiliser bars based on the movement of hydraulic cylinders. High roll rigidity is provided to help suppress body roll. While an improvement over previous models, body roll remains an issue and handful, if drivers engage in a bit of over zealous cornering.
Handling is pretty much in line with what you would expect from a recreational 4WD from the super heavy weight division. There's the mandatory pitch and roll through the corners that generally accompanies a vehicle of this size and weight. The extra ground clearance plus a high centre of gravity, seriously curb the vehicles bend swinging ambitions. The light and rather remote feeling steering system doesn't engender lot of confidence especially when driving over twisty terrain. Ride comfort is good for vehicle primed to slug it out in serious off road terrain. Overall, the Prado's suspension successfully balances it double life of on-roader and off-roader.
What's the verdict? This aging 4WD juggernaut offers exceptional versatility, is a genuinely tough yet incredibly durable luxurious off-road warrior, that's surprisingly civilized on-road.