Bob Nettleton: Kia Optima GT turbo sedan
Author

Publish Date

Sun, 22 Oct 2017, 3:46PM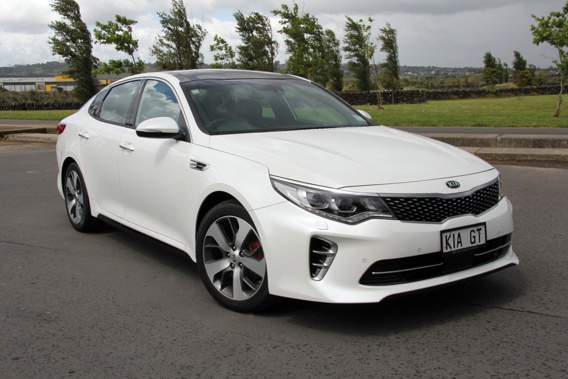 Bob Nettleton: Kia Optima GT turbo sedan
Author

Publish Date

Sun, 22 Oct 2017, 3:46PM
It is a rarity for the styling of a mainstream Korean sedan to excite, but the sleek Kia Optima sedan does exactly that, although not its performance.
However, that has all changed with the arrival of a turbo charged GT variant that will certainly quicken the pulse, and delivers the Optima after a lengthy wait, an engine it deserves. At a cursory glance its power and torque outputs, make it a worthy bearer of the GT badge and the performance expectations that come with it.
A bigger, more luxurious and technologically advanced Kia Optima was launched here in 2016. You can be forgiven for not noticing it as sales of large sedan such as the Optima are going backwards at a great rate of knots as the pool of buyers for this type of vehicle evaporates in the face of hot selling SUV's.
This latest Optima like most of other sedans of this size are in battle for survival to attract buyers, even this model that looks sharper than ever and takes a step up in quality. Factor in its increased safety, convenience, technology, and competitive pricing and you would expect it to be selling in decent numbers. However, it is more in the modest category, as it struggles for sales traction and buyers in our mid sized sedan market, that is currently mired in the doldrums.
This state of affairs has prompted Kia to streamline the Optima range to just three models, each targeted to a clearly defined buyer bracket. A value for money $45,790 EX for business and fleet customers, while tempting private buyers is the $48,990 luxuriously appointed Limited. This duo are powered by a proven and hard working 138kw 2.4-litre Gasoline Direct Injection engine The ultimate Optima and the model supplied for this road test is the $52,990 GT 2.0 litre turbo.
A 180kw 2.0 turbo petrol boosts the Optima GT's chances of gaining acceptance as a credible fast and affordable large luxury sedan. This new engine features a high-efficiency twin-scroll turbocharger, high pressure fuel pump, dual continuously variable valve timing technology and laser-drilled injectors in the quest for the best possible balance between power and efficiency. Performance is brisk with plenty of urge under the right foot even with a slight prod of the throttle.
This is a model that has its sites set on those looking for a bit more driving pizazz in a keenly priced good sized luxury car. There is plenty to like about this engine from it's low to mid rev range punch and strong linear power delivery, with its peak torque of 350nm getting on a roll from just 1400rpm. Not so likable, is the artificial sporty exhaust note that emitted for the listening pleasure of the passenger compartment occupants, and witters away when the automatic transmission is in Sport Mode. Outside the car, all you hear is a rather unremarkable exhaust note. Kia would be better to give the engine a suitably aggressive exhaust note, rather that trying and not that successfully, to fake it,
The motor is teamed with a re-calibrated version of the 6-speed automatic transmission found in its less potent siblings. This gearbox does a good job of harnessing and using to good effect the motors considerable power. It has a smart strategy for achieving this, built around intelligently mapped gear ratios that react quickly and decisively to a range of driving situations and environments. These can range from long up-hill grind to short sharp bursts of speed for over taking slower moving traffic.
This 4th generation Optima is longer, wider and taller than its predecessor. The increased dimensions deliver more head, shoulder and rear seat legroom and a much larger boot area. The dashboard is spread along a more horizontal plane and incorporates a wider central console, creating a greater sense of spaciousness.
GT features a black leather interior with red stitching. For the extraverts, a red leather interior with grey stitching is available with selected exterior colours. The GT logo is stitched into the back of the seats and there is a GT badge on the unique D-shaped steering wheel. Rear passengers also have pull-up sunshades built into the rear door trim to reduce bright light.
A long list of standard equipment includes SatNav, rain sensing wipers, climate air conditioning, and push-button start. There is a panoramic sunroof and premium Harman Kardon 10-speaker surround sound system. It is among the first sedans sold here featuring a wireless charger for compatible smartphone devices.
Kia's Vehicle Stability Management (VSM) keeps the car balanced under braking and cornering by controlling the Electronic Stability Control (ESC) and power steering if it detects any loss of traction. Another clever bit of safety kit is Advanced Smart Cruise Control (ASCC), which automatically adjusts the speed to maintain a safe distance from vehicles in front. Lane Departure Warning System (LDWS) employs a forward-facing camera to detect the car's position within a traffic lane, alerting the driver if they stray over the lines without indicating.
High Beam Assist (HBA), which automatically adjusts headlamp range according to other vehicles and road conditions; Autonomous Emergency Braking (AEB) which will detect a vehicle in front slowing and automatically apply the brakes to avoid a collision; Blind Spot Detection (BSD), with a visual warning in the door mirror when another car enters the driver's blind spot; Rear Cross Traffic Alert (RCTA), which warns against other cars driving behind the Optima GT in car parks while reversing.
The Optima GT deploys a more assertive suspension set-up, including lower ride height, plus stiffer spring and damper rates that give it a far more planted feel on the road. It displays the sort to grip and tenacity to allow the driver to safely enjoy the performance capabilities of this car, with the nicely weighted and communicative also chipping in. Even with these handling enhancements, passenger comfort hasn't been red carded. The test car's suspension consistently delivered a well-cushioned ride, even when subjected to an exacting examination over some badly corrugated gravelled country roads.
 Whats the verdict? A good first attempt by Kia at a large performance sedan, the GT Optima looks the part, is a strong performer, but needs to lift its ride and road holding game to give it real creditably.
Take your Radio, Podcasts and Music with you