Bob Nettleton: Holden Astra turbo hatch
Author

Publish Date

Sun, 22 Oct 2017, 3:47PM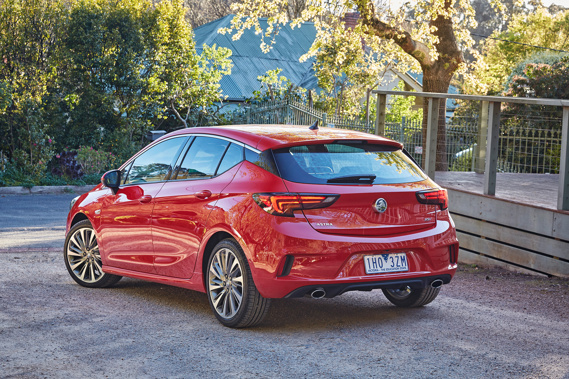 Bob Nettleton: Holden Astra turbo hatch
Author

Publish Date

Sun, 22 Oct 2017, 3:47PM
There is little question that slipping into Cruze mode for the past seven years helped Holden make some serious sales in-roads into our small car class.
Since 2009, the Cruze range of compact sedans, hatchbacks and wagons has been a winner for Holden. With the company ceasing new car production in Australia including the Cruze line-up hatch, they have been forced to look elsewhere to fill the sizeable gap in its model left by the Cruze cruising off into the sunset. Fortunately, they have a well-credentialed replacement in the latest generation Astra, with various iterations of this vehicle sold here over the last 25 years.
It reappeared in 2015 after a break of nearly six years, as a premium three- door performance hatch in GTC and GTC Sport guises. Both featured a lively 1.6 litre turbocharged engine in couple of states of tune with the choice of six-speed manual or automatic transmissions. The automatic and manual GTC used a 125kw 1.6 litre turbo engine, while the GTC Sport featured a stronger and more invigorating 147kW version of this motor.
The undisputed performance champion though was the VXR that packed a potent 206kw from 2.0 litre turbocharged engine, and was the real 'hot' hatch deal with Brembo front brakes and electro-hydraulic steering for a direct, and a more engaging driving experience.
It would be fair to say that despite being immensely popular in Europe and the UK where it is sold as a Vauxhall and Opel respectively, the Astra has never really shaken or stirred our small car market. This latest model that is only offered in five-door hatchback form, faces a major challenge in turning that situation around. The success of the Cruze was built on it being a price leader that appealed to fleet purchasers and budget conscious private buyers. By contrast, Holden is positioning the new Astra, as a premium sports hatch with a focus on style, technology, quality and performance.
This car arrives here with lots of awards against its name, with the most impressive of these being the coveted 2016 European Car of the Year title. Plenty of other models have arrived here over the years that have won lots of trophy's, but these accolades failed to translate into sales success for them on our market. The big question is whether this newest Astra will be another model that falls into this category, or is it good enough to become a serious player in our small hatchback market.
The three-model line-up starts with the 110kw 1.4 turbo R manual at $30,990, the mid spec 147kw RS 1.6 turbo manual retails for $33,990, with the same engine and gearbox in the flagship RSV costing $36,990. A six-speed automatic is a $1500 extra across the range. I am picking it will be a popular option with those who see manual gear changing as a chore and bore, that they do not need in their motoring lives. Other options include a driver assistance pack for the entry level R model.
Priced at $1500 it provides 'must have' safety technology including lane keep assist, forward collision alert, forward distance indicator and rain sensing wipers. At the other end of the range a $1990 Touring Pack is available on the top spec RSV, the model provided for this road test in optional six-speed auto form. The pack features an electric sunroof and adaptive cruise control.
The 1.6 turbo motor is plucked from the three-door GTC Sport hatch version of the previous generation Astra that was sold here up until about 12 months ago. With a maximum output of 147kw, it out muscles most of rivals in this price bracket. Most importantly though it delivers superb throttle response and a much larger wad of performance, than is typically found in our small hatch class. Smooth, refined and packing plenty of punch, this motor makes short work of undulating and hilly terrain, with the test vehicle always feeling as though it had plenty of power in reserve if required. What it does lack is a sweet sounding exhaust note to compliment its zesty performance. Consequently it lacks a bit of character that would give the car a small but important point of difference in our intensely competitive small hatchback market. A modern and quick shifting six-speed automatic amplifies the driving enjoyment of this latest edition of the Astra.
The cabin is modern, inviting and most importantly, cleverly balances passenger and load space so owners have usable amount of both. Luggage capacity is generous thanks to a spacious yet well-proportioned rear hatch cavity
All new Astra variants have as standard the latest generation MyLink infotainment system featuring Apple CarPlay and Android Auto.  The R and RS models include a 7" colour touch screen with Bluetooth and voice recognition functionality via Apple CarPlay and Android Auto. In addition to this, the RS-V adds an embedded Satellite Navigation system and voice recognition together with a larger 8" colour touch screen.
Sporty looks ensure the Astra stands out from its Japanese and Korean competitors. For those desiring a small hatchback that is bristling with visual flair and individuality, then this one ticks most of the boxes.
In Europe and the UK, the ride and road holding expectation of buyers are set higher than on many other markets. This forces carmakers to bring nothing less than their 'A' game to this area of their car design, in order to stand any chance of sales success. This fairly high benchmark is reflected in the balanced and responsive handling of the new Astra, which sits a good level or two above its predecessor the Holden Cruze. Over twisty roads you immediately sense an air of confidence and composure about the suspension, as it effortlessly caressed the test car over this sort of terrain. Nicely weighted and with good road feel, the steering is another major plus. Ride comfort hasn't been thrown to the four winds with the suspension remaining lithe enough to soak up the ruts, bumps and potholes that abound on many of our roads.
What's the verdict? European inspired hatch, strong performance, good handling and just the car Holden needs to make some real sales headway in our highly competitive small car class.
Take your Radio, Podcasts and Music with you