Bob Nettleton: Audi Q2
Author

Publish Date

Sun, 22 Oct 2017, 3:45pm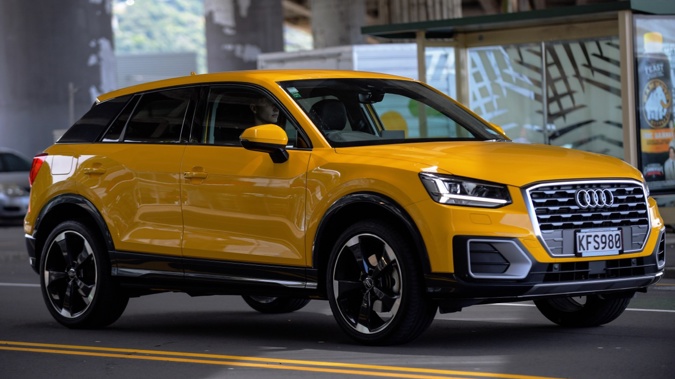 Bob Nettleton: Audi Q2
Author

Publish Date

Sun, 22 Oct 2017, 3:45pm
They say 'size' matters, but seemingly not to an increasing number of those in the market for an urban SUV, where sales of compact models have hit top gear, and Audi is keen to go along for the ride with its new mini sized Q2.
The Q2 may be the company's smallest SUV, but there big expectations of it shoring up a greater share of our SUV market, that defies the pundits and continues to grow at an astonishing rate. The Q2 is being pitched as a premium urban-type vehicle for everyday driving and recreation, blending what Audi claim is a progressive design with a high level of functionality.
A square angular profile is pure Audi, while the vehicles concave flanks and exaggerated wheel arches, bring a new and interesting twist to the company's current design language. A low roofline and high window line fashion a sporty coupe-like look and a purposeful stance on the road. Especially striking are the wedge-shaped LED headlights, a distinctive single frame grille, and air inlet that are large in proportion to the rest of the vehicle.
With the Q2, Audi are venturing into a new market segment, with a unique mix of style and technology, are confident it will hit the mark with buyers with its crisp clean lines, exceptional quality, plus high levels of standard equipment. One area where I think it misses the mark is affordability. We all know Audi is a premium European brand, but the solitary Q2 offering is know bargain at $54,500. Regardless of the badge it sports that is a steep ask for a small 1.4 litre turbo charged five-door two-wheel drive SUV. The range will broaden from just being a solo act with more A2 models expected later in the year. A 4WD Quattro version may be on the cards, and would make an exciting prospect for trumping our exacting terrain, weather and road conditions.
A 1.4 litre turbo engine produced 110 kW and 250 Nm of torque, is lively, responsive and silky smooth. It exceeded my expectations, delivering excellent fuel economy, low noise levels and solid all round performance right across the board. While not at the high end of the verve, power and passion performance continuum it slowly but surely wins you over with its relentless pulling power from low revs. It also displayed true strength and endurance in comfortably polishing off long and energy sapping hill climbs.
To its credit, the engine largely maintains this tempo even with a full compliment of passengers and luggage aboard. Are there any down sides to this motor? About the only one worth a mention is a hint of hesitancy under hard acceleration from standing starts, before the turbo snaps out its micro nap and springs into action. I have noticed this trait to varying degrees in a variety of Volkswagen and Skoda models that share this same power plant.
Gear changing is taken care of by a proven and efficient 7-speed automatic with tip shift mode allowing the driver to mimic manual gear changes, if that sort of thing floats your boat. With the speed and accuracy of this transmission, I struggled to find any logical or compelling reason to dive into manual mode, apart from the initial curiosity factor.
The interior of the Q2 is superbly put together and exudes quality in every direction. It draws on taut and angular Germanic design cues, not Q's of the exterior. There is space for five passengers, although not a great deal for those consigned to the rear seat, where head and legroom are in scare supply. The four doors open wide making entering and departing from the car easy.
An elevated driver and front passenger seats ensure good all round visibility and give the vehicle that all important SUV feel that new car buyers are so desperate for. The Q2 offers up to 1,050 litres of cargo space when the rear bench seat is folded down, an impressive figure givens for the vehicles modest footprint. 

Apple CarPlay and Android Auto interfaces are standard, while Q2 tech loving buyers can option for a hefty $3,500 Audi's Virtual Cockpit and navigation plus system. Virtual cockpit is built around a large 12.3-inch high-definition digital display that replaces the standard instrument cluster.
Among its bag of tricks are customisable displays of navigation information, trip data, speedometer and tachometer. The optional Head-up display projects driver- relevant data as coloured graphics onto a glass panel in the driver's direct field of vision, so their eyes do not deviate from the road ahead. This is a good thing for their safety and that of other road users.
Buyers wanting to express their individuality will love how easy it is to personalize their Q2, and really stand out from the automotive masses. This vehicle allows them to do that in a variety of ways with a selection of 11 colour palates, five alloy wheel designs and four additional contrast colour C-Pillar blades. Vibrant tones such as yellow, orange and red are available for inlay sections of the seats and contrast stitching.
Remarkably, the compact Q2 inherits much the same first class ride and road holding characteristics of much larger and more substantial members of the Audi family. Initially the low speed ride does appear a touch on the staunch unyielding side of the ride comfort spectrum. However, it still manages to negotiate most bumps and potholes without the suspension sounding like a large bass drum. Road holding is a genuine strength and top shelf material for a small premium priced urban SUV. When hounded hard over undulating terrain or through demanding curves the Q2 hugs the road with grizzly bear like power and intensity, but without the bad breath of grizzly.
Whats the verdict? Classy and refined compact urban SUV at a premium price, better value for money offerings in this market segment.