Nissan Navara RX 4WD Ute by Bob Nettleton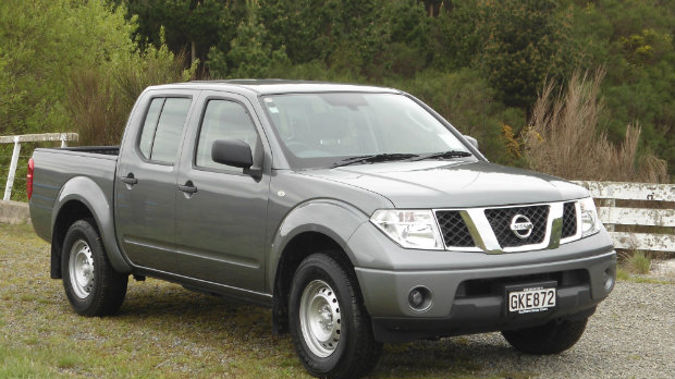 Nissan Navara RX 4WD Ute by Bob Nettleton
Nissan has gone back to the basics and included a no frills "Working class hero" in its Navara Ute range adding even more appeal to one of their best sellers in New Zealand.

This RX model is pitched fairly and squarely at tradesmen, the agricultural and forestry sectors where there is often heavy, mucky equipment and materials that need to be dispatched to and from work sites. A versatile King Cab variant with additional storage behind the front seats plus a longer deck than the double cab model, comes in either well-side or cab chassis configurations. RX owners will appreciate the vinyl floor covering and heavy duty upholstery, making the clean-up after those down and dirty days at work so much easier.

Even though the current Navara has been successful plying its trade on our Ute market since 2006, its square chiselled lines have aged well. Interestingly, Nissan also sell the previous generation Navara DX, which is around $6,000 cheaper against the equivalent versions of the current model. This marketing strategy allows Nissan to tap into buyers unable to make the monetary leap up to the latest version. However, this more senior member of the Navara family is facing growing competition from the Chinese made models entering this lower end of our new Ute market.

Prices for the RX start at $39,900 for the two wheel drive double cab, with the double cab 5-speed automatic provided for this road test the most expensive at $51,490. Those wanting to take a more hands-on approach to gear changing duties, can save themselves $2,000 by opting for the six-speed manual transmission.

The 126kw on tap from the well proven 2.5 litre turbo diesel plus 403nm of torque, performance both on and off road is effortless. Give the throttle a decent dab and the engine unleashes a decent swat of power that quickly kicks the Navara into sprint mode. The motor takes to hard work like a duck takes to water, digging deep in energy sapping cross-country terrain where it displays extraordinary strength and tenacity. At low speeds, the engine by today's exacting turbo diesel standards is rowdy, but the volume eased back several notches at open road speeds, to morph the test vehicle into a civilised highway cruiser.

Based on previous experience the shift action in the six-speed manual Navara is just a bit too sticky for my liking, while the path to engaging reverse was tricky at times. I prefer the smooth clinic gear changing regime operated by the five-speed automatic fitted to the test Ute. The extra two thousand dollars for this transmission is money well spent for those seeking a more relaxing drive.

A comfy cab easily accommodates five adults, although access is a bit of a squeeze for larger framed types trying to gain entry to the back seats, through what are fairly narrow rear door openings. An extra wide rear deck provides the sort of cargo carrying real estate to haul some seriously large loads. A double wall construction in the well deck greatly reduces the risk of loads causing costly damage to outer body panels.

Instruments and controls are all within easy reach of the driver who also enjoys good front and rear visibility from the elevated driving position. For a price driven work horse Ute, equipment levels have not been completed gelded. The most obvious sign to the rest of the Ute world you are driving the "Cheapie" in the Navara line-up are the low-rent looking, but highly practical steel wheels. Some may find it curious that the RX bereft of a back bumper, leaving the vehicles rump a bit exposed to rear guard wounds inflicted during off-road combat. The reason behind not fitting a back bumper is so owners can adapt tow bar and rear panel protection systems to their particular needs. Often accommodating these specialised set ups means the existing back bumper has to be removed anyway.

Creature comforts are bit thin, but the essentials are covered with air conditioning, cruise control, power windows, keyless entry and a four speaker audio system. The exterior door mirrors are DIY jobs. This may come as a bit of a shock on a Ute these days even at the budget end of the market. I think they make a lot of sense for a hard working Ute like the RX. The reality is a limb or two like an exterior mirror, is likely to go missing in action during the heat of the many off-road battles these Ute's will face. A manual operated mirror is going to a whole more practical, as well as cheaper to replace than a fancy electric one!

The suspension system is typical Ute fare, with double wishbones up front, while a leaf sprung rear end provides the broad powerful shoulders to lug hefty loads. However, a lively lead sprung tail means some trade-offs in handling and road holding. These springs hold it together pretty well in a straight line, but wiggle and squirm if you attempt to corner to aggressively, particularly if there is not a bit of weight on the rear deck. Off-road, leaf springs provide the full-bore staunchness the RX needs to withstand the sort of rugged off-road missions it is likely to face. Moving from 2WD to either high or low 4WD, is all done via a dashboard mounted rotary dial, dispensing with the fiddly and fickle floor mounted gear levels still used in some Utes.

What's the verdict? An honest, affordable and unpretentious salt of the earth Ute, that won't let you down.