Motoring: Peugeot 3008 Diesel Hybrid
Author

Publish Date

Sat, 12 Jul 2014, 12:00AM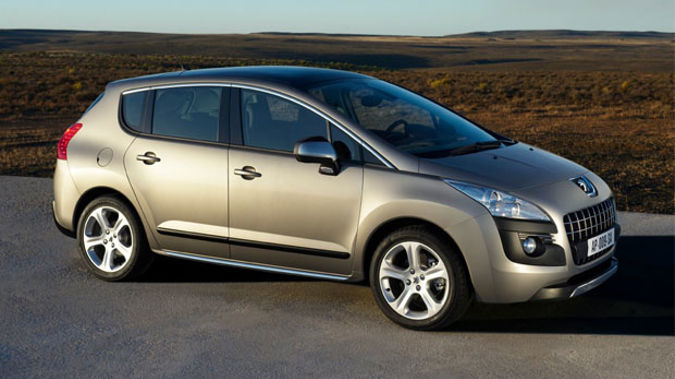 Motoring: Peugeot 3008 Diesel Hybrid
Author

Publish Date

Sat, 12 Jul 2014, 12:00AM
One of the least known Peugeot models in this part of the world, the 3008 urban SUV, is now one of the most unique with its diesel/electric engine technology.
Along with its larger sibling the 508 RXH wagon, they are among world's first mass-produced diesel/hybrid cars. Given Peugeots long and distinguished career as a producer of fine diesel engines, its hardly surprising that the company it would be eager to become the first automotive manufacturers to successfully launch a diesel hybrid. Several other premium carmakers are now champing at the bit to head down this route as well.
I find it rather curious, that Peugeot chose the quirky urban SUV like 3008 hatch, as one its first vehicles to use this interesting twist on the hybrid theme, that has up until now, exclusively revolved around petrol and electric engine combos. The fact this is model is quintessential quirky French motoring at its best, made it an ideal recipient for this off beat form of hybrid propulsion. While the 3008 has sold well in the UK and Europe, where there appears to be an appetite for urban SUV hatches, its failed to fire on our market.
When it was launched here in 2010, the 3008 at the time seemed an exciting an interesting addition to our urban SUV scene that would inject some genuine French panache. Not even that has been enough create a lot of buyer interest.
The semi wrap cockpit gives the driving position an almost sports car like feel, that seems a bit out of sync with a vehicle that is all about practicality and versatility. A massive panoramic glass roof baths the cabin in natural light providing it with its own unique ambience.
Part of the reason for the 3008's popularity in the UK and Europe is it impressive clean-green credentials. This is a huge draw card for buyers in that part of the world, where there are heaps of incentives including monetary ones, to drive buyers into these types of cars. Both the standard 1.6 litre 115kw turbo petrol and 2.0 litre turbo diesel engine used in the 3008 are low emission emitters and fuel consumers. Now in diesel hybrid form it sets a whole new benchmark.
Pricing for the 3008 has been aggressive from the time it was launched. Further trimming of prices in the last 18 months has lowered the cost of the, 1.6 turbo petrol to just $36,990. The diesel hybrid is easily the most expensive costing a shade under $60,000 and that's a lot for any small to mid-sized hatch, even a ground breaking one such as this.
Peugeot's proven and Euro 5 emission compliant 2.0 litre HDI turbo diesel is teamed with an electric motor, is perched in the general area of the rear axle and readily adaptable to any Peugeot model. The collective might of the turbo diesel engine and electric motor produces 147kw, enough to propel the 3008 from 0 to 100km/h in a very smart 8.5 seconds.
This duo combine to offer plenty of low speed pulling power to master our undulating roads and rolling terrain. What really stands out though is the way it does it with such ease, yet you are always left feeling there is more than enough power in reserve if needed. With so much low speed power locked land loaded, the 3008 diesel/hybrid made light work of heavy up hill slogs as well.
Unlike other diesels at idle, this one does not deliver the usual clatter and chatter. This is because the diesel engine isn't required under normal circumstances, to provide the initial off the line thrust to launch the car out of the starting blocks. However, if it's a bank heist like getaway you need then the diesel comes into play almost immediately to provide it,
An ultra efficient automatic transmission works seamlessly with this diesel electric duo. Whether it's an instant surge of power for overtaking, or simply wafting want along at open road speeds, the transmission is happy to go with the flow.
Price, it isn't cheap, whacky looks and claims of mega miserly fuel consumption, that most owners will struggle to achieve in real world driving, are all major road blocks to success for this car. I never got close to the claimed 4.0L/100km with a fuel economy figure that wasn't isn't a lot better than the standard 3008 diesel
The upright semi SUV styling works well to provide better than average amounts of usable space, although surprisingly, rear legroom is on the snug side. A deep and sensibly shaped rear luggage cavity is revealed on removing the false floor in rear hatch area. There are also several clever storage compartments squirreled around the cabin. A good example of the amount of attention to every last detail in this vehicle is an on-board re-chargeable torch. Truly illuminated thinking, that owners will come to appreciate when they need to a change a tyre on a wet night, or fit a set of chains to traverse a snow covered road.
With its wide track, chunky tyres, 4WD and able suspension, the 3008 offers sufficient grip and road holding to satisfy most owners. However, its not one of Peugeot's finest suspension jobs, with too much body lean in tight cornering situations to earn that accolade. Even so, it still rides and handles with more finesse and poise than most of its urban SUV Japanese peers.
What's the verdict? One of the world's first mass-produced hybrid diesel electric cars, but a steep price tag and quirky styling, mean it won't cause to many ripples on the new car sales pond in this country.