Motoring: Mini five-door
Author

Publish Date

Thu, 19 Nov 2015, 1:55pm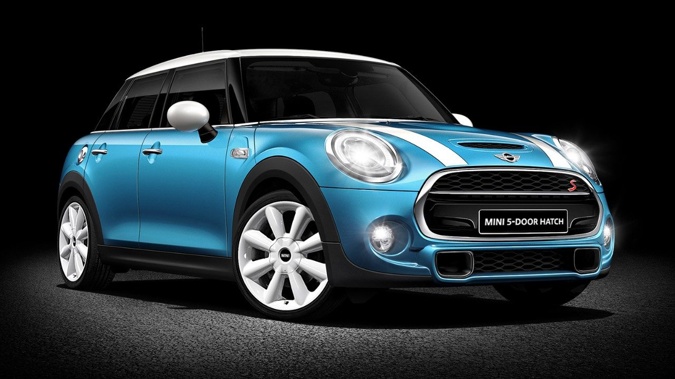 Motoring: Mini five-door
Author

Publish Date

Thu, 19 Nov 2015, 1:55pm
The latest Mini has been maximized in terms of convenience and space with the addition of a five-door model.
Some automotive purists would argue this is an front to the original three-door Mini, one of the most influential cars of the 20th century. I must admit seeing a Mini in five-door format for the first time is odd because, until now we have only ever known the Mini as an adorable and cute three-door. As a five door those qualities are diminished a little, so it looks good, rather than great like its three-door siblings.
In some ways a five-door variant was an inevitable evolution of the Mini and an integral part of master plan to grow the brand. The increasing importance of Mini to BMW Inc. is under lined by the proliferation in models that seems to be a bit of a crusade, to cover almost every imaginable niche in the small car market. In the UK a staggering 58 different models are offered –talk about too much of a good thing! Even in a market like ours, which on a global scale is almost microscopic, there are about 15 models on the Mini menu.
Apart for those with an exquisite eye for detail, the new Mini will appear on the surface at least, pretty much the same as before. When you are dealing with such an iconic shape, there isn't a lot of scope for change, without compromising what is a highly successful visual formula. This isn't a place any smart carmaker with a moneymaker model like this on their books, would even contemplate going. The changes are subtle and in areas such as refinement and superior build quality, where you start to see the tangible difference between this model and the old one. There is a larger selection of innovative driver assistance systems you can option. However, proceed with caution as to many ticks against option boxes can quickly balloon the price out.
This new generation Mini ushered in a changing of the engine guard. With the staple motor across the range now a spirited turbo charged 1.5-litre three-cylinder motor with a new 2.0 litre four offered on higher spec models. Both power plants deliver emphatic improvements in performance and fuel economy, while engine emissions are down. The latter, is something sure to please the growing numbers of buyers who are giving an increasingly higher weighting in their buy or not to buy calculations.
The first rung on the Mini five-door ladder is the base $37,200 Mini Copper 1.5 litre turbo charged triple six-speed manual supplied for this road test. However, the vehicle was loaded with $5000 worth of options. The most expensive of these were 17-inch alloys at $1500 and a multifunctional sport steering wheel loaded with lots of clever features and it needs to be, given the hefty $3500 cost.
The 100kw turbo charged 1.5-litre 3-cylinder petrol is real hoot and a perfect fit for this agile and nippy little bundle of fun on four wheels. Its power and torque lay the groundwork for a super responsive motor with the flexible qualities of contortionist. Plenty of low-speed pulling power makes light work of undulating terrain or "easy as" around town driving, without have having to constantly change gears to keep the motor in its happy place, that's seem to be just about anywhere across its rev spectrum. One thing that is a little peculiar is the distinctive throb of the three-cylinder engine. It is a bit like a song that you are not overly fussed on first hearing it, but then slowly but surely converts you into a fan.
Curmudgeons and cynics may protest who would like a Mini that sounds like a three-cylinder motor in budget priced micro hatch. Judging by the huge popularity of the motor and the several awards its won, plenty do!
Some serious revisions have been made to what was already an impressive 6- speed manual carried over from the previous model shift. This transmission is lighter, more fluent and smarter with a rotary switch at the base of the gear lever with the choice of standard, sporty or eco driving modes. An optional six-speed automatic is offered, but comes at a hefty $3,000 premium, although some may see this as a small price to pay for not having to change gears themselves.
Passenger and luggage space is the major benefactor from the upsizing of the new Mini. While it doesn't earn "space capsule" status there is room for four adults, although it remains a bit cramped for rear seat occupants. With a bit of thoughtful manipulation, the cargo compartment accommodates two reasonable sized overnight bags.
A host of creature comforts and safety features will I suspect satisfy most prospective owners, without them having to madly ticking the option boxes. Some buyers may see this as a way to personalize their car, although there is hardly any need, given its in absolutely in no danger of being mistaken as one of the bland automotive small car crowd.
The suspension and steering make for a hugely satisfying drive especially when you factor in the Performance Control system that ensures an agile yet neutral driving response through curves and bends. Low slung with a wide track, the test car hugs the road with all the intensity of grizzly bear, but without the bad smell. Communicative yet engaging steering allows the car to be placed with accuracy and precision when entering corners. Ride quality is not one of its trump cards with the suspension prone to some bump thump over uneven surfaces when travelling at under 70km/h. At open road speeds, this tendency is far less pronounced with the suspension settling into far smoother rhythm.
What's the verdict? A more practical take on the talented Mini, although it lacks the passenger and load space you would think its longer wheelbase and extra doors should have liberated.