Motoring: Mazda 3 sedan
Author

Publish Date

Mon, 15 Jun 2015, 1:13PM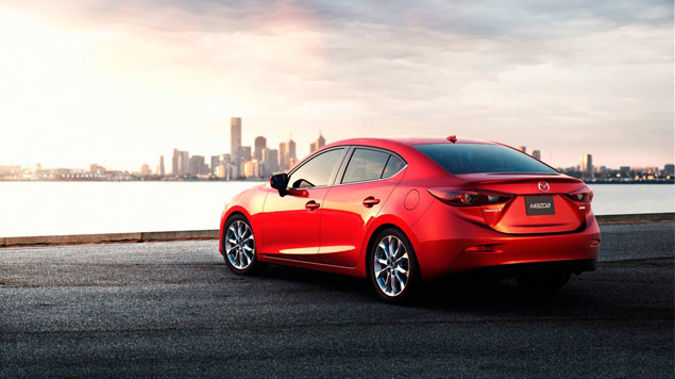 Motoring: Mazda 3 sedan
Author

Publish Date

Mon, 15 Jun 2015, 1:13PM
With its combination of eye watering good looks, exceptional refinement and super frugal engines, the Mazda 3 for me, is the closest any Japanese carmaker has come to producing the perfect small sedan.
The previous model was impressive, but this one moves things up another notch or two. While billed as an all-new model, it still draws heavily on enhanced versions of technology from its predecessor. For example, Mazda has refined and refettled its SKYACTIV engines first showcased in the previous model about three years ago. Too their have credit they have made some meaningful improvements in driveability, performance and fuel economy. The latter was pretty good anyway, now with these latest upgrades those visits to the fuel pump will be even less frequent.

The SKYACTIV treatment also extends to the chassis and a body delivering greater strength and stiffness in a car that is now several kilograms lighter than before. Ultra-high tensile steels comprise 60 per cent of the all-new Mazda3 body has stiffened the cars resolve, by providing 30 percent more torsional rigidity over its predecessor. Both the 2.0 litre and 2.5 litre petrol engines have upped their performance along with their compression ratios, that clock in at an ultra-high 13:1 to provide improved power, torque and fuel economy. While the maximum power for the entry level 2.0 motor is largely unchanged at 114kw, it enjoys a 15 per cent increase in torque (200Nm at 4,000rpm) and can now lay claim to a very respectable 0-100km/h sprint time of 9.3 seconds.
The transmission of choice by decree is a six-speed automatic, with the sporty SP25 hatch out on its own as the solitary manual model. Both engines and transmissions feature Mazda's unique fuel saving idle stop system. A control module switches the engine off and uses combustion energy for the restart – as a result, delivers among the fastest restarts in the industry. This car makes a statement in other ways, such as a range of bold colours to exentuate its stylish and curvy lines.
Prices start at a reasonably tempting $32,795 for the base GLX model, while berthed at the other end of the price continuum is the $47,495 flagship SP25 Limited sedan. These were the two cars supplied for this road test.

Both motors are endowed with plenty of Mazda's "Zoom Zoom" providing punchy, and responsive performance, with the larger 2.5 litre unit a particularly zesty drive. What I really enjoy about this power packed pair was their smooth and almost seamless power delivery. At highway speeds, the only thing that really breaks the cone of silence is tyre rumble and roar. This varies from full bore, to a background thrum, depending on the coarseness of the chipped sealed road surface the car is travelling over.
The new SKYACTIV-Drive 6-speed automatic is one of Mazda's best self-shifters yet, bringing together the key advantages of a conventional automatic transmission, a Continuously Variable Transmission (CVT) and Dual Clutch Transmission (DCT). This may well be the ultimate three-in-one transmission, working efficiently when left in Drive, or a nifty manual gear shifter, where you can effortlessly tip and tap your way up and down the ratios.
While this third generation Mazda 3 straddles a wheelbase some 45mm longer than the previous model, it doesn't really liberate a huge amount of extra people or load carrying space. Head leg and should room are marginally better than before, although on the snug side for taller rear seat occupants, who may also find headroom is at a premium as well. A sensibly shaped boot with easy bumper level access provides plenty of incentive to to take the luggage along for the ride.
Comfy seating also deserves a mention, offering good lower back and under thigh support, something I soon came to value during extended periods behind the wheels of both cars. Easy to read instruments and thoughtfully placed stalk mounted controls for key functions such as the lights, wipers and indicators are yet another reminder about the fastidious attention to detail in the new Mazda 3.
Mazda has equipped its all-new 3 with plenty advanced active and passive safety technology. More models pick up i-ACTIVSENSE Safety with Blind Spot Monitoring and Rear Cross Traffic Alert. The SP25 LTD goes step further to keep its driver out of trouble with Distance Recognition Support that keeps the vehicle a safe distance from the one in front, reducing the risk of a rear end crash.
ABS Braking; Dynamic Stability Control (DSC); Traction Control System (TCS); front, side and curtain airbags around out a safety package that's is among the most comprehensive in the small car class.
Adding to an already appealing cabin environment, is Mazda's Human Machine Interface (HMI). It's home to the MZD Connect system, a 7-inch touchscreen and rotary commander that controls everything from navigation and communication to social media. Being a bit of techno fobic, I intially found it all a bit daunting, but in fact it was surprisingly intuiative and easy to use. Another attractive non-techno feature is a 3-year/100,000km of free servicing, to go with the 3-year unlimited kilometre warranty. Although five-year unlimited kilometre warranties are being offered by a growing number of manufacturers and you would have to think its only a matter of time before Mazda falls into line with this as well.
A nimble chassis and deftly tuned independent suspension, plus nicely weighted and responsive steering, gave both test cars an agile yet well planted feel over the full spectrum of challenging roads you can expect in our part of the motoring world. The ride quality at speeds under 70km/h on patchy and worn road surfaces isn't exactly premium class, lacking a bit of suppleness to elevate it to this status. Personally, I am comfortable, even though it means being a little uncomfortable at low speeds, to trade off some plushness in the ride, for what is one best handling small sedans under 50k.

What's the verdict? Smooth, refined and a sharp looker, the Mazda 3 is a class act at a surprisingly affordable price.