Motoring: Kia Soul
Author

Publish Date

Sat, 28 Mar 2015, 12:55pm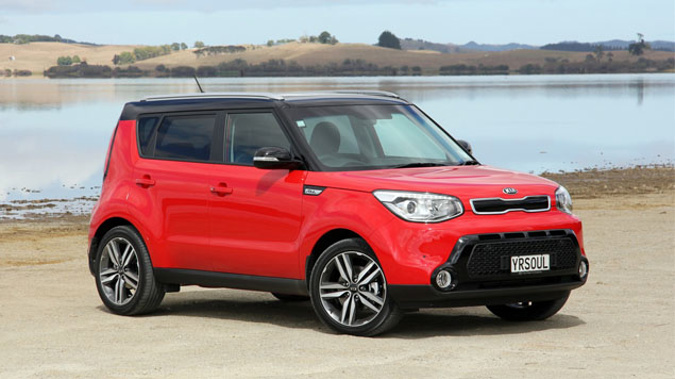 Motoring: Kia Soul
Author

Publish Date

Sat, 28 Mar 2015, 12:55pm
With its edgy and almost confronting styling, the Kia Soul isn't a vehicle for shrinking violets, but definitely for those with a desire to drive something whose appearance is a little out of left field.
Bigger, roomier and more mature than its slightly delinquent looking predecessor, this second generation Soul joins the new car battle lines in this country armed with a more attractive starting price. These are about $500 lower than the old model and you get a far more highly specified car.
When it first hit our shores six years ago, the Soul was among a band models, although automotive free radicals might be a more apt description of them that triggered the massive growth we see today in compact urban SUVs. This latest iteration offers the choice of 1.6-litre or 2-litre petrol engines, standard 6-speed automatic, increased passenger and cargo space, more luxuries (including heated and ventilated front seats) and has really brushed up on its road manners.
All Soul models have new LED daytime running lights, a recognised hallmark of new Kia vehicles, enhancing their visibility on the road. Unlike the original model there isn't a turbo diesel to be seen. This is in respond to a rapid cooling in buyer demand for this form of propulsion, as ownership costs such as servicing, road user charges and the substantial price premium over petrol engines, make diesels a lot less attractive.
Built on an all-new platform (shared with the Cerato/Koup/Pro_cee'd GT), the styling largely retains the same high impact silhouette of the old car. However, it now posses a more mature grown up appearance, but still maintains the highly prized individualism that made the old model so special.
While none of the exterior body panels are carried over from the original Soul, its upright square shouldered stance lives on in a slightly larger overall package at 20mm longer and 15mm wider. While the boundary pushing looks of the car remain, it's keeping a lower profile, in fact 41mm lower, making it an incredibly easy car to enter and exit. This upsizing exercise has created more space for people and cargo, while a tailgate opening that's some 62mm wider, makes loading and unloading so easy.
A much stronger body structure with extensive use of ultra-high strength, results in a nearly 30% increase in torsional rigidity, that adds a sharper edge to the steering, handling and ride, as well as refinement. The styling may be loud, but this is a much quieter car to drive, as result of changes to the suspension and greater use of sound deadening materials and noise isolation technology.
The solitary petrol powered offering in the previous model was a noisy 1.6-litre engine, which for all its huff and puff, wasn't an especially energetic performer. An upgraded version of this engine powers the entry level $29,990 EX. For the price this is a surprisingly well-equipped vehicle for the money with air-conditioning, cruise control, smart key and push-button start, power windows, and 17-inch alloy wheels.
Kia expects most buyers to opt for the more highly specified SX with premium upholstery, climate air control, chilled glove box, power driver's seat, heated and ventilated front seats, front & rear parking sensors with camera, privacy glass, and rolls on 18-inch alloys. With the 1.6 litre motor, it retails for $33,490 but I would strongly recommend shelling out the extra 2K for the 115kw 2,0 litre engine fitted to the car supplied for this road test. This is a car that should never leave you feeling deflated, thanks to a low-pressure tyre warning system.
All Soul models are well suited with safety kit from electronic stability control and hill start assist, to multi-airbags. Like all Kia models these days you get a peace-of-mind 5-year warranty programme, plus free servicing for 3 years or 45,000kms.
While the 2.0 litre petrol engine in the test car felt solid and refined it isn't especially quick or responsive. In its defence, having to haul around a vehicle weighing in excess of 1400kg is a reasonably tough assignment for a motor of this size. There are times when it sounds and feels like it, especially on long hill climbs with a full quota of passengers and luggage aboard, where it groans and drones under this heavy work load. However, the acceleration from standing starts is reasonably strong and sets a good platform for the car to kick on, but the motor appears devoid of the mid rev range thrust to build on that. Most buyers in the market for this type of car will probably be happy enough with what this engine offers, but overall I found it a bit underwhelming, in a car that probably deserves a more capable power plant. The six-speed auto provides fuss free and well co-ordinated gear changes and feels right at home on our roads, whether they are single lane shingle roads or gravel smooth topped motorways.
Passenger and load space is excellent while the elevated driving position ensures good visibility, although a chunky c-pillar does obscure your rear three quarter view to some extent. With the rear seat rests folded forward there is enough space for a couple of bikes. There are heaps of storage zones dotted around the cabin to the point where you are spoilt for choice.

The styling may be pace setting but the ride and handling isn't. The independent suspension is anchored very much in the solid and dependable school. It pilots the car competently around corners and over twisty roads, but if you are looking for a bit more road holding razzle and dazzle the car is a bit of a lost Soul. Lowering it by 40mm has helped reigned in body roll, but not sufficiently to prevent it being an issue, when the serious questions are asked of the cars handling. If you up the tempo over winding roads or through tightly knotted corners, body lean loads up fairly quickly, but can be contained by gently easing off the throttle. This is I guess is part of the road holding reality, for what is still a tallish functional boxy looking vehicle, and driver have to manage down their road holding expectations accordingly. If you can't, then you have to question whether this type of vehicle is right for you.
What's the verdict? This second generation Soul is as funky and original as the first model, but comes with the added bonus of being bigger and more refined.