Motoring: Ford EcoSport
Author

Publish Date

Mon, 15 Jun 2015, 1:20pm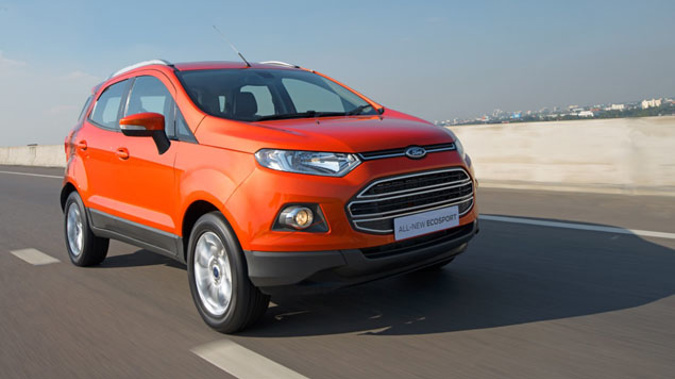 Motoring: Ford EcoSport
Author

Publish Date

Mon, 15 Jun 2015, 1:20pm
Ford has shored up its stocks in the all-important SUV market with the EcoSport and even though its one of the smallest SUV's the company has ever produced, there are big expectations riding on this diminutive newcomer.
This model was created to help the company cash in on the extraordinary and sustained popularity of SUV's of all shapes and sizes. This style of vehicle is very much what new car buyers want to park themselves in these days. Ford thought they had all their SUV bases covered, but suddenly realised they were thin on the ground at the mini sized end of this market. As a result, it was all hands to the pump as the company tried to plug this gap as quickly as possible and the end result of all that intensely focused effort, was the EcoSport.
In some ways the look and feel of this model smacks of a hastily conceived car. Ford has in recent times set the benchmark with several of its models including the Focus, Fiesta, Mondeo and Ranger Ute. By comparison the EcoSport just seems off that pace - it's ok, without scaling the exceptional standards of several of its blue oval bearing siblings.

Like the myriad of other SUV offerings currently on the market, this one to will attempt to woo buyers with its high driving position, versatility, pseudo 4WD appearance and a comprehensive safety package. About half of the body structure comprises high-strength steel and ultra-high-strength steel to create a light yet strong vehicle. It packs seven airbags– driver and front passenger, driver's knee airbag, side and curtain airbags. There are a number of driver-assist systems. Among these, Hill Launch Assist smooth fuss free starts whether it's uphill or down dale hill, by holding the EcoSport for up to three seconds. This prevents it from either rolling backwards or forwards while moving off from a slope.
The design and engineering teams spent a year-and-a-half shaping the body to optimise its aerodynamic efficiency in the quest for better fuel economy and performance. They have gone along way to reaching that goal without producing a vehicle that's is visually sleek and flowing. Chunky styling that does sit not that comfortably on such a compact model, plus a bullfrog like nose, leaves the EcoSport j a little high and dry on styling.
Just two models make the cut for our market, both 2WD automatics in either entry level Trend form for $29,995, with the flagship Titanium provided for this road test, retailing for $32,990. The smart money is on this version becoming the best seller, as buyers seem prepared to shell out the big dollars on premium models, and tend ignore the lower spec variants, despite them often offering better value for money.
Unlike the Fiesta hatch, that offers the highly acclaimed 1.0-litre turbo charged EcoBoost in its engine repertoire, the solitary power source for the EcoSport, is a solid, but unspectacular naturally aspirated 1.5 litre petrol motor. Cost may have been factor in sidelining the 1.0-litre EcoBoost. A pity really, as it would have provided some welcome performance light and shade rather than the beige of the 1.5 litre engine. This motor is a fairly tepid affair as I discovered when I drove the entry level Fiesta Trend at the start of they year. In the bigger and heavier EcoSport, it puts out in at best an adequate showing. Acceleration is leisurely with some heavy- duty work on the throttle required to raise the performance tempo. The engine isn't that kindly disposed to this of needling with noise levels up and refinement down. Given the importance of this model, it deserves a better motor to realize it sales potential, with the 1.0-litre EcoBoost motor the leading candidate for this job .
Cabin space is reasonable for a car of this size with ample rear seat leg and headroom and decent load compartment. With the rear seats tumbled against the front seats, the cargo space increases to 705 litres, big enough to fit a washing machine if you ever have the need. The rear seats can be split 60:40 to transport long objects such as flat-pack furniture, while still carrying passengers in the back. Inside, soft-touch fabrics, and the global Ice Blue dashboard illumination provide a quality look and feel. Initially, the seats felt to soft, but ended up playing a great supporting role on a three-hour road trips and delivered me to my destination feeling surprisingly refreshed.
Ford SYNC®, a voice-activated in-car connectivity system powered by Microsoft is standard. It enable drivers to keep their eyes on the road and hands on the wheel while choosing their favorite music and making phone calls using voice commands. Information is readily available at the driver's fingertips, thanks to the SYNC button and main radio and phone controls on the steering wheel. Using Bluetooth technology, SYNC can wirelessly connect up to 12 different mobile phones to the all-new EcoSport.


For a model of this type and size, it reaches new heights with 200 millimetres of ground clearance. This is more than enough to stop owners worrying about driving over speed bumps and potholes, which is about as much rough and tumble as it will be subjected to by most owners. Ford say the EcoSport can wade through up to 550 millimeters of water, although without a 4WD system why would you bother.

While the EcoSport benefits has some of the outstanding ride and handling DNA from the Fiesta hatch that it's based on, there isn't enough of it to lift its road holding game much beyond the ordinary. The steering felt a bit light and fluffy at times and the extra ride height produces additional body lean, if the vehicle is driven with too much enthusiasm over twisty terrain. However, by small SUV standards it plants itself on the road with a reasonable amount of conviction, but the total ride and handling package by the high standards we expect from small Ford's, these days pull up a little short of the mark.
What's the verdict? By Ford's high standard a decidley ordinary effort.