Motoring: Alfa Giulietta
Author

Publish Date

Mon, 15 Jun 2015, 1:44pm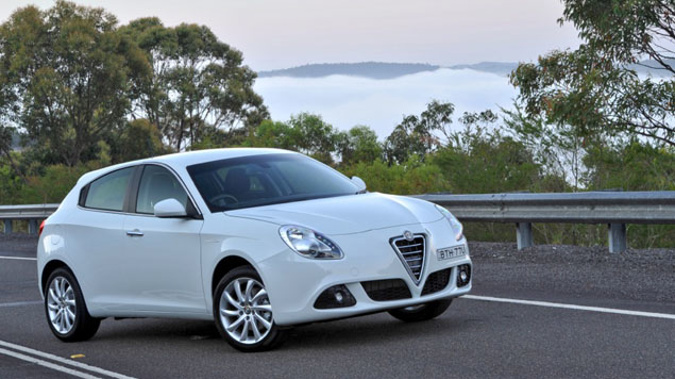 Motoring: Alfa Giulietta
Author

Publish Date

Mon, 15 Jun 2015, 1:44pm
With a rich and colourful history spanning several decades, the Alfa Romeo Giulietta ranks among the most revered models produced by this iconic Italian carmaker.
The Giulietta has strong links to the 1950's and 60's, which really was a golden age for the company. Alfa Romeo kick started the Giulietta name again about five years ago, in a model that assumes the company's small car mantle, that has been held by the much loved AlfaSud through to the less adored 147. When the current Giulietta was launched in 2010, it was tasked with helping the company claw its way out of the global financial crisis. Around that time the company purchased Chrysler-Jeep, who looked to be on the brink of financial oblivion. This unlikely automotive union has, despite the predictions of the pundits, done remarkably well.
This latest Giulietta recently underwent its obligatory mid-model life makeover featuring renewed styling, and more technology than ever. The headline change in this area is the addition of the Uconnect telematics system on all variants. The all-new Uconnect™ system, is operated via a five-inch colour touch screen, or using voice commands and includes Bluetooth® connectivity, wireless music streaming and hands-free SMS reading. The system resides in a redesigned, dashboard, with the associated USB/Aux ports now in a handier location on the centre console.
Visually this model differs from its predecessor with new alloy wheels, a revamped front grille design; revised front fog light bezels and new exterior colours. The changes have been rung inside the car as well with heated, electrically operated front seats that have memory settings. New door trim panels and steering wheel design bring improved quality and splash of style to the cabin. Redesigned seats offer greater upper-body lateral support, while extensively upgraded sound insulation, creates a quieter and more hushed driving environment.
Two engines are offered with the Distinctive model provided for this road test in auto form using to great effect, a 1.4 litre turbocharged power plant, which genuinely does punch well above its size. Alfa Romeo used this refresh of the Giulietta as an opportunity to make the twin clutch automatic fitted to the test car, optional across the entire range. With performance and economy that betters the manual gearbox models, this one option box certain to earn plenty of ticks from buyers.
Prices are as keen as the performance, starting at a tempting $40,990 for the manual and $44,990 for the automatic that's the subject of this road test. The high performance 1.8 litre 177kw QV retails for $55,990 with an extra $4,000 for the automatic.
The 1.4 litre 125kw turbo charged multi air turbo charged engine is hotter than a pizza oven. This motor e is the real Italian job with its zesty performance and delightfully sporty exhaust note. Anything less than that would be a serious disappoint in an Alfa. A claimed 7.7 seconds for the 0 to 100km/h dash, makes a big time performance statement for such a small engine. A large slab of the torque is working hard from just 2,000rpm. This amount of low-speed power is extraordinary and brings real urgency and purpose to the way the car drives.
Refined, smooth and responsive, this thoroughly modern motor signals an emphatic return to engine design and engineering form by Alfa Romeo. The six-speed automatic produces crisp and accurate gear changes. While Alfa manual gearboxes are legendary, they have been usurped by this modern high tech transmission that reels off the gear changes just as sweetly, with steering wheel mounted paddles providing the option of some hands-on gear shifting action. With this transmission you really do get the best of the manual and automatic gear changing worlds.
This Alfa Romeo sets the pace in lot of areas, but passenger and load space isn't one of them. At best it is adequate with rear leg and headroom at a premium. If you are looking for a practical spacious and versatile five-door hatch, then this one will disappoint.
However to be fair, this isn't the reason people buy Alfa Romeos, with their motivation to purchase driven by less practical factors. These include; the mystique and aura surrounding this nameplate, and its reputation for creating cars that are immensely satisfying and rewarding to drive. Some of that was lost in recent years, but has been well and truly re-captured in this model and that can only bode well for the brand, along with a vast improvement in reliability. In the past, Alfa's have been a tad fragile and vulnerable. A trait that saw some owners getting on first name terms and the Christmas card lists of their mechanic, as their car quickly earned "frequent" visitor status at garages.
Beefy tyres on wheels placed at the outer extremities of the car, give the Guilietta a wide aggressive stance. On the move, the suspension feels as though its been tuned to dart effortlessly through tight corners and over undulating roads. This athletic handling does mean some trading down in ride comfort, in the quest for the taut suspension needed to provide the road holding pizazz this car offers. Below 70km/h, the suspension rumbles and grumbles whenever it locks horns with even innocuous bumps and dips in the road surface. For a car that clearly shouts "performance", a marble bench top smooth ride was never going to be high on the agenda, although there is still scope to iron out a few of the ride comfort wrinkles.
What's the verdict? The Guilietta shows Alfa is back to its best and producing desirable and characterful cars and at affordable prices.