Lexus IS turbo Sedan
Author

Publish Date

Sat, 3 Sep 2016, 10:07am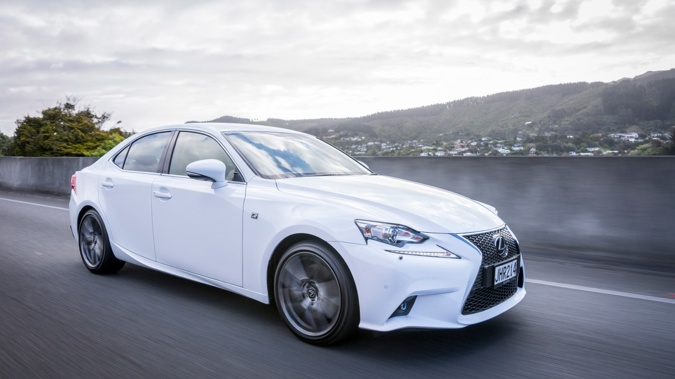 Lexus IS turbo Sedan
Author

Publish Date

Sat, 3 Sep 2016, 10:07am
Lexus took the turbo route and a bit of a gamble, to boost the performance of the more affordable versions of its compact IS rear wheel drive luxury sedan, and it's proven a smart decision.
The IS is my favourite model in the Lexus line-up, with its elegant lines, superb build quality, exceptional refinement and exhaustive list of standard equipment, a lot which come as optional extras on other brands in the compact luxury sedan market. For the asking price it's always represented a lot of car for the money, especially when you factor in its unrivalled reputation for reliability.
Given these glowing testaments, you would think this model had things nailed on all fronts, but surprisingly it didn't. Performance, or more to the point, the lack of it in the entry-level models was disappointing. The culprit was a smooth, but thirsty 153kw 2.5 litre fuel injected V6, devoid of the punch and power expected from a car of this quality.
Thankfully this motor was pensioned off toward the end of 2015, and was supplanted by a modern, powerful and economical 2.0-litre turbo, that largely remedies the failings of the V6. In fact, this motor could be a potential game changer for the brand at the price leading end of the IS range. The engine, in a slightly different state of tune and featuring fuel saving stop/start technology, was first sited here at the beginning of last year in the Lexus NX 4WD SUV.
Prices for the IS 200 turbo start at $73,900 before heading head north to $86,400 for the flagship Limited version. The model supplied for this road test and most likely to be the biggest seller, was the F Sport that slots neatly between these two models at $83,990. The new 2.0 litre turbo sits alongside the existing two hybrid IS300h variants and the range topping IS350 F Sport.
Mention the word turbo and many immediately think pulsating tarmac tearing performance. This new 180kw unit isn't that type of engine. It's smooth, highly refined and responsive without about being brash and flashy, all qualities that will endear it to prospective buyers. Perhaps mostly importantly, it easily out trumps the 2.5 litre V6 it replaces by delivering the sort of assertive performance this car has always deserved, but was never really delivered by the smaller six cylinder motor.
Open road performance is brisk with a ready supply of power locked and loaded, for effortless overtaking and hill climbing. This is the first turbo charged motor used in a Lexus and has made an immediate impact by lifting the cars performance to new level.
A new 8-speed automatic transmission makes the most of the engines power and torque with multimode selection options. It can vary gear choices due to G forces, under braking, during cornering and when accelerating. Steering wheel mounted paddle shifters, provide a fairly satisfying manual gear shifting experience whenever the driver chooses to indulge.
Cabin and boot space is average for a compact rear wheel drive sedan and a lot less than you would find a comparable sized front wheel sedan. On long haul trips, rear back seat occupants in particular, will find the levels of head leg and shoulder room varies between adequate for those of average height, to inadequate for anyone taller than that.
All the five star plus comforts of motoring life expected in a car of this class, and the IS oozes plenty of class, are there in abundance. The attention to detail in the test car was faultless. One thoughtful feature that impressed me was the foot area lighting. This makes entering and leaving the car at night easier and creates a real sense of occasion that you are stepping into or out of car that's far from ordinary, and more in the realm of extraordinary.
The IS 200t F Sport can be distinguished by HID head lights, plus a more planted and aggressive stance. This is one lavishly kitted out compact luxury sedan fitted with satellite navigation, 60:40 split folding rear seats and power adjustable front seats. Other features worthy of a mention are climate control air conditioning with independent controls for the driver and front passenger.
From the steering wheel you can adjust the audio, Bluetooth and multi-information display systems. The smart entry and start system lets you lock or unlock the doors, fire up the engine, and open the luggage compartment without taking the key out of your pocket, wallet or purse. Now that's beyond clever!
You are surrounded by almost every bit of safety technology currently on offer and as a driver, I found that very reassuring. The test cars safety war chest included 10 airbags and the Vehicle Dynamics Integrated Management System that combines the Anti-lock brakes and Electronic brake control systems, to help avoid emergency situations. A Pre-crash safety system and Dynamic Radar Cruise Control that keeps a safe distance between you and the car in front, is also a potential life-saver.
The double-wishbone front suspension combined with a multi-link rear end delivers agile and responsive handling. The test car proved lithe and athletic over twisty roads, with strong grip and stability from a suspension system that respond in an instant to unexpected changes in road surfaces. About the only area for improvement, is the steering. It needs greater levels of road feel. This would give the driver a genuine sense of what's happening where the rubber hits the road, and that they are calling the steering shots. Once that step change occurs, it will make the leap from being a car that drives well, to one that's a great drive.
What's the verdict? Brings some much needed performance sparkle and pizzazz to the entry level model in the IS range, while the build quality is simply superb.