Hyundai Veloster turbo
Author

Publish Date

Sat, 3 Sep 2016, 10:04am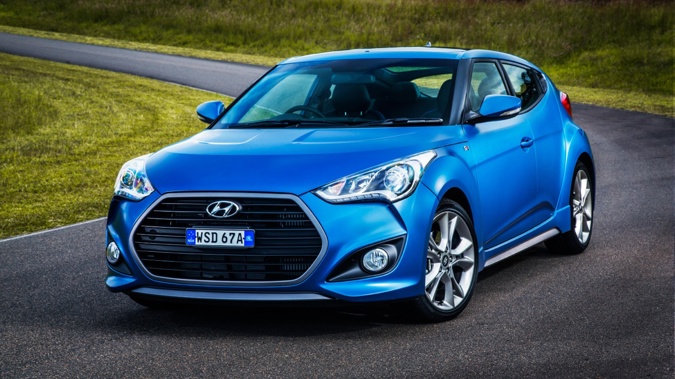 Hyundai Veloster turbo
Author

Publish Date

Sat, 3 Sep 2016, 10:04am
The Veloster Coupe is the edgy and out there looking member of the Hyundai family, a mantle it's held since its launch over three years ago.
Most carmakers have one of these attention grabbers in their range, some even more than that. Their mission in life is show the brand as trendy and fashionable side, rather than being a model that sells in huge numbers, and pours plenty of cash into the company coffers.
One obstacle on the road to success for the Veloster here is the number of other very worthy contenders that are in the same price ballpark. Among them are the; Ford Focus ST, Peugeot 308 GT, Holden Astra VRX 2.0 litre turbo, plus an offering from Hyundai's sister company Kia in the form of the Pro Cee'd GT.
The Veloster is a car that tries super hard to make an impact. However, the ingredients are not there to really get its sales and marketing penetration cooking with what is a quirky part hatch part coupe, with styling that's short on cohesion and fluidity to be totally convincing. The one door on the driver side of the Veloster creates the appearance of a coupe. Step around to the opposite side of the vehicle and you'll find two doors, one for the front seat passenger and another for the rear seat occupants. This intriguing, but fairly divisive appearance does have some novelty value, but as such a limited life span. Once this wears off, the car looks could quickly lose their attraction with some owners and over time make it harder to attract new buyers.
Prices start at a shade south $45,000 for the entry-level version powered by a benign 1.6 litre 103kw Gasoline Direct injection engine coupled to a six-speed auto. Another $5000 gets you behind the wheel of the flagship six-speed manual 1.6 litre turbo model provided for this road test. For another $1500 you can have Hyundai's new 7-speed double clutch automatic.
This new gearbox should garner a lot buyer interest and with its super quick gearshift bringing some extra aggression to the cars performance. With manual transmissions well out of favour with new car buyers these days, it's easy to see a lot of Veloster buyers ticking automatic option when they place order. Volkswagen was the first manufacturer to introduce this ground breaking double clutch automatic and its won plenty of praise with its quick instantaneous and seamless gear changes. Since then, a lot of other car makers have mimicked this transmission with varying degrees of success, although Hyundai is the first Korean brand to put a toe in the water with this type of gearbox.
The 1.6 litre twin scroll turbo gasoline direct inject engine is the quickest and most sophisticated four cylinder power plant ever from Hyundai, and further evidence of their emergence as a designer and producer of quality engines. It also makes the Veloster a relatively high velocity performer with 150kw to haul with some verve this comparatively light car. The engine is strong rather blisteringly quick. The power equation is right on the mark for the cars handling and dynamics. Add any more heft and it could become more of a challenge to manage and that's not what the typical buyer of this type of coupe.
As a first attempt at a serious smallish high performance motor Hyundai have done a commendable job. While still a work progress, the foundations are there for the company to push onwards and upwards with this type of engine.
This particularly engine should give them plenty of confidence to get on with that task and they are doing exactly that, with a punchy 180kw 2.0 litre turbo motor now the marque motor in the top of the line Hyundai Sonata sedan.
The sweet shifting six-speed manual in the Veloster is the perfect tool for accessing the motors considerable reserves of power and torque. A light yet accurate shift action, plus a light and progressive clutch that doesn't bite like a rabid dog, make for an enjoyable gear changing experience.
Veloster turbo owners are not short changed on luxury features. Scroll through the equipment list, it is a lengthy read given and you will struggle to find any worthwhile feature that's been overlooked. Hyundai have managed to pack a huge amount of standard kit into a small car, to the point where there isn't any need for a list of optional extras, because most of these are standard.
Apart from roofline that dives away dramatically toward the rear of the car and carves off value centimetres rear headroom in the process, the Veloster is still as close as I have seen to a genuine four-seater coupe. There's the added bonus of a deep and decently proportioned boot of almost car like proportions. It devours lots of luggage, in fact more than most owners will need. The only down side is the high lip you have wrestle and jolly cargo over to access the boot cavity.
Independent suspension front and rear delivers good handling and adapts quickly to a variety of road conditions. It proved particularly agile, especially when threading its way over tight winding roads. There no shortage of grip and tenacity with the test car sporting a decent set of performance tyres with strong road adhesion qualities. There are others rivals that sweep the bends and barrel through tight corners more convincingly, but the Veloster still demonstrates enough handling nous to pass with merit, as a fun yet affordable performance coupe.
What's the verdict? Interesting but rather polarising styling, not overly zesty performance and better alternatives around the same sort of money.