Bob Nettleton: Value for money in Mitsubishi Outlander
Author

Publish Date

Mon, 25 Jan 2016, 1:40pm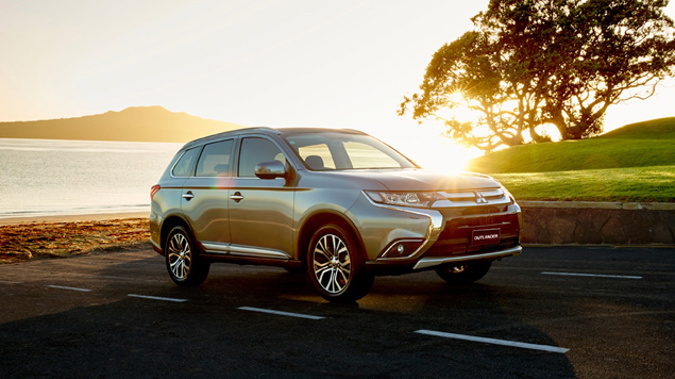 Bob Nettleton: Value for money in Mitsubishi Outlander
Author

Publish Date

Mon, 25 Jan 2016, 1:40pm
Spaciousness practicality and value for money has and continues to be a winning trifecta that keeps the Mitsubishi Outlander in the leading bunch top selling mid-sized SUV 's in this country.
A recent facelift of the second-generation model should further cement that position. The Outlander has been around for over a decade now with the first model winning almost instant approval with its clean cut good looks, good passenger and load space plus 4WD to deal our challenge road and weather, all made it a highly desirable set of wheels well suited to the kiwi lifestyle.
This latest upgrade features the Mitsubishi's distinctive dynamic shield frontal treatment that's designed to give the Outlander some visual oomph. The styling has always been neat and tidy but if you had to be picky it was a tad anonymous side this latest facelift should go someone way to improving on that. Beneath the skin there are a raft of changes aimed at improving the vehicles drivability and keeping it competitive in the tough and uncompromising compact SUV market. We have now have a much stauncher Outlander thanks to a stiffer suspension and body structure. Larger-diameter rear dampers sharpen p straight-line stability and deliver greater ride comfort while calibrated power steering makes for a more engaging driving experience.
While the various styling enhancements will help ensure the refreshed Outlander gets noticed, so will its' high visibility LED headlamps and daytime running lights.
 The Outlander's 10 year 150,000km Warranty and 15,000km service or 12 months every whichever roles around first will also catch eye of cost conscious buyers.
Mitsubishi have again played to the strengths of the Outlander and one of those has been vale for money with prices starting at $39,990 for the entry level 2.0 litre LS petrol with the range top 2.2 litre turbo diesel sincljding offering good value for money
One thing that some buyers especially those with performance car leanings may lament with the passing of the Airtrek, is the disappearance of the rapid two-litre turbo version. However, the Outlander is no slouch thanks to its lively 2.4 litre MIVEC motor that develops a healthy enough 127kW of power and 230Nm of torque. It is rumoured that a V6 engine option is in the pipeline. For now, most buyers should be happy enough with the new 2.4 litre alloy block four that uses several resin components as part of weight reduction programme. You could call this a Jenny Craig motor as it is a bit of a weight watcher. The revised generation-8 continuously-variable transmission (CVT) system delivers improved acceleration, from a standing start right across the rev range, for safer overtaking performance. Transmission shift quality, kick-down feel and downshift response are all improved.

The result, says Daniel Cook, is "a superbly composed ride that will surprise even the most committed Outlander enthusiast".

Meanwhile, he adds, NVH enhancements have hit a new peak and intrusive noise has fallen to a new low. Back seat drivers will be heard with more clarity than ever before.

Engine noise, cabin boom, road and wind noise are all reduced in a variety of ways: modified engine air intake systems, thicker, noise-isolating windscreen glass borrowed from the ultra-quiet Outlander PHEV, improved weather stripping, 
In the petrol 4WD models the new CVT transmission not only adds driving enjoyment, it is more efficient, contributing to 4% better fuel economy, now 7.2 l/100km.


As willing as the engine it is saddled with an Outlander body that is bigger and heavier than its predecessor the Airtrek. At times that tells usually under load when the motor needs to dig deep as its slugs on long energy sapping hill climbs. The clever and efficient seamless CVT six-speed auto helps maintain the engines composure on long up hill grinds by managing to shore up the gaps in its power continue
One of the reasons behind the Outlander finding plenty of willing buyers here is the amount of interior space it offers, with more than enough to see of most traditional mid-sized station wagons. The amount of load area behind the rear seats is an outstanding 882 litres, which translated in real world terms to a truckload of cargo carrying capability. The hip height positioning of the seats and wide opening doors make entering and leaving the vehicle, even for the not as agile, as good as you will find in this class of vehicle.
The keen pricing has not been achieved by diluting the standard equipment list that extends to power windows, remote controlled central locking, six-speaker audio with single CD player, automatic air conditioning and imposing 18 inch alloys on the XLS and VR-X models. All models have seven airbags and a full complement of active safety aids, such as traction control and active stability control, hill start assist, reversing camera, reverse warning sensors, ABS with electronic brake distribution, and emergency stop signal. 

VRX models have adaptive cruise control and forward collision avoidance.

All is well on the safety front with every Outlander fitted with three-point safety belts for all vehicle occupants, ABS brakes and front dual-stage airbags on the base LS model. The upmarket XLS and VR-X are loaded with side and curtain airbags and come equipped with a vehicle stability programme that are widely acknowledged as a highly effective crash avoidance system. They use a combination of braking and engine revs to help keep the vehicle upright and out of trouble in potential crash situations.
Well-sorted Independent suspension in tandem with full-time 4WD provides reassuring road holding up to moderate speeds, beyond that threshold, the suspension feels increasingly out of its comfort zone. The Outlander is more of a relaxed cruiser than having any real aspirations as a nimble corner darter. The compliant suspension is a big plus in off road driving, although limited vehicle ground clearance and the absence of a high-low 4WD transmission limit how far you can safety venture into the rough.
The test vehicle gave Mitsubishi's claimed fuel economy figure of 8.6l/100kms a good nudge averaging 9.2L/100km over 250km of town and open road driving, without any feather footed driving on my part.
What's the verdict? Good value for money and a huge range of models to choose from. The petrol engine is bit dull, however the diesel is a perkier and punchier performer.