Bob Nettleton: Suzuki Vitara turbo 4WD
Author

Publish Date

Wed, 12 Jul 2017, 7:54pm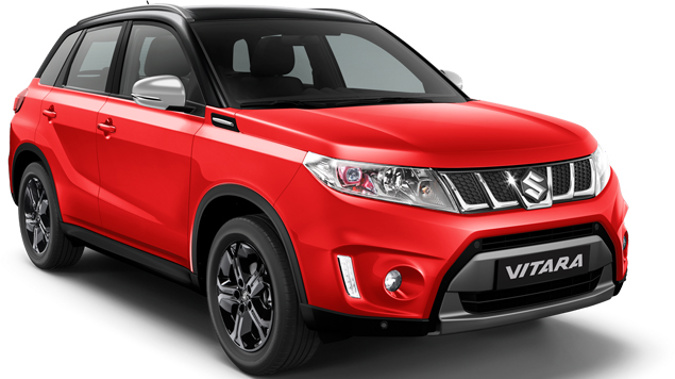 Bob Nettleton: Suzuki Vitara turbo 4WD
Author

Publish Date

Wed, 12 Jul 2017, 7:54pm
Suzuki has made a powerful response to criticism in some quarters that the performance of their latest Vitara, had about as much bite as grandpa's old dentures.
Now the company has silenced those critics in emphatic fashion with a punchy new terrier like 1.4 litre turbo version that now becomes the flagship model in the range. At some point in the future, it would be great to see this diminutive high-energy turbo charged dynamo available an option across the rest of the range.
Launched here toward the end of 2015, the Vitara is now one of Suzuki's biggest sellers in this country, behind perennial favourite the Swift hatch, a new version of this is due in 2017. Around 130 mm shorter than the larger Grand Vitara, this not so grandiose Vitara, is Suzuki's new global compact car. It is the product of four years of design and development work, and with strong sales on most markets around the world, this major investment by the company is paying off on every possible level.
Two versions of the Vitara Turbo are offered, both with a six -speed automatic, the entry-level two-wheel-drive sells for $33,990, with a steep $4k price premium on the 4WD. This model features Suzuki's four-mode four-wheel-drive system, with Auto, Sport, Snow and Lock settings. A transmission tunnel mounted dial lets you engage Lock when extra traction is required.
At the heart of this newest and feistiest member of the Vitara family is a newly designed 1.4 litre direct injection turbocharged four-cylinder, double overhead camshaft engine. This forced-induction power plant has minimal turbo lag thanks to a compact turbocharger attached directly to the cylinder head. At 103 kW, it trumps, which sounds very presidential, the naturally aspirated 1.6 litre motor used in the rest of the range, with 20 per cent more power.
However, the most impressive number is the 220nm of torque, a whopping 40 per cent more than the 1.6 litre unit can muster. Because it's available from just 1500rpm, you get almost instantaneous acceleration, and one of the most effortless drives in the small SUV class. Being one the lightest among its peers, it has a class-leading power to weight ratio, one of the key reason why this vehicle is such an energized performer.
The Vitara is thankfully spared the droning CVT automatic used in its sibling the S-Cross. Instead its fitted with a conventional and super smooth six-speed automatic, that puts on a master class in keeping the motor operating for the maximum amount of time in its sweet spot.
Passenger space is adequate although headroom isn't great for taller rear seat passengers. The cargo hatch isn't exactly cavernous compared to the likes of the Honda HRV, although what is available can be configured in a variety of ways with a 60/40 split folding rear seat arrangement. A concealed floor in the load area, keeps valuables cleverly hidden out of sight. Around 185 mm of ground enough to handle light off road duties, but nothing more strenuous. The cabin fittings and fixtures are smart and trendy, but let down by their hard low budget feel. On the plus side, an elevated driving position and expansive class area provides excellent all round visibility.
All Vitaras are equipped with cruise control and speed limiter, seven-inch touchscreen display and a reversing camera. Exclusive to the turbo model is satellite navigation, an infotainment system with Apply CarPlay, leather seats with suede inserts and red stitching, keyless entry and climate control air conditioning. Suzuki has safety covered, well more like smothered, with an exhaustive list of safety items such as seven airbags, stability control and anti-lock brakes and emergency brake assist
One of the highlights of the funky styling is a clamshell bonnet, that's featured on previous Vitaras, adding an appealing retro feel to the look of the vehicle. I found opinion fairly evenly divided among those, often strangers, prepared to offer their views on the merits or otherwise of the vehicle's appearance. It earns a solid pass mark from me, because its daring and modern, while capturing some of the better design elements of Suzuki SUV's from days gone by.
Mind you, cars with intelligently integrated retro styling elements, and this is one of them, always get my vote. Suzuki caters for the increasing number of new car buyers after a vehicle that stands out from the automotive crowd. The have done this by offering the choice of a contrasting colour roof.
The $800 price tag provides a relatively low-cost way of individualizing your Vitara, and making a fashion statement, that's literally 'Over the top'. However, the unique grille, 17-inch gloss black alloy wheels, satin-finished door mirrors, red headlamp surrounds give the Vitara Turbo plenty of visual oomph anyway, without adding a contrasting colour roof to the mix. 
Handling is crisper and more assured than the lesser mortals in the range and somehow it feels more planted on the road as well, even those that are seriously worn and brittle, and intent on kicking your vehicles suspension system into next week. Body roll is more effectively contained than other models in the range and doesn't upset its handling equilibrium. Unlike it predecessors, the suspension is supple, refined and comes with good bumping absorbing qualities that see it mop bumps and corrugated road surfaces without a cacophony of suspension noise.
Another notable improvement is the light yet direct steering that really engages the driver, probably because they get genuine sense of what is unfolding where the rubber hits the road. The highly satisfying driving experience delivered by the turbo Vitara, is one of the benefits of it being built and developed for the European and UK markets. Buyers in this part of the world have lofty ride and road holding expectations of their vehicles and this one more than rises that challenge.
What's the verdict? The fun and funky member of the Vitara range with its lively performance and sharp handling. More cabin and cargo space, are about the only missing ingredients in what is a very appealing compact SUV.