Bob Nettleton: Subaru Levorg wagon
Author

Publish Date

Wed, 12 Jul 2017, 7:58pm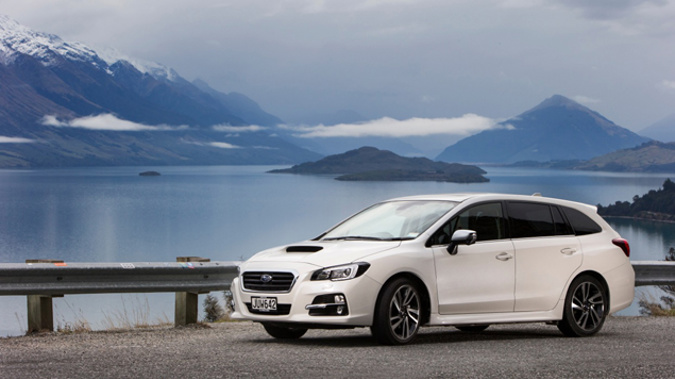 Bob Nettleton: Subaru Levorg wagon
Author

Publish Date

Wed, 12 Jul 2017, 7:58pm
While Subaru has deleted a wagon from the latest Legacy line-up, they appear to have found a ready-made successor in the recently launched Levorg.
Slightly smaller that the previous Legacy wagon, this new comer is only sold here in high spec high performance $56,990 GT-S trim, making it the default replacement for the revered GT Legacy wagon. In Australia, a couple of cheaper derivatives of the Levorg are offered in addition to the flagship GT-S.
Subaru here believe the Levorg is perfect for those of us who don't want an SUV. Despite a strong global shift to SUV's the company have shown enough nous to recognise not everyone wants one. The company is quick to point out that sales of the new generation Legacy sedan and strong demand for the legendary WRX, prove that there's still a solid market for driver's cars.
Sharing much the same power train as the legendary Impreza WRX, the Levorg restores a high performance wagon to Subaru's ranks in this country. Many will be pleased about this, given the company's long and colourful history, not to mentioned extraordinary talent for producing express paced wagons loaded with character.
The Levorg, is more of a niche, than a mainstream model that will appeal to Subaru aficionado's, and those seeking a quality up-market compact powerhouse wagon that's just that little bit different. This vehicle puts rather large ticks against all those boxes.
It is proving a hit in Europe and the UK where it arrived several months ahead of our market, with many buyers former Legacy GT wagon owners. As a strong market for Subaru, the New Zealand distributors wisely waited for the more powerful and sophisticated 2.0 litre direct injection turbo engine. Several overseas markets that launched earlier with this model, had to settle for a more subdue 1.6 litre turbo motor.
Sleek and smart, this wagon packs plenty of technology including Bilstein suspension, and a potent yet efficient performance from a direct injection turbo charged horizontally opposed boxer engine layout. The most impressive piece of techno wizardry is the vision assist package featuring blind spot detection. This flashes a car icon in the door exterior mirrors to show the presence of vehicles that are outside the drivers view. Other useful features include lane change assist, auto diming rear view mirror and high beam assist. It automatically senses on-coming traffic at night and dips the headlights then returns them to full beam when the vehicle has passed.
The 197kw 2.0 litre turbo charged engine goes hard, although unfortunately the mute button appear to have been heavily applied to largely silence the delightful boxer engine throb, that adds so much character to the WRX sedan. Perhaps Subaru felt this superb sound track didn't need to be as dominate in the Levorg model that's chasing a different buyer to the WRX, and is one who places greater store on engine smoothness and refinement, than the pulse quicken throb and thrum of a Subaru performance boxer engines in full cry.
Fast and feisty, there is a lot to like about this motor, not the least of which is its ability to scamper 0 to 100km/h in less than six seconds. A 350nm swathe of torque layered over a generous 2400rpm to 5200rpm power band, makes for superb throttle response in the mid rev range where most of us spend the majority of our drive time.
Some may roll their eyes in disbelief that Subaru would even dare to offer CVT (Constant Variable Transmission) in one of their performance models. The fact is they have been using their Lineartronic CVT in the likes of the WRX for a while now and it does a surprisingly good job. While not as intuitive as a good manual shift or a conventional auto and is decidedly playful when the 8-speed manual paddle-shift mode is engaged. It has a new generation version of Subaru's Intelligent (SI) Drive system that's been around for several years now. It offers multiple performance modes to suit a range of driving styles, from thrifty to nifty and largely delivers on what it promises.
Subaru see the Levorg, as a logical successor to the fourth generation turbocharged Legacy GT wagon in terms of size - yet it is larger in every key dimension. In fact, it has the same external width as the fifth generation Legacy. Cabin capacity is good for a compact wagon. You can comfortably seat four adults, five up is a bit snug for the three seated across the back seat, but tolerable for short trips, but you wouldn't want to remain shoe horned in there for any longer.
A few may baulk at the $56,9905 asking price but it is competitive. For example the Levorg costs around $12k less than the 206kw Volkswagen Passat wagon, the only other similar sized wagon packing the same sort of performance punch. The Levorg is generously appointed, and heading up a long list of standard features is a sports body kit, 18-inch alloys, twin tail pipe covers, electric sunroof and self-levelling automatic LED headlights complete with natty pop-up washers.
The independent suspension works harmoniously with the cars full-time 4WD system to provide exceptional grip and road holding. Going about its work on super chunky tyres and an expertly tweaked chassis, enable the Levorg make fast work of tight twisty terrain. Even though the suspension is tuned for pace not pampering, the ride quality was unexpectedly supple and compliant at open road speeds. It's a different story at under 60km/h, a speed you would typically travel at in town driving. In these situations bumps and other road irregularities are soaked up with commendable endeavour, the downside is it's done with noticeably more suspension noise.
What's the verdict? Compact, nicely balanced, well equipped and offering a decent turn of pace, the Levorg wagon ticks most of the compact high performance wagon boxes and compared to similar European rivals, good value for money.