Bob Nettleton: Subaru Impreza X hatch
Author

Publish Date

Tue, 22 Dec 2015, 12:45pm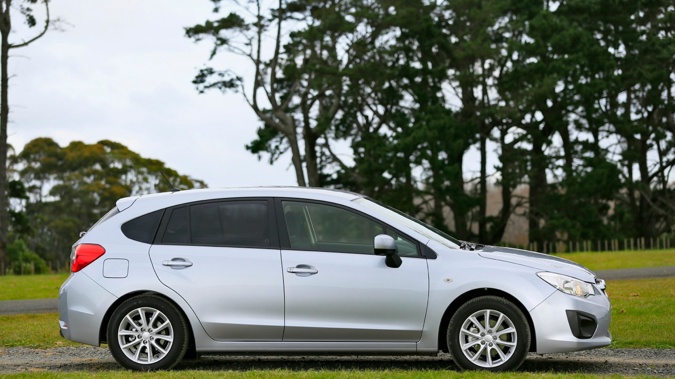 Bob Nettleton: Subaru Impreza X hatch
Author

Publish Date

Tue, 22 Dec 2015, 12:45pm
Subaru's Impreza hatch has become to some extent, a sales victim of the company's decision about three years ago, to focus on SUV models for our market, to give it a real point of difference over its competitors.
When you scrutinise current the Subaru model line-up here, the only non–SUV offerings, are the recently launched Legacy sedan, high-performance versions of the Impreza WRX and price leading five-door X hatch, The current Impreza is just over three years into its model life, but has been pensioned off to a degree by the company's strong SUV sales thrust. This has seen the number of XV models, an SUV version of the Impreza, substantially increased.
While the Impreza 2.0 litre X isn't the best looking hatch in its class, it is as I discovered during a recent test drive, an attractive package in a non-visual sense, with its sharp pricing and 4WD technology. The only other comparable 4WD hatch offering is the smaller Suzuki S-Cross that's fitted with a fairly sedentary 1.6 litre engine with performance that will struggle to get your pulse rate out of first gear.
The Impreza X retails for $31,990, although it's current selling at $29,990 and Subaru are sweetening the deal by throwing in three-years worth of free servicing. What was already a good buy has now been transformed into to an exceptional one for a vehicle featuring Subaru's highly acclaimed Symmetrical All Wheel Drive system.
One potential sales barrier for this likeable all-wheel drive hatch, is the fact that supply for our market is rationed to about four allocations a year. This mean purchasers may not be able to march into their Subaru dealership and buy one straight off the showroom floor, especially if they want a particular colour. Although I suspect those who have their hearts set on this car will if they have to, wait, because Subaru is a brand that in-genders that level of loyalty. The other incentive to play the waiting game, is the fact there simply isn't a 2.0 litre powered 4WD hatch to be found that's as well equipped as the Impreza X for its comparatively modest asking price.
The 110kw naturally aspirated two-litre flat-four boxer engine doesn't pack a lot of performance bark or bite, although in its defence, it's more powerful than the slightly smaller 1.8 litre motors found in rivals including the Toyota Corolla and Nissan Pulsar.
Despite what the numbers say, this 2.0 litre motor feels zippy enough around town driving and out on the open road to satisfy most owners. This is an engine that has been around in various forms for long enough to fall into the veteran category. A lot of effort has gone into lifting its refinement and this has resulted in one of the smoothest horizontally opposed Subaru engines yet. It's also among the cleanest and greenest meeting Euro 5 emission standards. A lot of the credit for this goes to the smart automatic stop go technology that shuts the engine down when the vehicle is stationary in traffic.
Having one of the best of the current crop of Japanese CVT (Constant Variable Transmission) on board, gives the Impreza X an edge over the competition. This transmission glides deftly through the gears on one hand while on the other, does an outstanding job of maximising both performance and fuel economy.
There are roomier hatchbacks in this class that provide superior passenger and load space, plus a more modern and inviting cabin. Despite the slightly confined dimensions the passenger compartment functions well enough in the every day driving, although you know taller back seat passengers would love some extra leg room, but are too polite to ask the driver or front passenger to slide their seat forward a few centimetres to provide that. The provision of a 60:40 split of the rear seat adds a bit of flexibility around how you configure the load space. Subaru obviously think driving the Impreza X can be thirsty work and have acknowledged this, by providing cup holder's front and rear, while all four doors have pockets capable of carrying water bottles.
For the money, this is a well equipped and safe car offering 7 airbags, stability control, Anti-lock brakes, plus a reversing camera, more than enough to easily bring home a five star ANCAP crash testing rating. This sharply priced hatch that packs plenty of standard feature with 16-inch alloy wheels, front fog lights, rear privacy glass and a rear spoiler. Factor in dual zone air conditioning and nice touches such as a leather wrapped steering wheel and gear selector, audio system, cruise control and multi-function display screen and this car really does to have "great buy" stamped all over it.
The sound system is i-Pod, MP3 and WMA compatible with a USB connection and auxiliary jack point. Bluetooth wireless technology includes voice command recognition. Power steering, electric windows and mirrors complete the headline items on the standard features list.
Coil sprung suspension forms a solid first-line of defence against rogue road surfaces. A multi link rear end set up, confidently managed the test car over what were at times some fairly foul road surfaces encountered on an extended excursion over some gravel country roads. You really appreciate the reassuring grip and stability of the symmetrical full time all-wheel drive system in these situations. Subaru have been smart enough to retain sufficient suspension travel to ensure consistent ride comfort both in around town driving and at highway speeds.
What's the verdict? A handy and versatile 4WD hatch at a good price, a dull utilitrian cabin and slightly weird and awkward styling are less endearing.