Bob Nettleton: New Toyota Prius
Author

Publish Date

Thu, 5 Jan 2017, 10:42am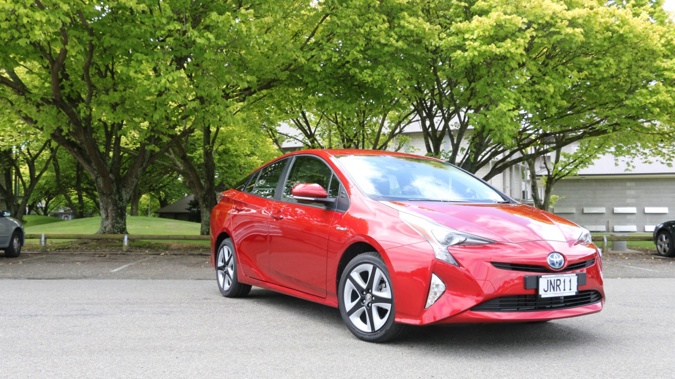 Bob Nettleton: New Toyota Prius
Author

Publish Date

Thu, 5 Jan 2017, 10:42am
Toyota's Prius hybrid has had plenty of detractors over the years especially the early models, with many harshly judging a car that was both visionary and ahead of its time.
This vehicle first launched in the late 1990's, the Prius has through Toyota's belief and commitment in hybrid petrol-electric technology has seen it gain greater acceptance as a mainstream car. It has also provided a great launching pad for the new generation hybrids and fully electric cars, poised to become a major part of our automotive landscape over the next five to ten years.
The Prius is one of the best known names in the world of hybrids continues to effectively champion the hybrid cause for Toyota, and will do it even more effectively in recently launched 4th generation guise model. It features promises a more engaging drive experience than it predecessors. Although to be fair, none of them really set the bar that high. This model is one of the first to be developed under the Toyota New Global Architecture (TNGA) program, which will provide the platform for several other models into the future. 
Design improvements include a lower centre of gravity achieved by moving the battery to free-up boot space, plus newly developed double-wishbone rear suspension and a more rigid body. Fuel misters will be totally besotted with this car that has a claimed fuel economy figure of just 3.4 litres/100 km, about half-a-litre per 100km better than the previous model. There is also a new feature called ECO Score, which rates your driving style and give you tips to improve fuel economy. I am sure it will provide hours of endless pleasure for some. I felt it was a bit gimmicky and pointless.
This new Prius is a really slippery customer. Body design changes make it more aerodynamic with a Coefficient of Drag rating of 0.24 the lowest of any new car sold here. Its ability scythe through the air with virtually no wind resistant contributes to its exceptionally low fuel consumption.
Two models are available starting with the entry level GX at $47,490, which was the version provided for this road test. A higher level of specification is offered with the $2k optional Touring Package, with the new $54,990 flagship ZR replacing the top-of-the-line i-Tech. Going down the touring route is worth considering, given it adds for reasonable modest price a leather steering wheel, Satellite Navigation and 17" alloy wheels with lower profile 215/45 R17 tyres.
The 1.8-litre engine has been revised to reduce friction, while the hybrid package has been made smaller and lighter. The engine battery has been shifted from the luggage area to the engine bay. Also moved to a new home are the hybrid batteries. These now reside under the rear seat, freeing up more boot space. 
Power is delivered by Toyota's proven Hybrid Synergy Drive system that has a combined output of 100kws from the 1.8-litre Atkinson Cycle four-cylinder petrol engine and an electric motor. At low speeds on billiard table flat surfaces, the car will run solo on the electrical motor. Taking the petrol engine off-line in this way helps trim fuel consumption and exhaust emissions. You cannot help but admire the smooth and albeit fairly sedate performance of this dual action petrol and electric engine combo. Long hill climbs are tackled with enthusiasm and car has the strength and stamina to match most two litre petrol motors. Although performance does wither a bit on demanding up hill slogs if you have four people on board and a bit of luggage. Noise levels are so low they were at times barely audible.
Gear changing is managed with typical Toyota efficiency by a CVT (Constantly Variable Transmission with a single dashboard-mounted shift lever. There are three drive modes Electric Vehicle (EV), ECO and Power modes. Initially these were amusing to play with, but didn't make any discernible improvement to the way the car drove, so I left the auto to its own devices in Drive and it did the job without any fuss or bother.
One thing you immediately notice when you step into the cabin is extra room that is the result of a clever redesign of the interior. A 60:40 split folding rear seats extend the boot capacity from a decent enough 457 litres to 1507 litres. A futuristic looking interior gives the car a real point of different, that could be plus for some and minus for others, who find it overly techy and rather confronting.
Other standard features on the GX model include 15" alloys wheels and 195/65 R15 tyres, daytime running lights, an engine immobiliser with wireless remote central locking and Smart Key. Driving the new Prius must be thirsty work, as there are six cup/bottle holders peppered around the passenger compartment.
Safety kit is right on the money with seven airbags, Vehicle stability control, Anti-lock braking with Brake assist and Electronic brake force distribution. There are two ISOFIX child seat fixing points and three tether anchors. All seat belts have emergency locking retractors and those for the front seats feature force limiters and pre-tensioners.
Handling is a sizeable step up on the old car, while prospective buyers will appreciate the more compliant ride. It would be even better with larger wheel than the standard 15-inch variety fitted to the GX. At times these super market trolley sized wheels struggle to suppress the worst bumps and corrugations, generating some suspension rattle and thud. This car has grown half a size over the vehicle it replaces, unfortunately this has been recognised by adding larger wheels to compensate.  While it's isn't a road holding rocket, the handling and steering of the new Prius is crisper and more convincing, than any of its predecessors, proving hybrids and this one which has been one maligned more than most, can be a pleasurable drive.
What's the verdict? A vastly improved new generation version of a model that started the hybrid car revolution nearly 20 years ago, but expensive compared to the Toyota Corolla hatch that uses similar hybrid technology.