Bob Nettleton: Mitsubishi Outlander a lot of compact SUV for your dollar
Author

Publish Date

Thu, 31 Mar 2016, 8:21pm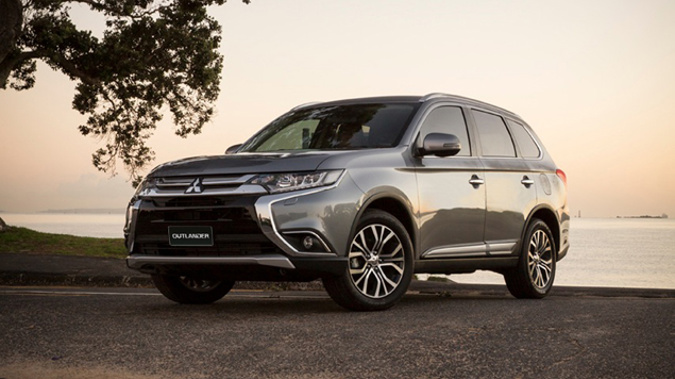 Bob Nettleton: Mitsubishi Outlander a lot of compact SUV for your dollar
Author

Publish Date

Thu, 31 Mar 2016, 8:21pm
Spaciousness, practicality and value for money, continue to prove a winning trifecta that helps make the Mitsubishi Outlander one of our most popular mid-sized recreational 4WD's.
A recent facelift of the second-generation model should further cement that position. The Outlander has been around for over a decade with the original version launched in 2005 winning almost instant approval with buyers. It's clean cut lines, good passenger and load space along with 4WD, meant it was ideally suited to our challenging roads and weather, all of which made it a vehicle well suited to the kiwi lifestyle.
This latest upgrade of the second-generation model features the Mitsubishi's distinctive dynamic shield frontal treatment designed to give the Outlander some visual oomph. It's styling has always been neat and tidy, but if you had to be picky, it erred on the bland side of style street. However this latest facelift adds some vibrancy to its appearance. Beneath the skin there are a raft of changes aimed at improving the vehicles drivability, and keeping it competitive in the tough and uncompromising compact SUV market. We have now have a much stauncher Outlander thanks to a stiffer suspension and body structure. Larger-diameter rear dampers sharpen straight-line stability while the re-calibrated power steering makes for a more engaging driving experience.
There's an old adage that says, "be safe be seen", and you certainly will be in this vehicle with its bold daytime LED headlamps and daytime running. There has been an across the board effort to raise the safety bar in other areas as well. All models are now fitted with seven airbags, traction control and active stability control, hill start assist, reversing camera and ABS braking. 
The range topping VRX variant takes the safety to the next level with adaptive cruise control along with forward collision mitigation. It works by detecting whether you are getting to close to a vehicle in front of you and electronically slow the Outlander, down to avoid an impact if the driver is to slow in reacting to the situation.

Owners have the absolute peace of mind of a 10- year or 150,000km Mitsubishi Diamond Warranty. You could say diamonds are forever, well at least a decade anyway in this case and that's a fair stretch in the life cycle of a vehicle. Talking of stretching, service intervals are now extended out to 15,000km or 12 months, whichever occurs first and save owners money.
Like its predecessor, this updated model nails it on value for money with prices starting at $39,995 for the 2.0 litre entry-level 2WD five-seater petrol. From there, they climb all the way to $56,990 for the flagship 2.2 litre seven-seater turbo diesel. The version provided for this road test is the mid-range XLS seven-seat 2.4 litre petrol costing $47,990. One major advantage the Outlander enjoys over most of its Japanese rivals is a seven-seat option. This makes very appealing to those with additional people carting requirements for the daily school run or family outings.
The 126kw 2.4 litre MIVEC motor is a solid enough performer but lacks that bit of sparkle and thrust to stand out from the competition. While it's the full of endeavour and good intentions, that is simply not enough in market segment where you have to be demonstrably better than the competition. This engine lacks that extra top two inches in refinement and responsiveness needed to achieve that.
Under load up on lengthy hill climbs or over roads with lots of undulating terrain, the motor felt at times as though it was on struggle street and working hard to maintain respectable forward momentum. Re-mapping the CVT transmissions computer has improved things slightly over the previous model. It's now more adept at plugging the engine's power deficits in these situations, but not sufficiently, to make some potential buyers think long and hard about paying the $2,500 premium for the lusty 2.2 litre turbo diesel. The transmission re-map leads to a f claimed 4% improvement in fuel economy that translates to a creditable 7.2 l/100km.


One of the reasons behind the Outlander's success is its roomy and flexible cabin compartment. Behind the rear seats with the third row of seats folded into the floor there's a huge 882 litres of load area. Now that's a truckload of cargo space in anyone's language. The hip height positioning of the seats and generous door openings make entering and existing the vehicle almost effortless, something that will be appreciated by those who aren't as agile as they once were.
For the money, this is a well-appointed SUV with no obvious corner, well not to me, cutting on kit to keep prices down. Standard equipment includes remote controlled central locking, automatic air conditioning while 18 inch alloys help raise the XLS to new heights. I'm sure the company will be hoping it has a similar effect on its sales figures. Being one of bulkier models in its class, I felt the larger alloys did a better job of filling out the wheel arches than the smaller diameter wheels used on the previous model.
Mitsubishi have talked up the work they've put into giving the suspension much more of a handling edge. There is no denying it's noticeably more nimble than before, but still short of sharp handling characteristics that distinguish the leading lights in this class such as the Mazda CX5 and Ford Kuga, from their rivals. I felt the Outlander's DNA puts it more in relaxed cruiser category. Compliant long travel suspension is ideal in off-road driving, although limited ground clearance and no high-low 4WD transmission, means venturing into moderately rough terrain is fraught with risk.
What's the verdict? A lot of compact SUV for your dollar plus a 10-year warranty to sweeten the deal. It may not be the best in its class, but it offers the best value for money.