Bob Nettleton: Mercedes–Benz GLS
Author

Publish Date

Thu, 2 Mar 2017, 11:25am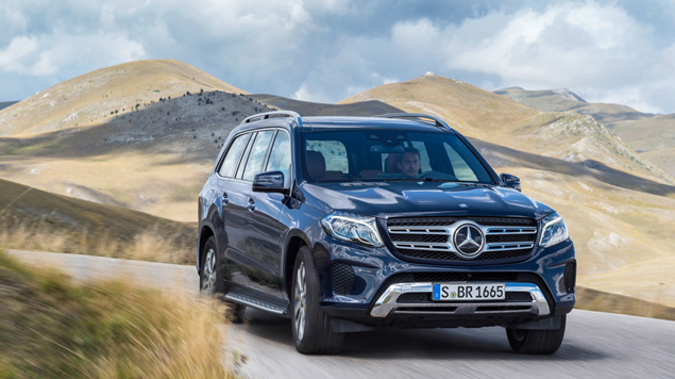 Bob Nettleton: Mercedes–Benz GLS
Author

Publish Date

Thu, 2 Mar 2017, 11:25am
Mercedes age defying seven-seater SUV the GL that been around for almost a decade, yet remains thanks to a recent comprehensive upgrade, as competitive as ever.
It certainly needs to on top of its game, when you look at its high quality competitors including the BMW X5, Audi Q7, Volvo XC90 and Range Rover. While a newbie to this list is the Jaguar F-Pace, which is really stirring and shaking this market segment, both here and overseas, since making its debut earlier this year.
This major revamp of the GL sees it add an S to its name denoting what is a significant milestone, in its almost decade long evolution. However, there is a lot more substantive change than an additional letter to its name. It raises the bar several notches in areas that will be noticed by the typically discerning luxury SUV buyer. These are; spaciousness, luxury, comfort, driving dynamics and exceptional levels of safety. 
The redesign is measured rather than radical, which externally translate to some subtle changes to the look of the bumper and tail lights. Step into the cabin and it's easier to see where the new broom has swept through. There is a newly designed instrument panel with semi-integrated media display M, new 3-spoke multifunction steering wheel, and modified centre console with a touchpad.
Nearly $100,000k separates the entry level GLS 350 d 4MATIC priced at $139,990, through to the insanely powerful $238,000 AMG GLS 63 4MATIC 5.5 litre 430kw twin turbo petrol V8. This beast scorches from 0-100km/h in just 4.6 seconds, making it one of the quickest large SUV's on the planet. Provided for this road test was the more sedate and pragmatic 4MATIC 3.0 litre V6 turbo diesel Sport priced at $160,000.
I can see this being a best seller when you look at the t added value on offer. This arrives on several fronts including; a newly designed AMG Line Exterior, tyre pressure monitoring system and metallic paint as standard. In addition, Nappa Leather, an AMG Line Interior and 21" AMG wheels are standard. A smart and worthwhile new feature is the active curve system that deploys active anti-roll bars on the front and rear axle to reduce the roll angle of the vehicles body during cornering. 
The GLS 350 d Sport has a great drive train combo with a silky smooth and highly responsive 190kw 3.0L V6 turbo diesel, coupled to a 9-speed automatic gearbox. Performance is effortless and the epitome of automotive refinement. Quick out of the starting blocks, with formidable low to mid rev range-response, this motor takes command and calls the shots on even the toughest undulating roads and terrain. This is one the best Mercedes diesel yet with its creamy smoothness and instant acceleration. The new 9-speed automatic made an immediate and positive impression with its seamless gear changes the way it works so intuitively with the engine.
The fit and finish of the passenger compartment is superb, but then Mercedes have had nearly a decade to get it there. A large and spacious interior ensures even with the maximum seven passengers on board there is plenty of room for everyone. Like its predecessor, the new GLS boasts ample elbow and headroom for those occupying all three rows of seats. There are plenty of adjustment options. The centre seat has a high degree of flexibility including a cargo position to maximise the amount of usable area in the luggage compartment.
In terms of standard equipment there aren't any glaring oversights with all the features you would expect are well represented in a vehicle of this price and quality. Those wanting to up the spec levels or personalize their GLS even further can do so for with a raft of option packages. This vehicle has what it takes to make all the right connections in today's highly connected world, with smartphone integration that supports telephoning, navigation and plus receiving and sending text messages and emails.
The GLS certainly makes a massive safety statement with a vast array of safety technology. This includes: collision prevention assist plus, pre-safe brake with pedestrian detection and active Lane Keeping Assist. Adaptive, two-stage airbags protect the driver and front passenger, along with knee airbags. Window air bags are fitted across all three rows of seats, in a package that doesn't leave any safety stone unturned.
With dynamic select, the handling characteristics of the vehicle can be tweaked via a touch of a button, allowing the driver to create a variety of settings options, giving the GLS a worthwhile point of difference over its rivals. Ride quality is plush and pretty much stays in that state, even when under siege from brutal road surfaces, ensuring sublime ride quality ride.
Handling is highly accomplished, with good reserves of genuine grip and traction and suspension and 4WD systems that work harmoniously together. This isn't a serious off-road contender, the absence of a high/low 4WD set-up and modest levels of ground clearance see to that.
However, you can transform your GLS into a cross-country commando with a $3,500 optional Off-Road Engineering package with OFF-ROAD+ mode. Together with the low-range gearbox and centre differential lock deliver a high degree of drive ability in rough terrain. This is further enhanced by the AIRMATIC air suspension with raised ride heights for a ground clearance of up to 306mm and a water wading depth of up to 600mm. This package does make the GLS a serious off-road warrior, but would you really want to subject such a classy vehicle to this sort of punishment? 
I think most owners will be content to use for their GLS for light cross-country traversing duties such as negotiating well-formed tracks to fishing spots or boat ramps.
What is the verdict? An ageing large but classy and capable luxury seven-seater SUV powered by a superb six-cylinder turbo diesel. Lacks some of the technology of newer offerings in the Mercedes SUV range.