Bob Nettleton: Mercedes B Class hatch
Author

Publish Date

Tue, 31 May 2016, 1:01pm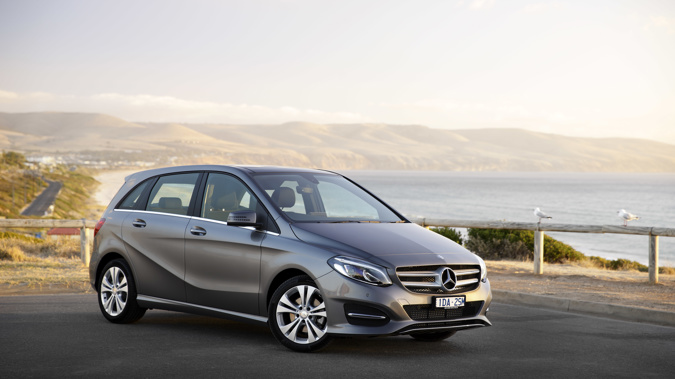 Bob Nettleton: Mercedes B Class hatch
Author

Publish Date

Tue, 31 May 2016, 1:01pm
Since 2005, the B200 has held the mantle of the sensible, practical and versatile member of the Mercedes Benz compact luxury passenger car family.
The B200 is an unusual mix of hatch and mini MPV with its tall upright stance, that's more about maximizing interior space than style, an interesting move given the brands proud history of producing handsome cars. However, Mercedes has been prepared to overlook that for a model they see filling a niche for young families after a vehicle with flexibility and space. It will also appeal to older buyers who need a car that's so easy to enter and exit, yet ideal for transporting everything from two sets of golf clubs to a couple of grand children. The first generation B200 did this and numerous other carting and carrying tasks with uncanny ease, given its relatively compact dimensions.
This current model launched in 2012 addressed these shortcomings and now does it even more convincingly with a recently updated version. Notable changes include enhancements to the interior and exterior, and higher levels of standard equipment than before. The B250 4MATIC variant provided for this road test is the only vehicle in its class with all-wheel drive, perfect for getting to grips with our challenging roads, terrain and weather. Priced at $71,900, it has the heftiest price sticks in the four-strong B200 line-up range leads off with a modestly powered 90kw 1.6 litre petrol costing $53,200. A lustier 115kw take on this engine is offered in a more generously equipped model available for an extra $10K. A 100kw 2.2 litre turbo diesel can be had for the same price.
The most identifiable visual changes between this refreshed model and its predecessor are; a new bumper design and integrated daytime running lamps in the headlamps provide a more dynamic appearance. LED headlamps increase safety at night with their wide beam pattern.
The test vehicle was powered with real verve by one of best smaller engines in the Mercedes range in the form of a 2.0L 4-cylinder direct injection turbocharged engine producing 155kW and 350Nm of torque. It punches the B 250 4MATIC from 0 - 100km/h in a very sharp 6.7 seconds. That's quick for a vehicle that's part hatch, part people mover.
I thought this engine in the heavier 4MATIC might have been a bit light on performance, but in real world every-day-driving its smooth and posses a deceptively strong burst of speed. It uses this to good effect, to muscle its way over long hill climbs, or to effortless waft past slower vehicles out on the open road. This motor adapts easily to the rigors of our roads, terrain and drivers with the power, purpose and smoothness to satisfy most owners.
Drawing the best out of this engine and enabling it shine like a beacon, is Mercedes well-proven 7-speed automatic, that's built its glowing reputation on precision, accuracy and timing, topped with an overlay of silkiness. There are more modern automatics on the market armed with up to 9 gears, but this transmission does an outstanding job with its magnificent seven.
Fit and finish is exemplary, and even that word, is under selling the huge attention to detail and quality the spacious cabin exudes in every direction. The longer I drove it, the more I appreciated the wide-open spaces of the passenger compartment to the large cargo devouring rear hatch.
There are a host features to sway and influence would-be buyers into the B Class camp. Heading this list are GPS, Active Parking Assist and Electrically Folding Exterior Mirrors. Exclusive to the B 250 4MATIC is KEYLESS-GO. It is in essence an access and drive authorisation system with KEYLESS-GO starting function allowing the vehicle to be opened, started and locked simply by carrying the electronic key. This model also rides on larger 18" Wheels, Lowered comfort suspension, Dark-tinted privacy glass and Ambient LED Lighting in 12 interior colours. There's also the peace of mind of an Anti-Theft alarm system, to ensure it doesn't become another stolen vehicle statistic.
Safety is nailed, well pile driven really thanks to a large range of passive and active safety features. If you place a lot of weight on safety in your new car buying decision making process, then the B Class ticks the really important safety boxes such as Reversing Camera, 9 Airbags, PRE-SAFE® and COLLISION PREVENTION ASSIST PLUS with semi-autonomous braking. Also part of the mix are LED High Performance Headlamps and Blind Spot Assist. The latter activates a flashing yellow symbol in the exterior mirrors whenever another vehicle is close by, but outside your peripheral vision so you cannot see it.
The suspension does a fine job of deftly balancing the competing needs of ride comfort and road holding, although as expected given its focus on functionality, it skewed more toward comfort. Ride quality hits spot rather nicely, showing genuine composure over a variety of road surfaces from the smooth to the unruly. Despite the cosseted ride, handling is assured thanks to the extra grip of a full time 4WD system. The test car steered accurately and for a reasonably tallish vehicle, didn't let too much hang out in the breeze during brisk cornering, which is more than can be said for some models of this genre.
What's the verdict? Behind the frumpy styling, is a practical, classy, roomy and strong performing mid-sized hatch.