Bob Nettleton: Lexus NX Turbo beautifully built, but lacking power
Author

Publish Date

Fri, 29 Jan 2016, 1:49pm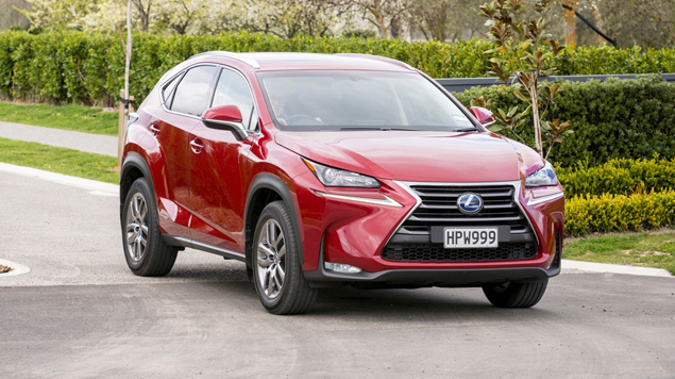 Bob Nettleton: Lexus NX Turbo beautifully built, but lacking power
Author

Publish Date

Fri, 29 Jan 2016, 1:49pm
Lexus has summoned some turbo charged engine wizardry to add some genuine performance punch, to match the striking good looks of its NX compact SUV, but does this motor deliver a power packed king hit?
This recent newcomer to the Lexus line-up not only up's the performance ante, it also increases the number of different NX models to seven, performance-oriented F Sport and luxurious Limited models, two engine choices; the NX300h 2.5 litre Hybrid Drive technology and the 2.0-litre petrol turbo.
This new 180kw turbo engine is charged so to speak with attracting younger buyers, although I would have thought the sleek eye-catching lines of the NX already did a pretty good job of that. Unlike many European car brands, Lexus isn't really in the turbo petrol engine game and stepped out of their comfort zone to create this unit specifically for the NX. However, in order to re-coup the considerable research and development costs involved in doing this, expect it to start popping up in on other models in the future.
The NX features a superbly detailed exterior, in fact among the best I have seen in this type of vehicle, with design cues such as the 'spindle' grille and intricate LED headlight clusters (including distinctive L-shaped Daytime Running Lights), with the whole impressive package strutting its stuff on imperious 18" alloy wheels.
As expected from with any model bearing the highly acclaimed Lexus badge, the NX shows its pedigree, with the sort of unwavering attention to detail, essential to make it on to the radar of the well-heeled and discerning premium luxury car buyer. There's a choice of two and four and two wheel drive models. For this road test, a range topping $94,900 Limited all-wheel drive was supplied.
Those bracing themselves for rip snorting tear-away performance from the 180kw 2.0litre turbo petrol will be mildly disappointed, because it simply isn't one of those overtly in-your-face sort of motor's, preferring to do everything with far greater degree of decorum, in keeping with its premium luxury car image. It is fast enough, although it didn't feel in every day driving at least, a lot more responsive or accelerated with vastly superior intensity than the 300H hybrid I drove recently.
As good as this engine is it isn't a performance standout, and certainly not among the sort of company it keeps in the 90 grand plus price league. In some ways a larger 2.5 litre turbo motor may have provided the performance after burners this engine doesn't deliver in full measure. Open road performance is brisk and there is always enough power corralled under the right foot, to effortlessly gallop past slower traffic, or see off without any under bonnet heaving and panting. Performance on steep hill climbs tapered off a little sooner and quicker that the motors on paper power and torque outputs would suggest. Fuel consumption is considerably heavier than its hybrid sibling. While this was to be expected the gulf was wider than I anticipated. When you balance up the fuel economy and performance equation, there isn't as much between the turbo petrol and hybrid NX as logic would suggest and that was a surprise.
Unlike the Hybrid that runs a CVT transmission, the turbo petrol uses a conventional albeit rather good six-speed auto offering smart gear changes, all executed with consummate speed and precision. At this premium end of the compact SUV market eight and nine speed automatics are increasingly common among European carmakers. While more gears may look good in the glossy brochures and in the showroom sales pitch, it doesn't automatically, no pun intended, add up to a better gearbox. The six-speed unit in the NX turbo petrol is a good case in point.
Passenger space is sufficient to comfortably seat four adults while five is a bit of a snug fit. A generous load area provides enough cargo real to cater for the on-road storage requirements of most owners. There is an abundance of nooks and crannies around the cabin for those odds and ends, so there isn't any excuse for not keeping the cabin super tidy. 
Lexus have done the clever techie stuff rather well in this vehicle, with Bluetooth hands-free and audio streaming capability and the next generation Lexus Remote Touch Interface (RTI) system, allowing access to audio, climate control air conditioning and satellite navigation. Many owners will appreciate the wireless charging tray for compatible smartphones and other devices, and the Panoramic View Monitor, that provide the drivers with a virtual 'bird's eye' view of the car, great for negotiating around tight spaces.
On the subject of movies, the NX is a star, with a five star EuroNCAP rating earned on the back of cutting edge safety features such as Lane Departure Alert (LDA) software, Blind Spot Monitoring and Rear Cross-Traffic Alert (RCTA). Perhaps the jewel in the safety crown though for me anyway is the All-Speed Dynamic Radar Cruise Control. This intelligent piece of kit, ensures the NX remains safely separated from the vehicle in front while on the move, but will also slow the NX gradually to a complete stop, keeping the distance to the vehicle in front consistent while this is occurring. This technology adds a whole new perspective to the old saying of "Keep your distance".
The all-independent suspension exerts a tight reign on body roll, while more aggressive spring and damper rates added to the suspension of the turbo petrol, ensures a keener handling edge than the hybrid model. The steering is communicative and responds without to much harassment from the driver, although road feel is at times a touch vague and needs to be more direct and assertive, in what is after all a performance halo model in the NX stable.
What's the verdict? Classy refined and beautifully built compact SUV, a shame that the handling and performance don't reach the same lofty heights.