Bob Nettleton: Kia Sorento 2WD V6
Author

Publish Date

Thu, 2 Jun 2016, 11:00am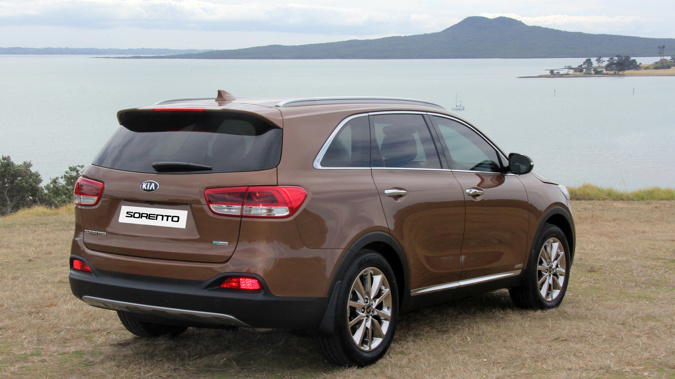 Bob Nettleton: Kia Sorento 2WD V6
Author

Publish Date

Thu, 2 Jun 2016, 11:00am
Much to the surprise of many cynics, 2WD SUV's sales are on the rise in this country showing there is demand for these vehicles, and that they are providing an affordable pathway to SUV ownership for many that didn't exist in the past.
There's no question that SUV's are the vehicle of choice now for a rapidly growing number of people, and the ability to cater for as wide a range of buyers as possible, is the key to driving sales onwards and upwards in this market segment. Versatile and highly fashionable, they adapt more readily than most to our varied kiwi lifestyles and this undeniable fact has been the key to their huge popularity.
I must admit that initially I was dismissive of the merits of 2WD SUV's, especially in a country such as ours with its volatile weather, challenging roads and demanding terrain, a 4WD's was the only logical choice for an SUV. However, I've come to the realization that there are a lot of buyers who want them for reasons other than battling the great outdoors. At the top of that list, is the fact that they are a good fit for their every day automotive needs and for many a 2WD version is ideal.
Interestingly, Kia have added a lavishly equipped 2WD petrol V6 Limited model to their recently released third generation Sorento SUV range. It's a clean sheet design with swoopy eye catching lines that are a real head turner. Another reason why it catches your eye is that it's substantially bigger than its predecessor. All models are fitted with a third row of seats, something that will make it popular with those after a seven-seat vehicle with a dash of styling panache. There are major advances in refinement as well with this version considerably smoother and quieter than the outgoing version. It's also loaded with the sort of technology today's discerning buyers are seeking including satellite navigation. The $60,990 2WD Limited V6 that was fronted for this road test rides on imposing 19-inch chrome finished alloy wheels and is equipped with a reversing camera that delivers a crisp clear image of what's behind the vehicle.
There's a good spread of models and prices that will appeal to a wide range of buyers. Leading the way is the $49990 base 4WD LX 2.4 petrol with the cost leaping to a heady $55990 for the 2.2 litre turbo diesel engine option. Sitting right at the top of the Sorento model ladder is the Premium diesel. It retails for $70990, which at a cursory glance may seen expensive, but not when you consider the flagship Hyundai Santa Fe, which shares the same engine and transmission and costs around $8k more.
Six cylinder petrol powered SUV's with the notable exception of the Ford Territory that ceases production shortly, have not be huge sales success story here of with many buyers preferring more frugal turbo diesel engines. These days a lot of six cylinder petrol engine aren't the fuel quaffing guzzlers of old, thanks to major improvements in their design and fuel efficiency, with similar gains being made in the automatic gearboxes they are teamed with. The 199kw 3.3 litre V6 in the test vehicle is a good case in point. While I powerful and boasting a decent turn of pace when required, it was when driven at sensible speeds, surprisingly thrifty with fuel consumption figures that weren't to far adrift of many large four cylinder petrol motors commonly found in some SUV's. Without the extra weight of a 4WD system, the 2WD Sorento's V6 expends far less effort in moving a vehicle that's considerably lighter than its 4WD equivalents and this literally pays dividends at the petrol pump.
There's little to fault with this V6 and plenty to like from the sweet exhaust, instant acceleration, and a silky smoothness you would normally associate with much higher priced engines. An upgraded version of the six-speed automatic that did such a fine job in the previous Sorento continues that good work in this model. The gear changes are precise, and the transmission has a real talent for quickly adapting to rapid changes in the driving environment and from behind the wheel, I found very reassuring.
The cabin is spacious and modern with lots of passenger and load space. An elevated driving position provides good all-round visibility for a vehicle of this size and bulk. Thoughtful positioning of the instruments and controls means you are never second-guessing where the switches for the lights, indicators or wipers are when they are required in a hurry.
All the people pampering and safety based are covered. There is a comprehensive suite of safety kit including Electronic Stability Programme (ESP), incorporating ABS anti-lock brakes and traction control plus dual front, side and curtain airbags. A reversing camera projects its images on to a large touch screen, to provide a full and more complete picture of what's happening at the rear of the vehicle.
Road holding is more confident and composed. Having said that, the Sorento is know whippet through twisty terrain, although the suspension is more adept and containing body roll and the vehicle feels more planted on uneven road surfaces with less lateral movement. Like most SUV's of this size and without the adhesive qualities 4WD, the 2WD needs to driven at moderate speeds through really tight corners and curves especially in wet conditions, to keep the rear end neatly tucked in and out harms way. The steering is a tad to light and a touch to detached to make a convincing connection with the person behind the wheel on a what's playing out between the front wheels of the vehicle and the road surface. Astute drivers will take this as a cue to scale back any ideas of exploring in a more depth the vehicles handling limits. A far smarter plan is to sit back and enjoy the sumptuous ride and cabin surroundings!
What's the verdict? A powerful, handsome and masculine looking alternative for those needing a decent sized seven-seat vehicle, but not 4WD. Below par road holding along with light and rather vague steering are less impressive.