Bob Nettleton: Hyundai Tucson 2WD Elite
Author

Publish Date

Mon, 30 May 2016, 5:59pm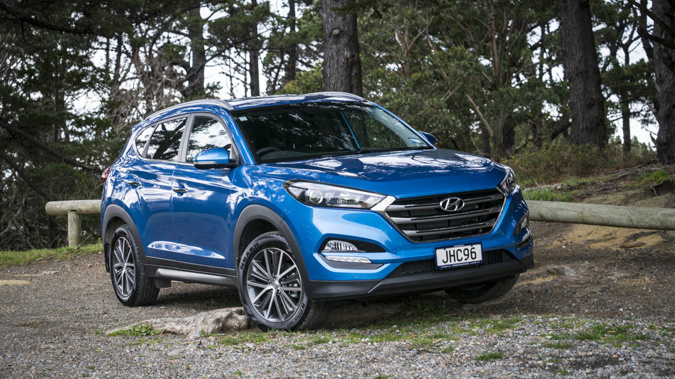 Bob Nettleton: Hyundai Tucson 2WD Elite
Author

Publish Date

Mon, 30 May 2016, 5:59pm
An old name adorns a new and striking looking addition to Hyundai's compact SUV's family, a model that justifiably has the company confident they've a star in the making.
The new Tuscon has a lot of expectations riding on it, but has enough x-factor qualities to not only shoulder those expectations. Choosing the name of a city in the desert state of Arizona, may seem a bit odd and irrelevant for our market. However, it wasn't chosen to resonate with buyers here, but those half a world away in North America, a market that's a massive revenue earner for Hyundai. Those who have more than a passing interest in the comings and goings of different models will know this is the second time around for the Tuscon name on our market. The original model, also a small SUV, was sold here between 2004 and 2009, before being replaced by the ix35. Despite its less than captivating looks, it was a top seller before making way for the "born again" Tuscon just over six months ago.
The new Tucson is one of those vehicles with all the right ingredients to make a big impact on the market, and that's how it's panned out, with demand outstripping supply on some 4WD variants.  It's also grabbed plenty of attention, or should that be notoriety, with an edgy or irritating, depending on your point-of view TV advertising campaign, with the strap line "Get lost in NZ#. It features a young girl with voice like a chain saw, imploring from various picturesque settings, all in sundry to "get lost". Whether you love or loathe this advert you have to admire the high level of cut through it has delivered for the new Tuscon in one our most fiercely contest new car market segments.
For showroom pose value, the sleek was proportioned lines of the Tucson earn an A+ and having oodles of this, is a major determinant of success in the fashion driven compact SUV market. It draws shamelessly on many of the styling cues of its big brother the Santa Fe. A great option, as it's a mighty fine looking vehicle that racks are up seriously large sales numbers both here and overseas.
The nine model line-up comprise three 2WD petrol models and six 4WD's, half of them fitted with a new 1.6 turbo petrol's and the remainder using an enhanced version of the 2.0 litre turbo diesel carried over from the ix35.
With prices starting at $39,990 for the entry level 2.0 litre 2WD and then climbing steeply to $63,990 for the flagship Elite Limited the Tuscon is more expensive that a number of its rivals. Close to $64k for the range topping Elite LTD is expensive when you look at what else is available for that sort of money. Even the $47,990 Elite 2WD two-litre petrol supplied for this road test is pricey enough. Even with its high specification levels, it will seem to some as 2WD SUV and 4WD price.
Power is provided in reasonable measure by a high-compression 121kw 2-litre GDi (Gasoline Direct Injection) petrol engine. For all it modern technology and sophistication it lacks, genuine punch and purpose, which makes for a less than invigorating driving experience. It's a motor that will keep the majority of Tucson buyers happy, but those with loftier performance expectations will feel a bit short changed. The may look for that elsewhere in this market segment, where there are a number of alternatives that will satisfy those expectations, and in some instances for less than the asking price of this model.
The motor needs to be worked fairly aggressively to play hard and fast and with that, comes higher levels of engine noise. Under load on hilly terrain performance evaporates faster than I expected, due to a lack of usable low speed torque below 3500rpm. There are some positives. One of these is the engines smoothness, that makes it an exceptionally relaxing and comfortable highway cruisers.
A six-speed automatic teams well with the engine, and impresses with its crisp, efficient and intuitive gear changes. A manual tip shift option is available, but I wasn't tempted to use it, as the transmission does such a darn good job when left its own devices, I wasn't going to attempt to upstage it, by with making pseudo gear changes using the manual shift mode.
For a compact SUV this one provides good front and rear legroom and a decent sized rear cargo area. The cabin looks and feels a half size larger than the Tucson's predecessor the ix35, a vehicle that wasn't overly endowed with passenger or load space.
It was hard, well almost impossible fault the large list of luxury features that take a little of the sting out of test vehicles equally large price sticker. You pretty much get all the features you want, which explains why there isn't a long list of optional extras, because the truth is they aren't really required.
Gadget lovers will go ga ga, over the Apple Car Play and Android Auto systems. They integrate seamlessly with existing smartphones and provide safe access to Google and Apple Maps navigation Siri or Google Voice Command functions. These include hands-free, music and apps, great, if sort of stuff spins your wheels.
The suspension tuned for Australian and New Zealand driving conditions, proved adaptable and agile enough to see off the many and varied challenges our terrain and road surface present, and emerged with its reputation not only intact, but glowing. It's the ride comfort, rather the vehicles outright road hugging and corner scything abilities that are the suspensions forte. Whatever types of roads were thrust its way, from billiard table smooth motorways to lumpy and testy narrow rural gravel roads, ride comfort was resolutely maintained to the highest standards.
What's the verdict? An appealing enough 2WD SUV with its good looks and tidy handling, but overall fairly underwhelming and pricey compared to some of its rivals.