Bob Nettleton: Hyundai Santa Fe
Author

Publish Date

Wed, 10 May 2017, 7:42am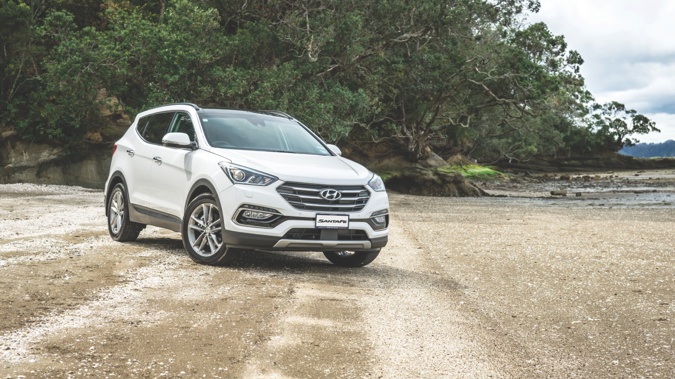 Bob Nettleton: Hyundai Santa Fe
Author

Publish Date

Wed, 10 May 2017, 7:42am
After four years on the market, the current Santa Fe recreational 4WD remains a stand out in the Hyundai New Zealand range, continuing to wow buyers with its elegant styling, quality and refinement.
Its launch in 2012 was timed to perfection, as it was able to cash in on the big shift to SUV's. Being one of the best dressed new comers on the block at the time, and it still is, this new generation Santa Fe cashed quickly achieved best seller status both within Hyundai New Zealand model line-up and in its market segment.
This was remarkable, given the model represented a major step in size, sophistication and unlike its two predecessors, was re-positioned as a premium SUV. It certainly had the credentials to justify that elevation in status. However, this move up in the automotive world came with a move up in prices. One of the strengths of the old model was its affordability, but the new model took a bit of hit on that front, with the flagship turbo diesel Elite Ltd costing a hefty $80K plus.
However, you can get a foot on the first rung of the current Santa Fe ladder with an entry-level 2.4 litre petrol 4WD retailing for $58,990. Hyundai have done a pretty good job of mixing and matching their eight strong model range to cater for an increasingly complex and diverse SUV market. They have even slipped in a high spec 2WD V6 variant for $69,490. I suspect those in the market for this particular model, may be sorely tempted by the Kia Sorento Urban Premium. It shares the same engine and gearbox, along with a similar level of specification yet costs $5k less.
Hyundai recently gave the Santa Fe a mid model life refresh, Visual changes have been kept to a minimum, after all there wasn't any point in messing with an already handsome model that's attracting plenty of buyers. Instead, the focus went on improving refinement and fine-tuning the suspension, engine and transmission. All small things that collectively, make a big difference and deliver a superior driving experience, which I can verify after few days behind the wheel of the seven-seat $75,490 Santa Fe Elite turbo diesel.
Powering the vehicle and undoubtedly its popularity is the impressive 2.2 litre R-series turbo diesel. This engine has a green enough hue to comply with stringent Euro 5 emission standards, and will know doubt appeal to those wanting a seven-seat 4WD that pays a bit more than lip service to being eco friendly. The driver has 147kws of power and 440Nm torque between 1800-2500rpm at their command. These numbers add up to eager and purposeful performance that manifests itself in smart acceleration from standing starts, and sustained levels of liveliness once the vehicle is on the move.
Santa Fe owners can count on this modern turbo diesel to provide many years of trouble-free motoring. However, it doesn't land the perfect scorecard. While acknowledging Hyundai's efforts to raise the engine refinement bar, they haven't hoisted it high enough. Noise levels at low speeds town driving remain intrusive for car in this price range, and fall short of the gold standard set by top tier European diesel motors. This is where Hyundai is aiming, but are still slightly wide of the mark.
Crisp, efficient and intuitive gear changes are the order of the day from the modern six-speed automatic. A manual shift mode is available, but using it seemed rather futile when the transmission does such a great job of calling the gear changing shots.
There is passenger and load space a plenty, although the latter is diminished considerably once third row of seats are occupied. These are really only large enough to comfortably accommodate children, but handy when you need a couple of spare seats for unexpected extra on the school run, or those Saturday morning sport trips.
Equipment levels have been boosted from what were already healthy levels with the addition of satellite navigation including traffic warning and updates. One of the star turns though, is the smart parking aid. It takes over the steering and reverses or parallel parks the vehicle and all the driver needs to do is manage the brakes and throttle. The first time you use this system can be scary. Let's be honest, it really is a quantum leap to put your trust in technology, to manage a driving task that can leave your vehicle bumped and bruised if it isn't executed with total accuracy and precision. This system does exactly that and so effortlessly, leaves you contemplating with some excitement what innovation they will conjure up next. If it's as effective as this one it will be worth the wait, and with the pace of automotive innovation it won't be a long wait.
Some tinkering with the suspension adds more of edge to the handling without seriously compromising ride comfort. This is a delicate balancing act Hyundai have mastered surprisingly well. It shows just how much progress the company is making in this area. Expect them to pick up the pace even further, as they make wider use of the handling expertise and knowledge from their successes on the world motor rally circuit. On the road this latest Santa Fe feels well planted. This gives the driver confidence the vehicle won't be unduly shaken or stirred by the awkwardly cambered or uneven patchwork surfaces that are common on our roads. Light and at times rather vague steering, together with some body lean during higher temp driving over tight undulating terrain, are areas where more work is required. This could be included on the "to do" list for the next Santa Fe upgrade.
What's the verdict? One of the best models in the Hyundai range, this large and handsome SUV has a strong following, despite its fairly step pricing.