Bob Nettleton: Holden Spark
Author

Publish Date

Wed, 10 May 2017, 7:38am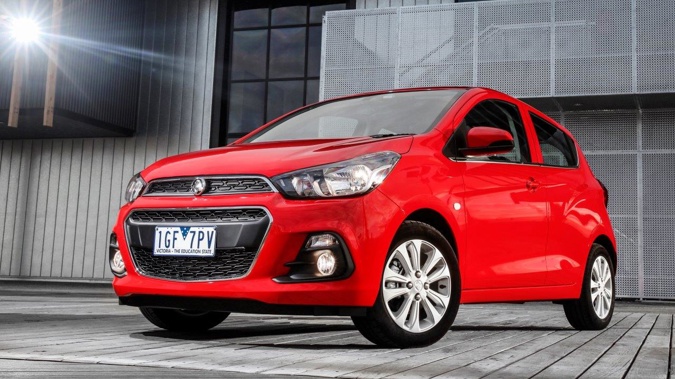 Bob Nettleton: Holden Spark
Author

Publish Date

Wed, 10 May 2017, 7:38am
Over the years Holden have struggled to produce small cars that resonate with buyers here, but they may have finally latched on to a winning formula with their new Spark hatchback.
Roomy, refined, well specified and sharply priced, the Spark could be the car to put Holden in the drivers seat in the micro mini hatch end of our new car market, which I liken to the bantam weight division of our new car market. Here a bunch of very small sized cars attempt to make a big impression, to grab the attention of what is a limited pool of buyers in our country. In more crowded parts of the automotive world, these models account for a much larger slice of the new car sales pie. Their usually excellent fuel economy, practicality and exceptional manoeuvrability make them perfectly suited to the frenetic traffic environments of the world's major cities.
The Holden Spark is a major step up from its predecessor the Barina Spark. It was a car that looked smart enough, but was fairly a mediocre effort on most other fronts. Not surprisingly this Spark didn't ignite a lot burning desire among buyers to own one.
By stark contrast, this latest version offers sharp styling, equally sharp pricing, $16,495 for the manual, and delivers levels of refinement that are in a different stratosphere to the model it replaces. An automatic is a $1500 option. The extra $2K for the flagship LT auto provided for this road test is money well spent, given its superior levels of standard features.
This isn't a half hearted make over, but a clean sheet design both inside and out that give the car a stronger and more assertive appearance than before. A sleeker exterior and lower profile has been made possible by a slight stretch of the wheelbase, thinner pillars and by locating the wheels closer to the edges of the vehicle. Collectively it fashions a more mature and grown-up look than typically found in other models in this class.
The Spark is a global model, that's sold in several different countries and pops up in the UK market as a Vauxhall Viva, one of the more forgettable names from our automotive past. Holden engineers had a significant input into tuning the suspension for the Australian and New Zealand markets, to ensure we got the best possible ride and handling package for our unique driving conditions. Central to achieving this has been the ability to work with General Motors in Korea early on in the development of this model. Equally as important, was being allowed to develop the new Sparks driving characteristics through a significant round of testing and development at Holden's proving ground near Melbourne.
The 1.4 litre twin cam, multi-point fuel injected 16-valve engine propels the Spark to the front of micro mini car pack in terms of power producing 73kW and 128Nm of torque. This moves it from the lower end of the driving enjoyment continuum where the previous model sat, to right near the top. Holden have done a good job in securing the larger and lustier motor, as a smaller and underwhelming 1.0 litre unit powers this model on several overseas markets including the UK.
At last, a mini sized Holden with decent open road credentials. This is a car I would happily use on a 300km highway trip, in fact that's exactly what I did, and it delivered me to my destination effortlessly and feeling refreshed. There was always plenty acceleration on tap to quickly and safely bowl past slower moving traffic, plus good reserves of low-speed puling power to comfortably negotiate demanding hill climbs and undulating terrain. In town driving, which is where most Spark's will spend their working day, it's proved a lively bundle of energy that thrives on high tempo urban motoring.
Holden's first foray into the world of Constant Variable Transmissions (CVT) is a good effort, that shifts seamlessly between gears, while proving most adept at adjusting quickly to sudden and unexpected changes in the driving environment. Unlike some CVT's, this one doesn't appear to suffer from the aimless revving that can blight these gearboxes. There was also a freshening decisiveness and clarity around how it organises its gear changes.  As a newcomer to the micro mini car category this transmission makes a positive first-up impression.
Despite its compact external dimensions, the Spark offers a generously proportioned cabin. It comfortably seats four adults, with acceptable amounts of leg and shoulder room for back seat occupants. Less accommodating is the luggage compartment, that's pretty much maxed out with one large sized suitcase in residence. With a bit of creative packing I managed to squeeze in two or three small soft luggage bags.
The Spark makes a quantum leap on the in-car technology front, being compatible with both Apple CarPlay and Android Auto, providing connectivity and infotainment features rarely available in this class. 
A wide range of accessories let owners stamp their own personality on the vehicle in a way they have not been able to do in the past. The pint-sized spark is big on safety offering six airbags, stability control, hill start assist, ABS and traction control, along with a new stiffer and stronger body architecture. A rear view camera is standard on the higher spec LT variant.
A longer wheelbase means the wrinkly ride of the old model has been neatly ironed out. The revamped suspension is more compliant and measured in its responses to inconsistencies in the road surface, and ensures these do not adversely impact on driver and passenger comfort. More life has been breathed into the steering making for a more involving driving experience. From behind the wheel, this gives you a better sense that you are an active participant in directing when and where the car goes on the road. I suspect the more proactive steering, is the by-product of Holden's considerable efforts to make sure the new Spark we got was in good fettle to meet the unique challenges of New Zealand and Australian driving conditions. I'm pleased to report it certainly is!
What's the verdict? Holden looks to have unearthed a potential mini hatch sales super star with the Spark, excellent performance, well appointed and keenly priced, there is lots to like about this smallest member of the Holden family.