Bob Nettleton: Ford Focus ST Hatch
Author

Publish Date

Thu, 31 Mar 2016, 8:24pm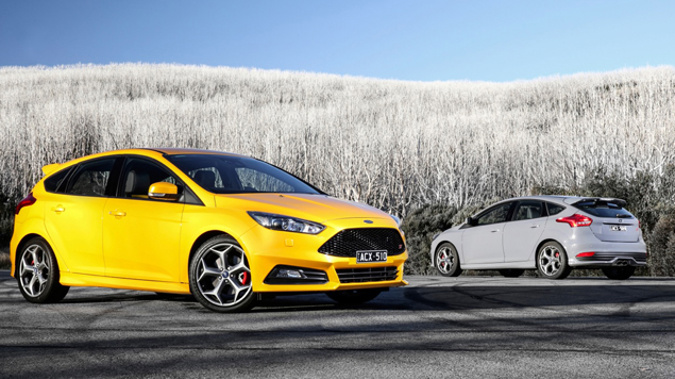 Bob Nettleton: Ford Focus ST Hatch
Author

Publish Date

Thu, 31 Mar 2016, 8:24pm
It made be me one of Europe's strongest selling hot hatches, but buyers here haven't warmed to the racy Ford Focus ST hatch in the numbers that Ford may hoped for.
Unlike the European and UK markets where performance hatches such as the ST Focus and Volkswagen GTi sell in sizeable numbers, they are very much a niche market model on this side of the automotive globe. Its seem new vehicle buyers here prefer sink their hard earned cash into a Ute or SUV, are better suited to our more adventurous outdoor lifestyles. If manufacturers don't have strong Ute or SUV model offerings, they struggle to gain serious sales traction in our new vehicle market.
This is a situation that adds up to fairly pedestrian sales figures for this purposeful and pacey Focus. It seems unlikely that a fairly substantial upgrade of this model a few months ago will turn this tide and create a wave of new sales.
Mechanically, the ST is largely the same last years model. The latest changes are more cosmetic with new front-end styling and a major injection of new technology. Ford's claim their in-car connectivity system SYNC2 and MyKey make the new Focus one of the most connected and smartest cars in its class. This will certainly broaden its appeal, as new car buying decision are being increasingly swayed, especially younger buyers, by the power of vehicles technology, rather than what's lurks under its bonnet.
This Ford has an even stronger focus on safety. Among an impressive array of safety kit there is Lane Keeping Alertthat prevents drivers from accidentally drifting out of their traffic lane. A forward-facing camera detects an unintentional lane departure, while Lane Keeping Aid technology applies steering torque to smoothly guide the vehicle back to where it should be.
Another great idea is the Adaptive Cruise Control that uses a radar sensor to help drivers maintain a set distance from the vehicle ahead. If it senses slower traffic in front, it automatically slows the vehicle to maintain a safe distance, then resumes the driver's preferred speed when the traffic clears.Forward Alert showcases some clever Ford thinking.If this active safety system detects the risk of a collision with a vehicle in front, it displays an alert in the instrument cluster and sounds a warning chime. It also pre-charges the brakes and begins slowing the vehicle as soon as the driver lifts off the throttle. This helps to ensure peak braking performance when the driver applies the brakes.
The ST focus is a solo act in New Zealand and only offered in five-door hatch six-speed manual form and is priced at $52,490. In Europe and the UK, three-door hatch and a wagon version can be had. With buyers here totally besotted with automatics, the lack of this transmission option won't help sales, especially when its arch-rival the Volkswagen Golf GTi has an auto on its options tick box list.
Under the bonnet is a pumped up 184kw 2.0 litre turbo charged gasoline direct injection Euro 5 emission compliant engine, that provide a splash of green to its red hot performance. This motor, albeit it in slight detuned form made it's way into the new Mondeo and updated Kuga SUV. It was also used briefly in the soon to be axed Ford Falcon where it worked brilliantly, but turned out to be sales failure. This was largely because buyers just couldn't see how a four-cylinder engine, even a stand- out like this one, could be any good in a six cylinder sized sedan. How wrong they were!
In the lighter ST Focus it goes like the proverbial clappers. I found on the open road it was better to use the cruise control lock in a sensible speed. Because of the engines turbine like smoothness and low noise levels, it's very easy to lose any sense of just how rapidly the car is going. This engine has earned plenty of plaudits and deservedly so, as it lift this car almost effortlessly from good to great.
Cabin space is ok, but not as accommodating as the cars generous external dimension suggest. Rear seat leg and headroom is tight and it's an area where a number of its rivals do a much better job. The lack of people carrying real estate is redressed to some extent by a generously proportioned rear hatch load compartment.
For some time now I have been of the view that the Ford Focus has set the road-holding bench- mark for the small car class. This was further reinforced during a few days worth of driving behind the wheel of the ST Focus. There's so much to like about the way this car drives, from the crisp communicative steering, agile suspension and its quick silver reflexes in responding in such a cool clam and composed manner to unexpected changes in direction. I drove the ST when it debuted here three years ago and one my strongest recollections of the car apart from its thunderbolt performance, was just how impeccable its road holding manners were. Based on that, my expectations when I drove the car this time around were set pretty high, and these were more than met. What I was pleasantly surprised to find was a more complaint ride for a performance hatch without any discernible trade-off in the car's superb handling. Now at lower speeds, the driver and passengers don't get a sensation similar to driving over judder bars, whenever the car is negotiating it's way over abrasive and confrontational road surfaces.
What's the verdict? An excellent hot Euro hatch at a very cool price, you will be hard pressed to find anything better for the money.