'Incredibly upsetting': PM condemns US abortion ruling as the world reacts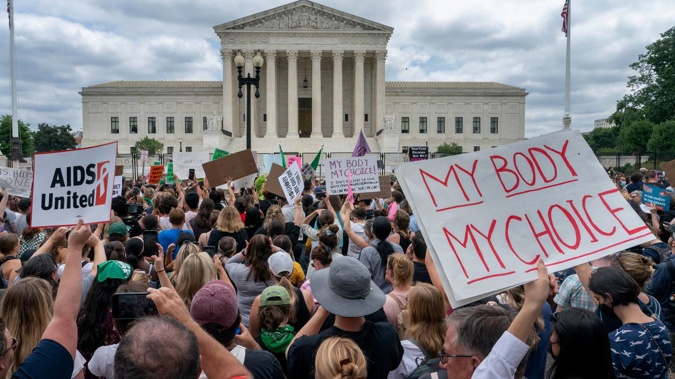 'Incredibly upsetting': PM condemns US abortion ruling as the world reacts
Millions of women in the US will lose the legal right to have an abortion after the Supreme Court overturned a landmark ruling which for nearly half a century had permitted terminations during the first two trimesters of pregnancy.
Roe v Wade, which in 1973 provided the constitutional right to abortions up until foetal viability, was overturned on Friday (Saturday NZT), in a decision that promises to further drive political divisions across America.
Reactions poured in from across the US and around the world; abortion-rights activists decried the end to 50 years of reproductive rights, while anti-abortion groups praised the landmark ruling.
Prime Minister Jacinda Ardern said the decision was "incredibly upsetting".
"People are absolutely entitled to have deeply held convictions on this issue. But those personal beliefs should never rob another from making their own decisions," Ardern said in a statement.
"To see that principle now lost in the United States feels like a loss for women everywhere. When there are so many issues to tackle, so many challenges that face women and girls, we need progress, not to fight the same fights and move backwards."
US President Joe Biden said the decision marked "a sad day for the court and the country", saying "the court has done what it's never done before — expressly taking away a constitutional right that is so fundamental to so many Americans".
Although Biden has previously expressed conflicted feelings about abortion, he delivered a forceful defence in an address from the White House. Noting that Republican-controlled states now had a clear path to ban abortion even in cases of incest or rape, he said "it just stuns me".
'God made the decision'
The US Supreme Court ruling was made possible by former Republican President Donald Trump's nomination of three conservative justices: Gorsuch, Kavanaugh and Coney Barrett.
"God made the decision," Trump said in praising the outcome. "This brings everything back to the states where it has always belonged."
Republicans and conservative leaders celebrated the culmination of a decades-long campaign to overturn the 1973 law.
After the ruling, rotesters converged on the Supreme Court, where a crowd of abortion-rights supporters quickly swelled to the hundreds. One chanted into a bullhorn, "legal abortion on demand" and "this decision must not stand". Some shouted "the Supreme Court is illegitimate".
"It's a painful day for those of us who support women's rights," said Laura Free, an Ithaca, New York, resident and women's rights historian who came to Washington to do research. When she learned of the decision, she said, "I had to come here."
A competing faction demonstrated in favour of the ruling, holding signs saying "the future is anti-abortion″ and "dismember Roe".
Biden and other Democrats hope to use outrage over the court decision to rally voters in November's midterm elections. Although nationwide legislation ensuring access to abortion appears out of reach, more Democratic victories at the state level could limit Republican efforts to ban the practice.
"Congress must act, and with your vote, you can act," Biden said. "You can have the final word."
- additional reporting: AP, news.com.au