Waikato family trapped after tree falls on driveway
Author

Publish Date

Wed, 8 Mar 2017, 8:47AM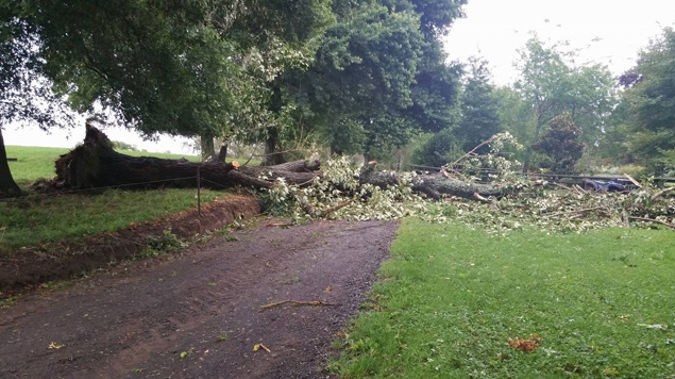 Waikato family trapped after tree falls on driveway
Author

Publish Date

Wed, 8 Mar 2017, 8:47AM
A Waikato family are trapped in their home after a massive tree crashed over their driveway.
Shannon Felton said she was getting her daughter Estelle, 7, ready for school at their home in the farming settlement of Rotoorangi about 7am.
She was also caring for her 15-month-old daughter Ivy and Estelle had to be at school by 7.30am in Cambridge as her class was going on a trip to Mount Maunganui.
The rain was pelting down and the wind had picked up.
"I was in the laundry and looked out the window and saw the tree," Felton said.
"At that point, it felt like the whole house was going to take off."
Felton's fiance Tristan McClean and his workmates are cutting it up.
"They are going to be there for hours. Its so big. Their whole day is consumed by the tree."
She said the cow shed had also been flapping in the wind.
"I thought the tin was going to take off."