Brothers go head-to-head in Young Farmer Grand Final
Author

Publish Date

Thu, 6 Jul 2023, 12:25PM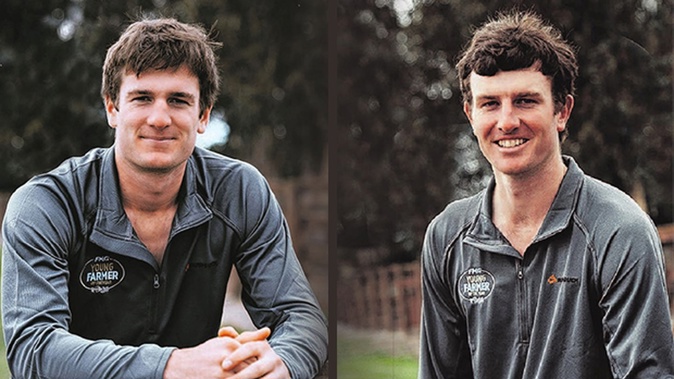 Brothers go head-to-head in Young Farmer Grand Final
Author

Publish Date

Thu, 6 Jul 2023, 12:25PM
Bragging rights are on the line in a brother-versus-brother match-up coming up for the Young Farmer of the Year grand final.
Canterbury dairy farm manager Peter O'Connor, 25, won the right to contest the final in Timaru after winning the Aorangi competition.
Younger brother Nick O'Connor, 20, is a Lincoln University student who gained entry in the seven-finalist field as the Tasman winner.
This is the first time in the competition's history that two siblings have competed in the same grand final.
Rounding out the field are Northern contractor Lisa Kendall and Waikato/Bay of Plenty's Emma Poole, Patrick Crawshaw from the East Coast, Taranaki/Manawatū's Mac Williams and Otago/Southland's Hugh Jackson.
Among the onlookers will be the O'Connors' West Coast dairy farming parents, Johno and Kate.
Peter O'Connor said he and his brother had learnt invaluable skills growing up on a farm near Westport and hoped this would help them in the practical challenges.
"Mum and Dad still run the dairy farm of about 600 cows back home that Dad developed out of pakihi land when we were growing up, flipped it all with diggers and knocked it into shape.
"We've been part of the farm development and learned a lot of skills along the way through that like tractor driving and fencing and waterlines so that gives us a base to those practical skills."
He was successful in his fourth attempt at the Aorangi regional contest to make the final and has experience on the centre stage after winning the New Zealand Dairy Trainee of the Year award last year.
"It's been a goal for a few years and a challenge and good to finally get to a grand final. Ideally, I'd like to take it out, but anything can happen so we will just wait and see.
"There's always a bit of luck involved with what happens on the day. I'm comfortable that as long as I'm doing my best I will have a shot and hopefully rise above a bit of luck."
He's been putting in extra homework in areas outside of his dairying strength such as sheep and beef, deer and arable farming and is expecting a few curve balls to come the finalists' way.
The brothers have been in contact with each other a couple times a week and it's been reassuring for them knowing they're both in the same boat.
They've carried out a few quiz practice nights together and talked over competition points, but have also done their own study.
Peter said it would be hard to separate the brotherly ties in a national competition and his younger brother was probably feeling the same.
"There is sibling rivalry there obviously, but seeing him as just another competitor I don't think that will be easy to put in my head.
"We grew up together on a farm and went to boarding school with him for a year and I'm very close to him, but it's still a competition at the end of the day."
He knows bragging rights are at stake.
"The first goal is to beat my brother and the second is to win the whole thing so that puts it into perspective," he quipped.
"He won't let me live it down [if he beats me] as he's five years younger."
The brothers are nephews of Minister of Agriculture Damien O'Connor.
"I think he's been pretty diplomatic about who he's supporting.
"He pretty much said just enjoy it and I think he might be over in the UK doing something with the free trade agreement so I don't know if he'll be able to be there, but I'm sure he will be keeping tabs on what's happening."
The three-day event, with finalists contesting a prize pool worth $70,000, has an opening ceremony and parade through the town centre today.
The competition starts with Friday's Practical Day in a series of machinery, livestock and other agricultural challenges at the Winchester showgrounds and culminates in a buzzer quiz at the Southern Trust Event Centre on Saturday night.
Running alongside this will be the next generation contesting the AgriKidsNZ and Junior Young Farmer of the Year finals.
Also being held is the NZYF Tournament National Final with 55 members competing for fencing, clay target, livestock judging and debating titles.
- Tim Cronshaw, ODT
Take your Radio, Podcasts and Music with you