Analysts predict $250k hit to dairy farms
Author

Publish Date

Fri, 7 Aug 2015, 5:13AM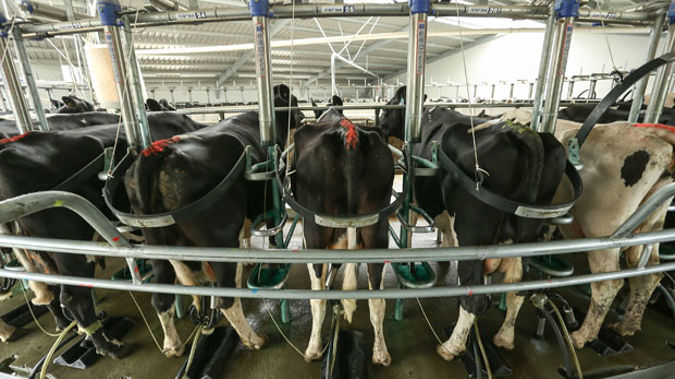 Analysts predict $250k hit to dairy farms
Author

Publish Date

Fri, 7 Aug 2015, 5:13AM
If the milk payout forecast hits $4 to a kg today, analysts say it has the potential to hit the average dairy farm by $250,000.
Fonterra will make an announcement this afternoon, and is widely expected to lower its forecast from the current $5.25 a kilo.
Some analysts are picking it will fall below $4, or even the high threes.
Accounting and business advisory firm Crowe Horwath is calling on all stakeholders in the dairy industry to work together to help it through. Its head of agribusiness Neil McAra believes it is crucial.
"The middle of winter's not a good time traditionally in farming anyway, but also just the long-term viability of some of those operations will be having a severe strain on the farming sector."
Mr McAra is calling for a collaborative approach to tackle the problem.
"Bankers, farming consultants, accountants, advisers will need to pitch in and put a team approach behind the farming sector."
Farmers will need help with not just financial stress, McAra said, but also the mental element of facing difficult times.
With some dairy farmers already highly indebted there is also a growing political focus on what may happen to those who are over-exposed in the face of falling dairy prices.
Prime Minister John Key believes it is in the interests of banks to keep farmers on the land and farming.
"They have huge amount of loans into that sector, and so I don't think they will be looking to force people unnecessarily off the land."
KPMG farm enterprise specialist Roger Wilson believes that although the outlook is tough, the impact will vary from farm to farm.
"Farmers are innovative, there's a lot of resilience. But there's a lot of pressure around right now. Grass growth has been relatively slow. So there's all that pressure on top of this news."
Proactive farmers are already using a combination of reducing the use of supplements and fertiliser, Wilson said, as well as lowering stock numbers and the reliance on off-farm grazing.
He thinks the big call is stock numbers, where a one-off cull of 10 to 20 per cent of cows post calving might be a good option.
"Cows that you might have normally kept and are poor performers and are being fed, they might not be paying their way at this price."
Mr Wilson points out reducing stock will put some cash in the bank and reduce in feed, labour and power costs.