Survivor of Rwandan murders disappointed by Australian resettlement
Author

Publish Date

Sat, 18 May 2019, 2:50PM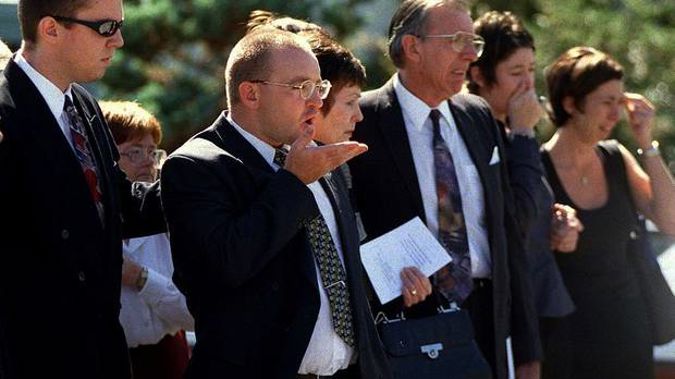 Survivor of Rwandan murders disappointed by Australian resettlement
Author

Publish Date

Sat, 18 May 2019, 2:50PM
The Kiwi man who lost his wife 20 years ago when rebels captured their tour group in Uganda, is disappointed in Australian authorities.
It was revealed on Thursday that two Rwandan men who confessed to murdering eight tourists have since been resettled in Australia, after their US trial fell over. 
Reports suggest it was part of a secret deal, which saw the US take more than a thousand refugees off Australia's hands in exchange for taking the men in. 
Mark Avis was 27-years-old when he and his wife Rhonda, who was one of two Kiwis killed, went to Uganda on a gorilla watching expedition. 
20 years later, he says he's disappointed to hear about the back door deal.
"It's not so much it's trudged up difficult memories, as the memories are always there. It's more along the lines of I don't understand how they think it's okay." 
He says that to call it disappointing is an understatement, especially considering the supposedly close relations that Australia and New Zealand have." 
Other relatives are also mad about the deal.
DeAnne Haubner Norton's older brother Rob Haubner, 48, and sister-in-law Susan Miller, 42, were both senior executives of Intel Corp. from Oregon who were killed during their honeymoon.
Haubner Norton told Australian Broadcasting Corp. the refugee swap deal was "clearly bad and a dud."
The two Rwandans "say, 'I don't want to go to Rwanda; I don't want them to hurt me,'" Haubner Norton said. "Well, my brother was probably saying the same thing as (they) were taking a weapon to him."
Scottish-born Australian David Roberts' 23-year-old son Steven Roberts was also killed. The son was a British citizen who lived in the Australian city of Melbourne.
The father, who lives in the Australian city of Perth, called for whoever wins the election to review the decision to allow the Rwandans to settle in Australia.
Australian Prime Minister Scott Morrison said  both men had undergone security and character assessments as well as investigations into whether they were associated with war crimes.
Morrison said: "I know what the claims are. But the claims and facts are different."
After the 1999 massacre, U.S. prosecutors charged the men under terrorism statutes, extradited them from Rwanda and demanded federal deaths penalties. But a Washington judge ruled in 2006 that the men's confessions were obtained through torture in Rwandan detention and the case was dropped.
The men had previously admitted to being members of the Congo-based Liberation Army of Rwanda, which has since changed its name to the Democratic Forces for the Liberation of Rwanda — a rebel group consisting of former Hutu militiamen and soldiers responsible for the 1994 genocide in Rwanda, and which continued to fight against the Tutsi-dominated government in Kigali. It is listed as a terrorist organization by the U.S.
Both men fought against being returned to Rwanda, but did not have a right to remain in the United States.
- with content from AP