Green co-leader James Shaw reveals injuries after attack
Author

Section

Publish Date

Friday, 15 March 2019, 11:30AM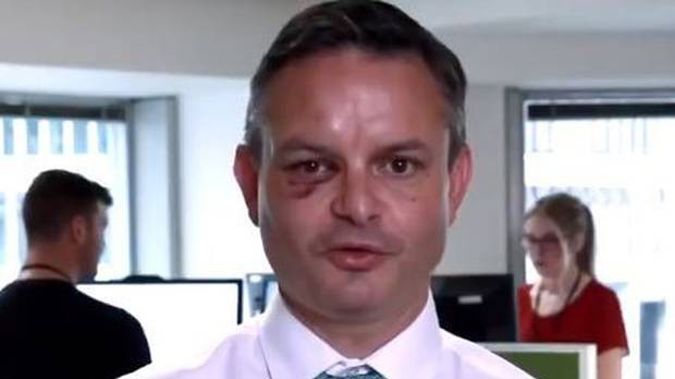 Green Party co-leader James Shaw has tweeted a video thanking people for their support and revealing the extent of his injury. 
Shaw was attacked yesterday morning while walking to parliament and is believed to have suffered a fractured eye socket.
After being assisted by two members of the public, the politician was treated by paramedics at the scene before making it to Parliament for a committee meeting.
He later went to hospital as a precaution due to it being a head injury, but is now home with his partner.
In the video, Shaw thanked everyone who has supported him, saying he was particularly grateful to the people who intervened during the attack.
"I just want to take a moment to express my appreciation to all the people, from all around the world, who have sent messages of support over the past 24 hours."
"In particular, I want to thank people who actually helped me out directly yesterday. There was a couple who intervened on the scene and I really want to thank them for their intervention."
The Green Party co-leader, who was sporting a black eye, also made sure to thank the Wellington Free Ambulance, police and hospital staff who helped him.
"The staff of the Wellington ambulance crew, the Wellington Police who were on the scene and, of course, the nurses and doctors at Wellington Hospital for all of their terrific work yesterday.
He ended the video saying he "okay" and ready to meet students who are protesting climate change.
"I'm okay, I'm back at work and I'm very much looking forward to today's School Strike 4 Climate and I very much hope to see you there."
Thank you all so much for your messages of support. I'm back and I'm ready to head to the #ClimateStrike 💚 pic.twitter.com/3IiWwf0x99

— James Shaw (@jamespeshaw) March 14, 2019
Shaw will attend a climate change protest at Parliament shortly before midday and to speak to media.
Shaw, the Climate Change Minister, was assaulted at the entrance to Wellington Botanic Garden during his walk to work at Parliament yesterday morning.
A Green Party spokesman this morning told the Herald that his injury was "in a bad way" and he had a suspected fractured eye socket.
His alleged assailant, a 47-year old man, is due to appear in court today.