Thousands of students march for climate change action
Author

Section

Publish Date

Friday, 15 March 2019, 10:59AM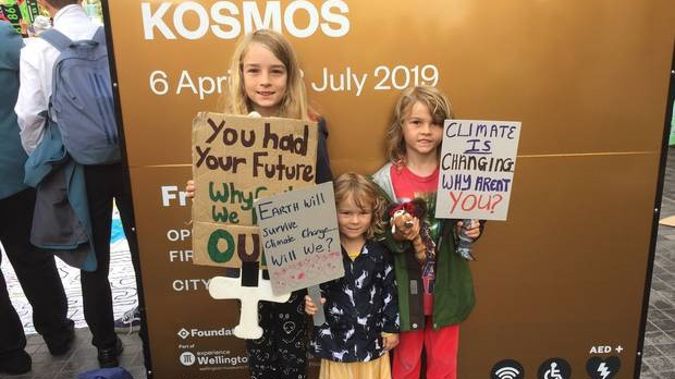 Thousands of Kiwi pupils have today swapped pens for placards as they march the streets for action on climate change.
Protests are underway in city centres around New Zealand - and the globe - despite many schools warning that absent students will be marked as truants and could face punishment.
Hundreds have arrived at Parliament, many holding signs and banners. Wellington Mayor Justin Lester is among those in the crowd.
"We need adults to listen to the young people and the facts - this is our future," Isla Day, one of the Wellington organisers, told a crowd of more than a thousands outside Parliament.
Olly, a student from Wellington Girl's, called on the Government to do more on climate change.
She said although she could not vote in elections, being at the protest today "was her vote".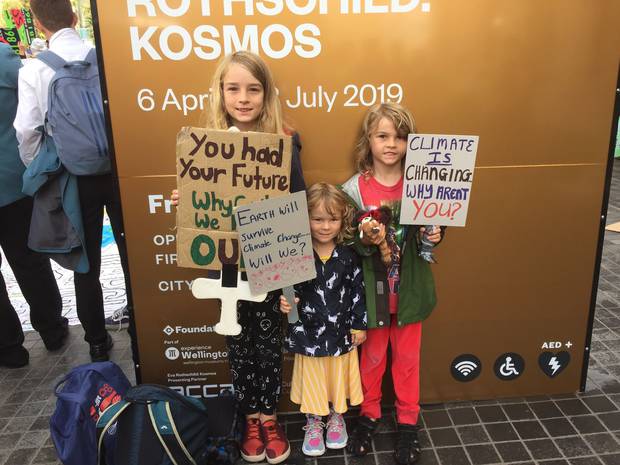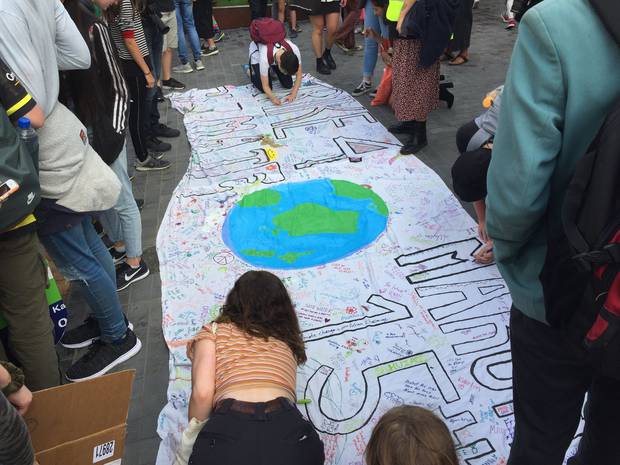 Photo / Devon Bolger
Newstalk ZB's Political Editor Barry Soper is in Wellington and told Andrew Dickens thousands of kids are out at the forecourt of Parliament.
"There are a number of cops around, but the kids won't take much controlling. They are a very enthusiastic crowd.
"It's a good atmosphere with chanting and homemade signs. The man of the moment was James Shaw. He is obviously happy to be back after yesterday's incident and people were very happy to see him"
Meanwhile, young climate activists in Christchurch aren't letting a little rain stop them.
Primary and High School students across the country are going on strike from school today - to protest inaction on climate change.
Christchurch's event is planned for 1pm - but heavy rain is expected to continue throughout the day.
Organisers have posted online they won't let the bad weather put a dampener on the occasion.
They're asking everyone to remember umbrellas and rain coats - but they're all go for this afternoon.
Similar marches are planned for Auckland and Dunedin today with both expected to start at midday. 
Prime Minister Jacinda Ardern, who fronted a live chat with students in Wellington this week, sympathised with the urgency behind the worldwide School Strike 4 Climate."Ultimately it's between students, parents and schools . . . but I think young people are genuinely worried about climate change and are looking to today's politicians to make the right decisions to combat it," she told the Herald.
The event is being backed by major education unions and dozens of leading academics, and the Government has left schools to decide what stance to take.
Green Party co-leader James Shaw has offered reassurances that he will be meeting with students in Wellington today, despite suffering a suspected fractured eye socket in an attack yesterday. 
When asked by Newstalk ZB political editor if he would be meeting with the children, Shaw said, "a black eye won't keep me away".
Student: Five Reasons Why I'm Striking
Auckland International College student Aaron Choi gives five reasons why he's taking part in today's strike.
1. It is so easy for the world to turn a blind eye towards global issues such as climate change because we are all caught up and busy in our own lives, especially when we enter the adult world. I am striking as a high school student to remind my school peers, our generation and especially myself to never forget about the work that needs to be done when we enter the adult life after high school.
2. Although I am currently a student, I am also striking as a future worker of this world. Educating and developing myself is futile in a dying world where humanity will perish unless action is taken now.
3. I'm striking to feel more connected with the conservation community here in New Zealand, hoping to meet like-minded people and collectively show the rest of the world that a community like us exists.
4. I'm striking to start an open conversation about climate change not just with our government, but the rest of the world, and others around us who do not believe in our cause.
5. I'm striking because I'm concerned about the future of myself, my children and the younger generations to come.