Gang prospect exchanges patch for fish
Author

Publish Date

Sat, 28 Apr 2018, 7:13PM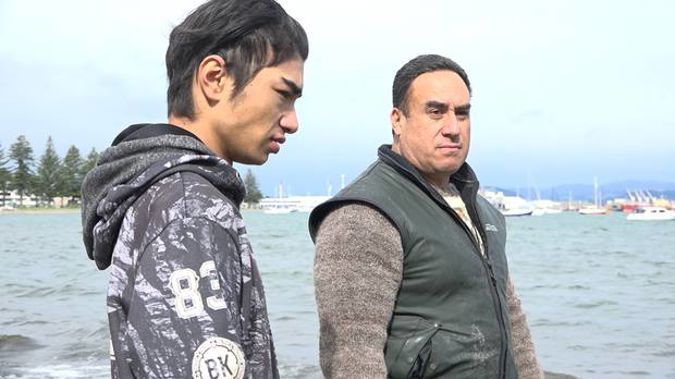 Gang prospect exchanges patch for fish
Author

Publish Date

Sat, 28 Apr 2018, 7:13PM
When Johnathan Hetaraka was growing up his life didn't have many horizons.
Prospected by a gang when he was barely out of single digits, he was given his colours soon after.
By the time he was in his teens he was a self-confessed, "hard out criminal" with his only dream, a full gang patch.
He only knew a street culture, a gang culture, and nothing of his own Maori culture or whakapapa
Despite living in the Bay, surrounded by water, he had never been fishing.
There was no one to take him.
Those entrusted to look after him were wrapped up in their own problems, their own issues and addictions.
He made his own way, and it was a way headed for a life of crime and punishment.
When sent to a local six-week programme for at-risk youth, he just did it because he had to, with his sights still set on getting patched up, joining the brotherhood, the gang.
But all that changed.
A few weeks into the programme, he handed back his gang colours, risking physical retribution, but suddenly determined to turn his life around.
The thing that changed his life course came literally out of the blue.
He went fishing.
"Once you start catching fish it is a thrill, a buzz ... the feeling makes me happy, adrenalin starts pumping," Hetaraka said.
It wasn't just the buzz of the catch, but the first time he brought kai home.
"Bringing home kai for the whanau gives you a good feeling, means you have accomplished something, had a productive day, and come home and enjoy it with the whanau."
He now has two jobs, working sometimes in the day and in a packhouse at night, 20 hours in total.
"Before the progamme I was a hardcore crim, now I am making money legally, working two jobs. I am just a different person now, a nicer person. A better person."
The youth programme, Reconnecting the Disconnected, is run by Omokoroa fisherman Rangi Ahipene, who works with at risk youth referred to social agency Te Tuinga Whanau Trust.
Rangi Ahipene teaches young people to carve fish hooks out of bone. (Photo / Jaden McLeod)
Young people are referred by Ministry of Social Development, Ministry for Vulnerable Children-Oranga Tamariki, the police and other social agencies.
It's a programme with a difference.
A key part of the programme is reconnecting to traditional ways of doing things.
Ahipene shows young people how to carve fish hooks from bone, use flax for line and binding, and navigate by landmarks of islands and outdoor survival skills.
Traditionally, Ahipene said hooks were made of bones from birds and other animals and binded on to flax lines known as "aho", which had stones attached to act as sinkers.
The hand-held lines are not very long, but it is still a workout bringing in the fish and catching them in the net.
There's no notebook or pens or bookwork.
The boat is the classroom.
The teacher is the environment.
"The sea, the forest, the mountains, the harbour, the fish, the different gods, they are all teachers."
The fishing is both a mechanism and a symbol.
"It is a means to engage with youth and reconnect them with their heritage and who they are. I show them something, and follow through with history and meaning.''
Fishing is a way to make connections with young people who when they come to him, like Heteraka, think they don't want or need help.
Heteraka said at the beginning, he and Ahipene, didn't talk, they just took the boat out.
And fishing in silence on the open water.
The silence of fishing is, says Ahipene, "perfect counselling therapy".
"Fishing was one of the ways to build our relationship. Who says in counselling you have to talk?
"When we first go out we are just connecting to the raw environment. It is an adventure, you have to be safety conscious, it makes you think, this is where my food comes from, this is how my ancestors related to the elements, the fish. When he was out there on the water, he forgot everything that was happening at home.
"Then when he is ready he will talk, and it is just me and him, no one else."
Johnathan Hetaraka says having the support of Rangi Ahipene and learning to fish has been 'lifechanging AF'. (Photo / Jaden McLeod)
It was for Hetaraka, "life-changing" to have someone to trust and eventually, he began to open up.
"Sometimes we would talk and sometimes not. When you're out on water you can talk about anything. You are free. You can talk about problems in your life."
Ahipene has many tribal affiliations with his main one Ngati Tuwharetoa and is passionate about driving improvement for his Maori people socially and economically.
A father himself, he says he is driven by the positive outcomes he sees when young people are able to believe in their own potential.
As a young boy, learning fishing himself helped shape him into the man he is today.
"It gave me confidence in my abilities, and helped me see life differently."
The programme, he says, is successful because of the one-to-one nature of the work, but is only funded for six weeks and the reality is that youth need support for a longer time.
He gives his own time to continue to support and mentor Hetaraka.
"I do what I do because it makes a difference in young people's lives like Johnathan's. In just a few weeks, he decided that the gang life, a life that was all he knew, was not for him. He had the courage to step out to do something new, different, scary but exciting."
He would like to see more programmes based on traditional activities that he says young people, especially young Maori males, are drawn to.
"It connects young people to their deeper spiritual Maori heritage which they consciously or unconsciously crave. Plus the rewards are tangible and can be life-changing.
Hetaraka agrees.
Ahipene and Hetaraka meet up to go fishing. Hetaraka is tired, just coming off a night shift at the packhouse.
A cold snap has arrived, it is the coldest day of the year so far. It's raining. The weather forecast mentions gales and high wind. Hetaraka shivers. He wants to go out. Ahipene looks at the sky.
"It is going to brighten up."
As important a ritual as health and safety briefings is the karakia on shore before departure. An offering of bread is given to a rock Kuia around the base of Mauao.
The first catch of the day is a kahawai, floating on the surface of the water as though waiting for the men.
Ahipene says it is a sign from Tangaroa, the god of the ocean, and as traditional fishermen would have, they throw the fish back to Tangaroa.
Ahipene navigates the boat to where the fish are, gaining his bearings using landmarks of the islands and coastline, looking at weather, the sky and birds behaviour, and a lot from an intuition about the spiritual world.
When fish are caught, he "bleeds them out", one kahawai thrashing in protest, leaping out of the bowl.
"Accept your fate," says Ahipene.
Hetaraka empties the fish's blood back into the ocean.
He is not accepting his fate.
Ahipene says it is very simple to support troubled youth, they just need people who believe in them.
"The proudest moment for me was when he told me he was handing the colours back. It was what he wanted, he wanted a better life. He wanted to overcome the struggles of the people he saw around him."
So many young people he sees have been driven to crime or addictions through losing connections with whanau and hapu and Te Ao Maori. Or never having had those connections in the first place.
"With Johnathan, it wasn't just about the fishing, but about providing him with a truer position in the world coming from his cultural heritage not a street heritage.
"It is not so much about making the fish hook but about being a young Maori person, and to be reintroduced to your natural world and cultural heritage your personal world, not a gang world, not a street world, where your ancestors were strong and healthy."
For Hetaraka those once limited horizons now reach far beyond 
the rock of Kuia and the coastline of Mauao.
And the fish from Tangaroa he catches with his own hands, bones and cooks are the sweetest he has ever tasted.

ABOUT THE PROGRAMME
It is a one-on-one six-week programme and since 2010 approximately 70 young people have gone through it.
It works because it's first and foremost about meaningful relationships, understanding and aroha, inspiring and motivating the young person to fulfil their potential. It is about reconnecting youth to what is meaningful in respect of life, society and culture.
It is about providing an achievable pathway forward towards a self-set positive outcome.
Rangi Ahipene uses the Maori world view to frame a structure that the young person can identify with and attach to and use as a life guide.
It is centred on practical activities such as fishing and hunting, outdoor survival and traditional Maori and other indigenous technology.